The LafargeHolcim Foundation for Sustainable Construction opened the prize hand-over phase of the fifth LafargeHolcim Awards with the celebration of the winners for Middle East Africa in Nairobi, Kenya, on 7 September. As was plain to see, building sustainably is an increasingly significant subject in this region; the majority of winning projects deal with education and the contemporary promotion of traditional manual skills. Furthermore, a striking majority of the 670 valid projects considered by the jury were designed by female professionals - in both the Next Generation and the main Awards category.

Francis Kéré's school recognized for building better
kéré architecture, berlin wins lafargeholcim building better recognition

Designed to recognize the innovative and forward-thinking approaches of both established architects and new voices in overcoming environmental, social and economic challenges to sustainable building, the LafargeHolcim Awards naturally keep an eye fixed on the future. In addition this year, for the first time, the LafargeHolcim Building Better Recognition was awarded to one of the completed former Awards prize-winning projects. This new prize is awarded by the LafargeHolcim Group to a project that is a particularly successful example of sustainable construction and is standing the test of time in the region.
In Middle East Africa, this accolade went to renowned architect Francis Kéré for his school buildings the village of Gando in Burkina Faso, which gained him the LafargeHolcim Award Gold in 2012. In his motivational and candid speech, Kéré affirmed that sustainable construction requires an attitude that goes well beyond design and makes a difference for future generations: "Hundreds of children in Gando now have a chance to learn, as there was previously no school in the region," said Kéré who engaged the entire community to build the schools with locally available materials.

Awards build around sustainability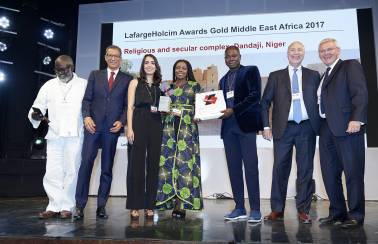 John Simba, Chairman of the Board of Bamburi Cement, member of LafargeHolcim in Kenya, reminded the audience that urban populations are swelling globally by around one million people every week: "There is an urgent need to come up with clever ideas that optimize the sustainable performance of the buildings that we live and work in," he said.
Saâd Sebbar, Member of the Executive Committee of LafargeHolcim responsible for Middle East Africa, further expanded on this, adding: "Sustainability is more than CO2 and ecology, it requires working together, giving opportunities to as many people as possible: sustainability and sustainable construction are to large extent about social equity and fair chances for everybody. That is at the core of the LafargeHolcim Awards and the prize winning projects."
There is an urgent need to come up with clever ideas that optimize the sustainable performance of the buildings that we live and work in.