Ambuja Cement launches four new dry mortar solutions for home builders in India
Customers in India know that Ambuja Cement stands for strength in construction and customer focus. Ambuja's four new dry mortar solutions are simple to use and help make houses beautiful, opening up new possibilities for market growth.
New solutions for new customer needs
In a market traditionally driven by hand mix products, Ambuja Cement provides solutions to meet the growing demand for higher performance. In India, more and more customers look for higher product quality, better site management, more control over the supply chain, and efficient use of raw materials. The new solutions are ready to use and the only necessary addition on site is water. This saves time, optimizes the use of the ingredients, and reduces the work for home builders. Bags and packaging are designed to save space and enable optimal product use. Finally, our teams in India can provide technical assistance and customer training.
The four dry mortar solutions
Tile adhesive, Ambuja Tilocol
Wall putty, ColorSave
Ready-mix plaster Ambuja Plazto
Integral water-proofing compound, Ambuja SeelanSeal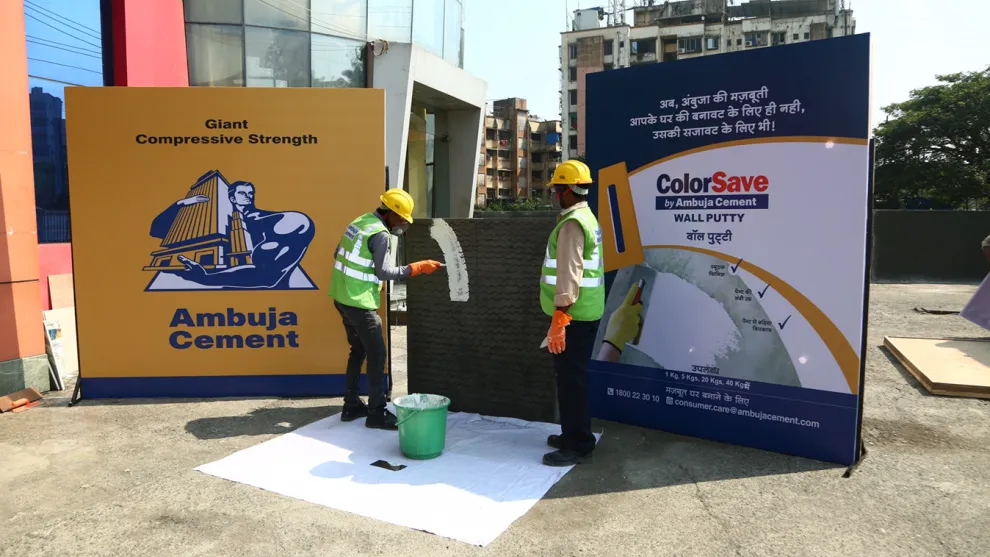 A strategy to develop new opportunites
Our new dry mortar solutions help increase both brand awareness and retail growth. "Apart from fulfilling our ambition to leverage existing customer relationships through our retail channel, these products expand our reach to hardware stores and paint shops," says Bimlendra Jha, Ambuja Managing Director and Chief Executive Officer. "These products can increase our market position, adding value to our cement products and consequently making them more attractive than the ones of our competitors," says Deepak Mehra, Ambuja Chief Marketing Officer.