Partnering with CCCC for three infrastructure projects in Uganda
On July 12th, Hima Cement, LafargeHolcim company in Uganda, and China Communications Construction Company (CCCC) signed a memorandum of understanding to deliver solutions for 3 major infrastructure projects: the extension of Entebbe International Airport, the Mubende-Kakumiro-Kagadi road upgrade and the Soroti-Moroto road upgrade. A key step towards building better infrastructure that will provide a strong impulse to Uganda's economy!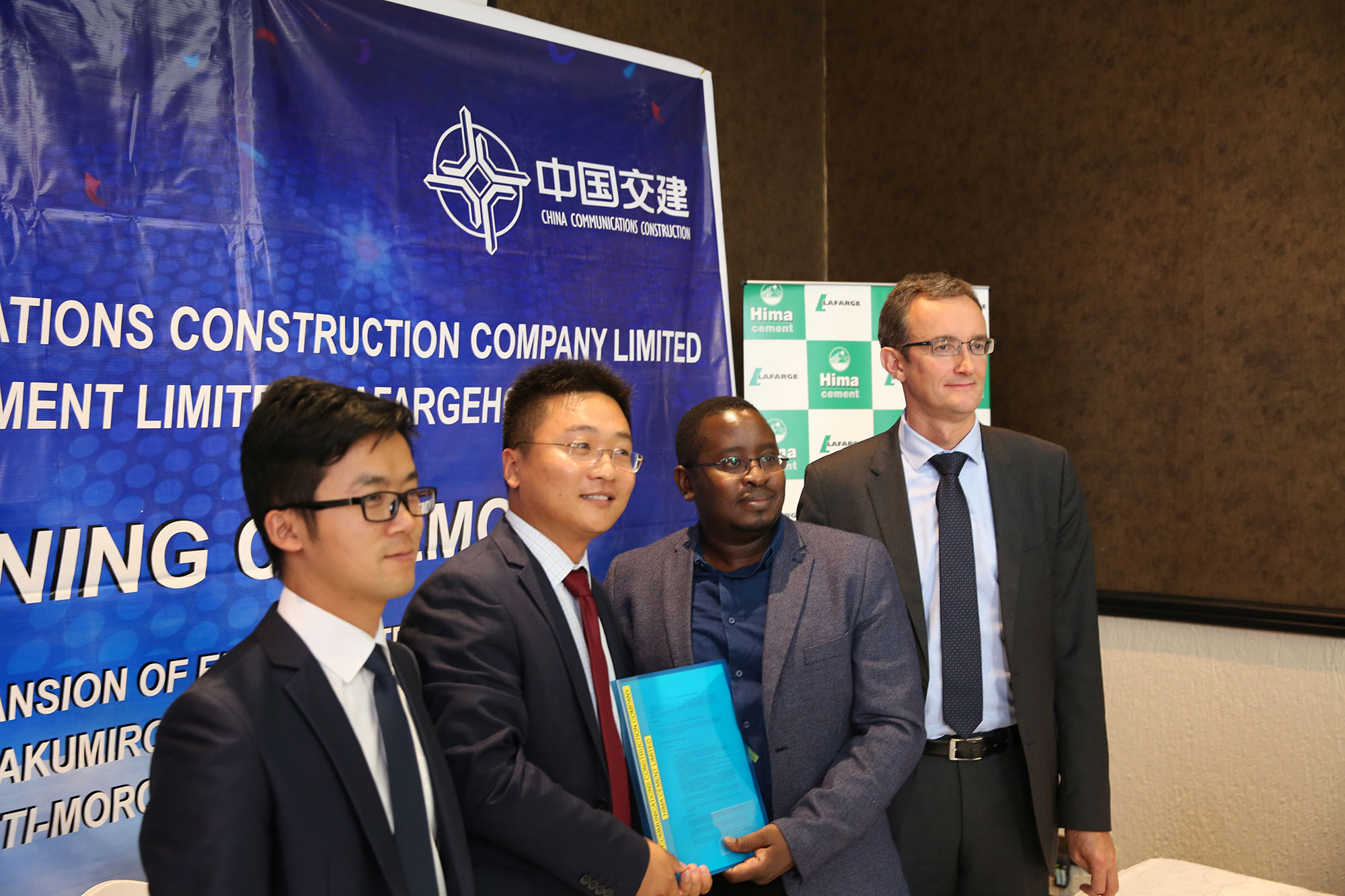 Building infrastructure is a good start in increasing the connectivity and economic attractiveness of a region or country. No surprise then to see the Uganda government prioritizing infrastructure development as one of the drivers of economic growth.

Hima Cement will contribute to the country's effort to build durable and reliable infrastructure. According to a memorandum of understanding (MoU) signed mid-July, we will team up with Chinese contractor CCCC to deliver cement solutions for 3 major projects:
Entebbe International Airport Expansion (5 years). The upgrade of the airport includes the construction of a new cargo center complex and a new passenger terminal, the strengthening of runways and taxiways as well as the rehabilitation of aprons.
Mubende-Kakumiro-Kagadi Road construction project (3 years). The 105 km road which connects the country's central region with the western part will be upgraded from gravel to asphalt pavement, and will allow for improved traffic conditions in the country by connecting with the Kyenjojo-Kabwoya-Kigumba road.
Soroti-Moroto Road upgrade project (3 years). This road covers a total length of approximately 100 km and forms an important link in the national road network and contributes significantly to the economic prosperity of north east Uganda. The existing gravel will be upgraded to bituminous standard. Once completed, the project should reduce vehicle operating costs and improve social services and trading opportunities.

This is the second time that Hima partners with CCCC in mega infrastructure projects, following the construction of Kampala-Entebbe Expressway which started in 2013 and which is about to be inaugurated.
"CCCC is delighted to sign a memorandum of understanding with Hima Cement, because it ensures sourcing of materials from local suppliers in line and support of the government's effort to 'Buy Uganda, Build Uganda'."
An unmatched solutions package fitted to our customer's needs
We delivered a unique value proposition to CCCC, which combines: 
Tailored products, such as road stabilization with a new product called Roadcem which meets the customer's requirement for high setting time.
Strong logistics capability able to cover the whole country, with a cement plant, a logistics center, a grinding station, as well as the biggest bulker truck fleet in the country
Global collaboration and support from across the Group, covering Health & Safety, Research & Development, etc.
Flexible technical support, with a mobile lab operating at the customer's site or anywhere required.

This MoU could open doors to further support our customer CCCC, not only in the product segment, but also in Research & Development as well as Health & Safety aspects.