Supporting vital sanitation infrastructure in India
In India, more than half of the rural population lacks access to lavatories, which creates dire public health, social and developmental issues. We have pledged to construct 3 million toilets as part of a India's nation-wide campaign to improve sanitation infrastructure.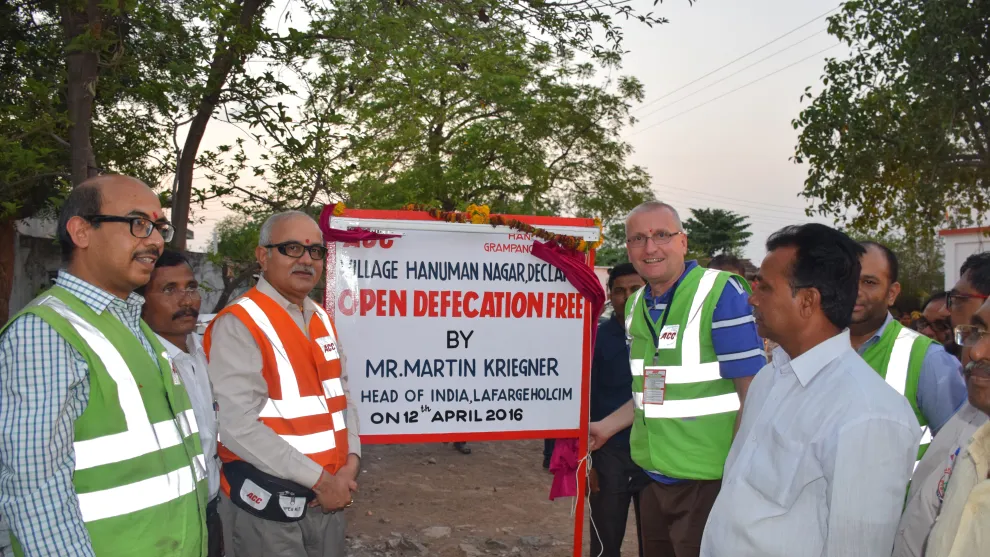 Providing answers to a global sanitation crisis
November 19 is World Toilet Day, which is an opportunity to raise awareness and inspire action to tackle the global sanitation crisis. While it seems like a taboo subject, the lack of proper sanitation infrastructure adversely affects the health, safety, and even education of people in emerging economies. That's why India's Prime Minister Narendra Modi has made it a priority and launched a campaign to make the country Open-Defecation Free (ODF) by October 2019 by constructing 120 million toilets in rural areas.
LafargeHolcim has pledged to support this effort, using its cement and building materials expertise to construct 3 million toilets. The work on toilets in India is being led by two of our subsidiaries, ACC Limited and Ambuja Cements Limited. Their initiatives are helping deliver two of the four areas of The 2030 Plan, namely People & Communities and Water & Nature.
Learn more about LafargeHolcim's 2030 Plan commitments
LafargeHolcim taking the lead on improving sanitary conditions in India
Pilot projects and community investments completed by ACC Limited and the Ambuja Cement Foundation (the Corporate Responsibility arm of Ambuja Cements Limited), have already changed the lives and prospects of thousands of people in India. These initiatives involve community outreach on sanitation topics, as well as the construction of toilets in villages, schools and urban communities:
The Ambuja Cement Foundation, under its school sanitation program, has built or repaired toilets in 176 schools to date. The initiative particularly benefited young girls who had stopped attending classes rather than be forced to use the unhygienic or open toilets. Similarly, the ACC plant in Wadi built toilets at five government schools and connected the water supply, thereby providing facilities for over 1,400 children in the area.
ACC Limited was instrumental in providing toilets to all 25 homes of a disadvantaged urban neighborhood in Sindri. ACC's Corporate Social Responsibility team started by raising awareness on sanitation issues and engaging with households to overcome the perception that building a toilet is not worth the expense. ACC also supplemented a government subsidy with a grant that brought down the cost to the householder to an affordable Rs 1,500 (just over US$22) per toilet.
Both subsidiaries joined up to launch the Sanitation for Life' (S4L) initiative. S4L aims to promote the construction of toilets built of fly ash bricks and concrete blocks. These low-cost models would be made available through the Group's Green Building Centres. In addition to health and hygiene, the provision of toilets in villages stands to greatly improve the security and safety of women who would otherwise risk being assaulted as they venture out into the fields and woods at night.
Jim Rushworth, head of corporate citizenship for LafargeHolcim: "The provision of toilet facilities may seem like a small contribution, but we firmly believe that the benefits in terms of health, education, security and general well-being are huge. Our aim is to take lessons from the pilots and build business cases for the various types of toilet provision which would create employment, skills and capacity development for those building and installing the sanitation infrastructure, while at the same time helping India become ODF."