Objectives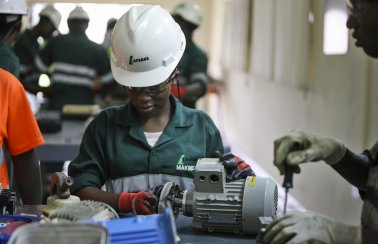 Providing skills acquisition platforms for women, turning them into agents of economic and social transformation within their communities;
Impacting positively on families by providing solutions to poverty, poor health conditions and vulnerability;
Supporting the local social and economic development of communities by ensuring women become more skilled.
Summary
In Nigeria, women are the most hit by poverty: many of them are indigent housewives, often unskilled and unable to engage in any income-earning commercial venture. The culture and tradition practiced in Northern Nigeria do not allow any form of empowerment for women to support their families while in the South; women are encouraged and empowered but lack the needed support.
At our Ashaka site in the North, our team decided to include women in their Skills acquisition schemes. Dedicated to unemployed youths of communities around the site, these 6-month scheme focus on artisan's skills such as tailoring, plumbing, masonry, electrical installation, irrigation or carpentry and are certified by the Federal Ministry Labour and Productivity. The employability project focuses on creating sustainable livelihood for the neighboring communities by capitalizing on LafargeHolcim's expertise, knowledge and competences, rather than merely providing financial support.
At our Shagamu site in the South (part of Wapco operations), and in collaboration with its Community Development Council in Shagamu community, our team took part in a Women Empowerment Scheme to bridge the skills gap identified between men and women. They identified the potential trade areas to focus on using the following parameters:
find an area which is currently not in adequate supply,
in which women could develop appropriate skills quickly,
and which does not require too much capital to be set up.
Hair dressing and tailoring/ fashion design were identified as the most relevant trades to launch the skills acquisition initiative and a flexible 3-year scheme was developed to provide opportunities for women - including married ones.
Results
To date, 15 women graduated from the Skills acquisition scheme of Ashaka and Shagamu (Wapco). In November 2014, the first set of trainees graduated 19 women, 9 in hair dressing and 10 in fashion design.