Holcim has inaugurated its new cement plant Shurovo in the presence of the President of the Russian Federation, Dmitry Medvedev, the President of the Swiss Confederation, Micheline Calmy-Rey, and the Swiss Federal Councillor Johann Schneider-Ammann. With an annual capacity of 2.1 million tonnes of cement and a capital expenditure of around EUR 500 million, the new plant in Kolomna, 100 km south of Moscow, is one of the biggest Holcim plants in Eastern Europe. It primarily serves the growth market of Moscow where roughly one third of the country's construction investments are made.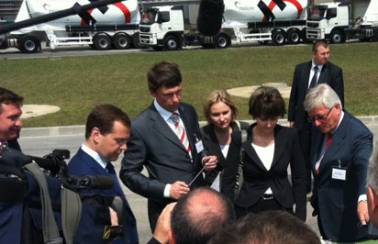 President Dmitry Medvedev stated in his welcome address that this plant is a shining example for the Russian cement industry and sets new environmental standards.
At the inauguration ceremony, which was also attended by a Swiss business delegation led by Federal Councillor Johann Schneider-Ammann, the President of the Swiss Confederation Micheline Calmy-Rey said: "This inauguration is symbolic of the modernization process in the Russian economy".
In 1870, the first Russian cement plant was built at the current location in Kolomna. The facility inaugurated today is state-of-the art regarding environmental standards and production efficiency, and sets a new standard in the Russian cement industry. Holcim CEO Markus Akermann emphasized in his speech: "The Shurovo plant significantly contributes to the long-term supply security of the greater Moscow market with high-quality building materials. It is a milestone in the modernization of the Russian cement industry and strengthens Holcim's position in an attractive growth market."
Holcim has been present in Russia since 1993. The Group company has its head office in Moscow and owns another cement plant in Volsk on the Volga, and has a combined annual capacity of approximately 5 million tonnes of cement. The company employs more than 1,500 people.
* * * * * * *
Holcim is one of the world's leading suppliers of cement and aggregates (crushed stone, gravel and sand) as well as further activities such as ready-mix concrete and asphalt including services. The Group holds majority and minority interests in around 70 countries on all continents.
* * * * * * *