Jeddah is the second largest city of Saudi Arabia with 5.1 million inhabitants. It owes its growth in part to the country's mega projects and its proximity to the two Holy mosques in Mecca and Medina: 12 million passengers and pilgrims are passing through Jeddah airport every year.
To support its development and become a better connected city, Jeddah launched the expansion of King Abdulaziz airport: built in 1981, its capacity will grow from 13 to 80 million passengers by 2035, after three consecutive phases, and additional space of approximately 12 million m².
Among the achievements: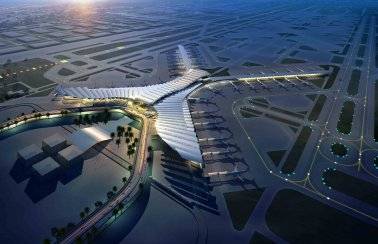 the Transportation Centre with its High Speed Rail and Light Rail Transit connections, the real heartbeat of the Airport City,
impressive, stylish and modernized new terminals,
over 1 million m² will feature hotels, leisure, education and commercial centers.
Our cement and services contributing to the airport mega project
We are a leading supplier of cement in the first phase of construction, which will bring the airport capacity to 30 million visitors per year by 2014. We have provided:
125,000 tons of cement and cementitious materials.
A unique cement delivery service that offers added value solutions.
A key account manager allocated to serve this project.
A dedicated technical team equipped with a mobile lab service.
We are also committed for the second phase of the project, which should be completed in 2020 and will allow King Abdulazziz airport to accommodate 43 million passengers per year.
The time when Jeddah was a tiny fishing village now seems far away!