Objectives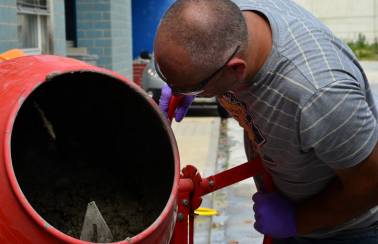 Increase the global impact of ICRC's humanitarian efforts in construction
Gain firsthand feedback on LafargeHolcim's products and solutions
Summary
In September 2014, LafargeHolcim hosted its third Cement and Concrete Application course, bringing together 15 ICRC representatives from a host of diverse countries, including Kyrgyzstan and Mali. The course included theoretical and practical modules that educated participants on the principles of cement, aggregates, and mortar.
 
The course focused on tailoring different cement solutions to specific issues faced by the ICRC in the field. Case studies include the following countries:
Niger: For many rural communities, concrete wells are the sole source of water. As a result, issues such as animal damage, subsidence, and collapse can be disastrous.
Southern Kyrgyzstan: The country's humid climate makes the salt in the cement-based plaster expand, creating pressure on the plaster and causing it to crack and break away over time.
Democratic Republic of the Congo: Lack of maintenance compromises the prison structures and inmate safety.
Results
Knowledge exchange, which empowered ICRC teams to optimize sound decision-making based on numerous factors such as costs, cement quality, and desired building integrity, was the course's main success factor. It also provided LafargeHolcim with firsthand feedback on how its products are being applied under difficult circumstances, information that can be used to improve their quality for partners and customers on a larger scale.
 
To date, LafargeHolcim has trained 41 ICRC delegates, who will in turn train others at their respective duty stations.