An interview with Lafarge Austria CEO José Antonio Primo Fernandez. Following a decisive lockdown period imposed by the Austrian Federal Government, Austria became one of the first countries to open back up.
What was the business impact of COVID-19 and what's your outlook for Austria?
JAPF: Like many businesses, our sales volumes declined sharply in March, but already had started to recover very quickly after Easter, in such a way that overall April ended up at similar levels as in 2019.
Austria saw one of the fastest recoveries in Europe and the resilience of the Austrian economy has been truly remarkable. After six weeks we are practically back to normal. All thanks are due to our employees who adjusted operations as well as their own schedules to meet these sudden challenges.
In fossil fuel substitution, for instance, our plant in Retznei operates at the highest level in the Group (usually at 100 ) and our plant in Mannersdorf has the highest recycling percentage in the whole Group with 15 recycled raw materials. All that comes on top of an already low clinker content in our cements.
It's important to note that the incredible use of recycling/waste products is done under the most demanding environmental standards. We're demonstrating the great synergy between lowering fuel and raw material costs while at the same time contributing to our communities with low environmental impact and solving a waste disposal problem.
Finally we're currently working with three industrial partners to launch a breakthrough project in decarbonization at our plant in Mannersdorf, the biggest cement plant in Austria with a capacity of 1.1 million tons per year, and look forward to sharing the details soon.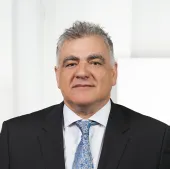 "Thanks to the fast recovery, we are very confident about the outlook for our business. We are also confident for another reason: Austria has the lowest carbon intensity in the Group and we are well prepared for the future needs for low-carbon building materials."
| CEO Lafarge Austria
How have increased protective measures due to COVID-19 been guaranteed?
JAPF: On top of the general COVID-19 protective measures for the whole population, the Austrian government agreed with our industry and unions on a set of eight essential points with respect to construction sites covering hygiene and social distancing.

This agreement came into force as a Decree from the Minister of Health. It was essential not only for fast recovery but also to build trust, demonstrating that everyone is working in a spirit of mutual understanding and compromise to get the economy back on its feet.
Our goal is to build a healthier world. What contribution has Lafarge made in Austria?
JAPF: As soon as we learned there was a shortage of protective equipment, we provided mouth and nose protection for the essential workers in the vicinity of our plants. And in the case of our plant in Styria, we supported a local association that brought goods to people in high-risk groups.