GO CIRCULAR
Sailing the globe for circularity
Our vision

Team Holcim-PRB is sailing around the world, pushing the limits of sailing and circular living – just like we push the limits of circular construction with leading sustainable and innovative building solutions.
Discover GO CIRCULAR

The global economy is now consuming nearly twice as many resources as the planet can replenish. With GO CIRCULAR, Holcim is entering offshore yacht racing on a mission to accelerate the shift to circular living by driving an education program empowering students and communities to take action, while also advancing marine science with water sampling throughout the races. Team

Holcim-PRB's race boat, a 60-foot Open monohull with renowned French sailor Kevin Escoffier at the helm, will carry this message in the world's two premiere round-the-world sailing races, The Ocean Race 2022-2023 and Vendée Globe 2024, as well as the transatlantic race Route du Rhum 2022. GO CIRCULAR builds on the sailing legacy of PRB, which has sponsored ocean racing for 30 years and won two editions of the Vendée Globe, in 2000 with Michel Desjoyeaux and in 2004 with Vincent Riou. Team Holcim-PRB's skipper Kevin Escoffier is a recognized global sailor, who participated in two editions of The Ocean Race, including a victory with the Dongfeng Race Team in 2018.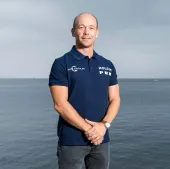 "The Holcim-PRB team is ready to sail! Over the last 30 years, PRB has established itself as a leader in sailing. Now with Holcim on board we're taking the adventure to new international heights with GO CIRCULAR and The Ocean Race. We only have one planet, but we're living like we have two. I have seen firsthand what this means for our oceans, which have been part of my life since childhood. With GO CIRCULAR, we are calling for a shift towards more circular living to protect our precious ecosystems. This is close to my heart as a sailor and especially as a father."
| Team Holcim-PRB skipper
Follow us on social media to discover exclusive content with our skipper Kevin, learn more about the GO CIRCULAR campaign and build a more circular world together.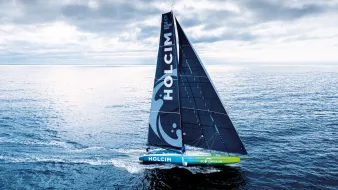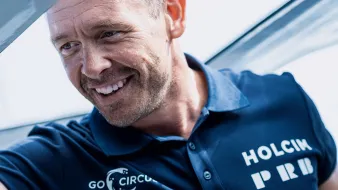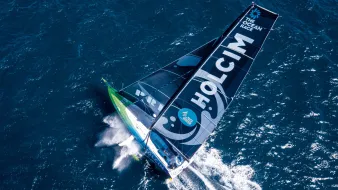 Holcim's commitment to building a circular world

With circularity at the core of its business, Holcim continually innovates to build better with less following the principles of reduce, recycle and regenerate. Holcim is at the forefront of reducing the footprint of buildings across their entire lifecycle, from low-carbon construction to more energy-efficient buildings in use, all the way to green retrofitting.

As a world-leader in recycling Holcim recycles over 50 million tons of materials across its business today on its way to doubling this to reach 100 million tons by 2030, with applications ranging from the world's first cement with 20% construction & demolition waste inside, to roofing shingles containing upcycled plastic. Holcim is committed to regenerating ecosystems from land to ocean to preserve our planet, bringing more nature into cities with its solutions from green roofs to Hydromedia permeable concrete, all the way to restoring marine ecosystems with bioactive concrete reefs.

On land, Holcim is engaging with urban leaders around the world with its Circular Cities Barometer to fast track progress towards circular construction. On the ocean, Holcim is recovering marine plastic waste with the Circular Explorer, the first-of-its-kind 100% solar powered recycling catamaran operating in Manila Bay, Philippines. With GO CIRCULAR Holcim is uniting these initiatives to scale up their impact, racing around the world to promote circular living based on the principles of "reduce, reuse, recycle."