Getting down to business – safely
As the Covid-19 vaccination is rolled out worldwide, we're confident that we can continue to look after the Health and Safety of our employees, contractors, visitors and customers.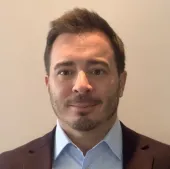 We look forward to a time when we can relax the measures that apply uniquely to COVID-19. Until that time we will continue doing all we can to remain healthy and safe.
Health & Safety: our core value
Heath & Safety has been a core value of Holcim since the company was founded. We have built a robust set of tools and frameworks to ensure these are not just words. We live up to this value every day. Our tools are flexible and can be extended to our current situation.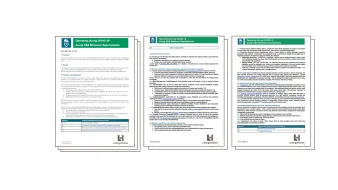 H&S minimum requirements
The H&S minimum requirements serve as a basis to organize guidance, tools and good practices, and ensure a standardized format in line with the one used for other H&S requirements across the Group.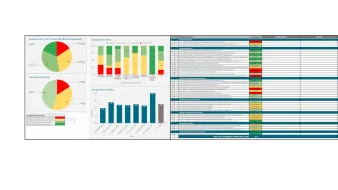 Self-assessment of compliance
The self-assessment tools track the local implementation of the H&S minimum requirements, with the Group Health & Safety team will perform virtual "spot checks" to ensure compliance.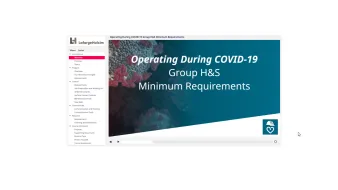 E-learning
Local managers and Health and Safety experts have participated to the same e-learning class in order to ensure a common understanding and approach.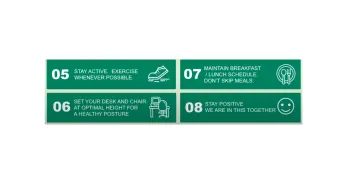 Webinar about mental health
Working at home for a long period can change our routine and impact our health. Ad-hoc webinars explained how to create a comfortable home office environment and keep ourselves healthy while staying at home.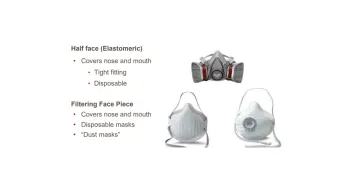 Webinar on respiratory protections
In this webinar, experts explained why there are many different types and standards of respiratory protections and which ones are appropriate to use in specific situations.
Targeting our guidance: operations, offices and customer sites
No matter where we operate, we have robust protocols and procedures in place. Our governance structure allows us to monitor compliance and training to ensure all our sites are compliant and set up to successfully implement safe and healthy operations -- on our sites, on the road and on our customer sites.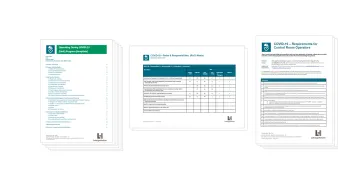 Program management
1) Unit Program (template): to formalize the Unit´ Program to manage the H&S risks associated during the COVID-19 pandemic 2) Roles & Responsibilities (RACI Matrix): Guideline for defining Roles and Responsibilities during COVID-19 pandemic 3) Role Based Requirements (templates): Role specific templates to support units in formalizing the COVID-19 requirements.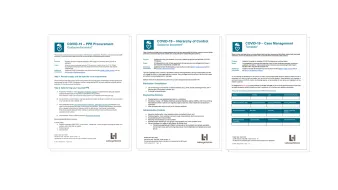 Program management
1) PPE Procurement: Guideline for PPE supply 2) Hierarchy of Control: Support material for managers on the protective barriers 3) Case Management: Guideline Template for recording COVID-19 suspected or confirmed cases.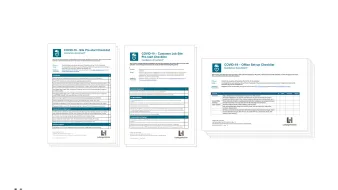 Program management
1) Site Pre-start Checklist: Guideline for pre-startup sites safely 2) Job Site Pre-startup Checklist: Guideline for pre-startup customer sites safely 3) Office Set-up Checklist: Guideline for re-starting offices safely after COVID-19 site lock-down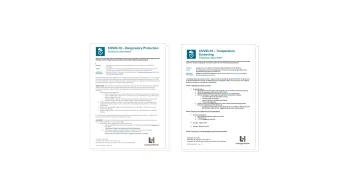 Program management
1) Respiratory Protection: Prioritization of supply, alternatives and minimum specifications 2) Temperature Screening: Guidance on Temperature screening at points of entry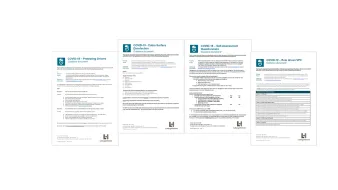 Program management
1) Protecting Drivers and Cabin Surface Disinfection:Guidance to raise awareness among drivers and mobile equipment operators 2) Self-assessment questionnaire: Questions for COVID-19 self assessment 3) Role Driven VPC: Guideline for conducting and reporting COVID-19 specific behavioral observations (VPC)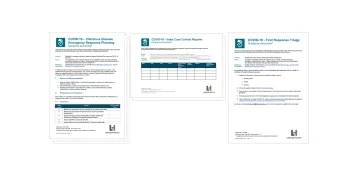 Infection incident management and response
1) Infectious Disease Emergency Response 2) Index Case Contact Register 3) First Response Triage: Guideline to screen workers presenting COVID-19 symptoms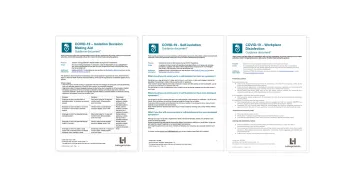 Infection incident management and response
1) Isolation Decision Making Aid: Decision making guideline to decide isolation during COVID-19 pandemic 2) Guideline for self-isolation: Dealing with self-isolation during the outbreak 3) Workplace Disinfection: Guideline to ensure adequate workplace surface cleaning and disinfection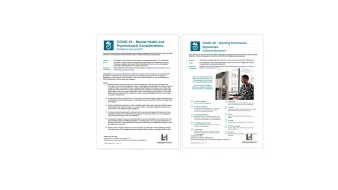 Introduction of new risks
1) Mental Health and Psycho-social Considerations 2) Home Office Ergonomics Self-Evaluation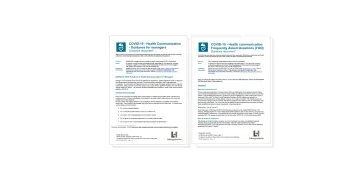 Communication and awareness
1) COVID-19 Health Communication Guidance for Managers 2) COVID-19 Specific FAQs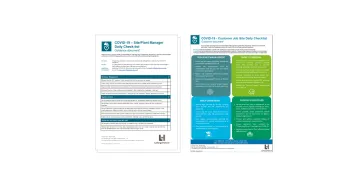 Monitoring and review
1) Site/Plant Manager Daily Checklist: Checklist Guideline to maintain safe conditions at LafargeHolcim sites during COVID-19 pandemic 2) Customer Job Site Daily Checklist: Checklist Guideline to maintain safe conditions at customer sites during COVID-19 pandemic
Leveraging good practices
We are also fortunate that, at many operational sites, it's fairly easy to apply social distancing measures. The average aggregate site or cement plant offers a lot of space per person. Our local teams implement measures that are appropriate to their sites and needs, and they are shared with other teams across the world.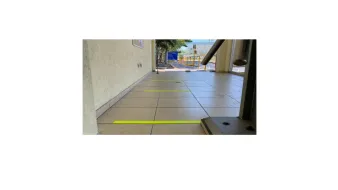 Physical distance
Visual indication on respect distances in the main pathways.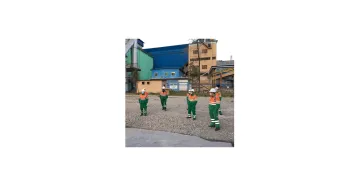 Tool box talks
Keeping social distance while sharing relevant H&S information.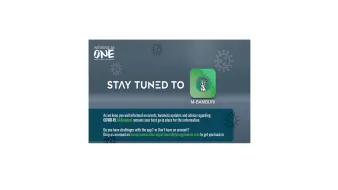 Mobile applications
Mobile application are helping keep teams updated with information on prevention, mental health and business updates.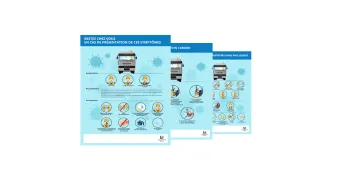 Safety of drivers
Drivers move, change locations and access different sites. We provided suggestions to make their job safer.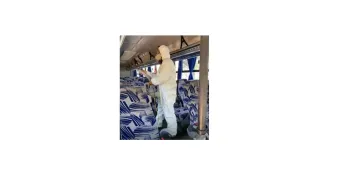 Cleaning and sanitization
In-house production of disinfectant following the World Health Organization's guidelines and the activation of cleaning companies for immediate sanitization have been key initiatives to ensure a safe work environment.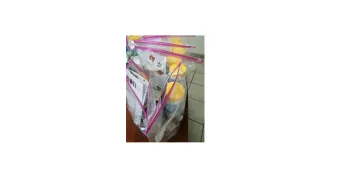 Personal protection kits
Establishing standardized kits of personal protection equipment together with key information on COVID-19.
Home office
Tips for working from home, from setting the work station to ergonomics and staying positive.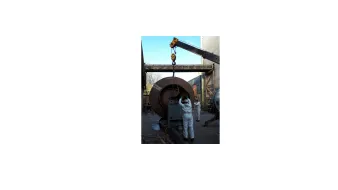 Working safely during Covid19
Major maintenance work adjusted to ensure control measures were integrated, such as social distancing and specific personal protection equipment.