An industry-leading net-zero pledge across scope 1, 2 and 3 targets
Holcim was the first global building materials and solutions company to have its 2030 and 2050 net-zero targets validated by the Science Based Targets initiative (SBTi) for all scopes. Addressing both direct and indirect impacts, these objectives will guide our strategy for decades to come.
Our CO2 footprint
Image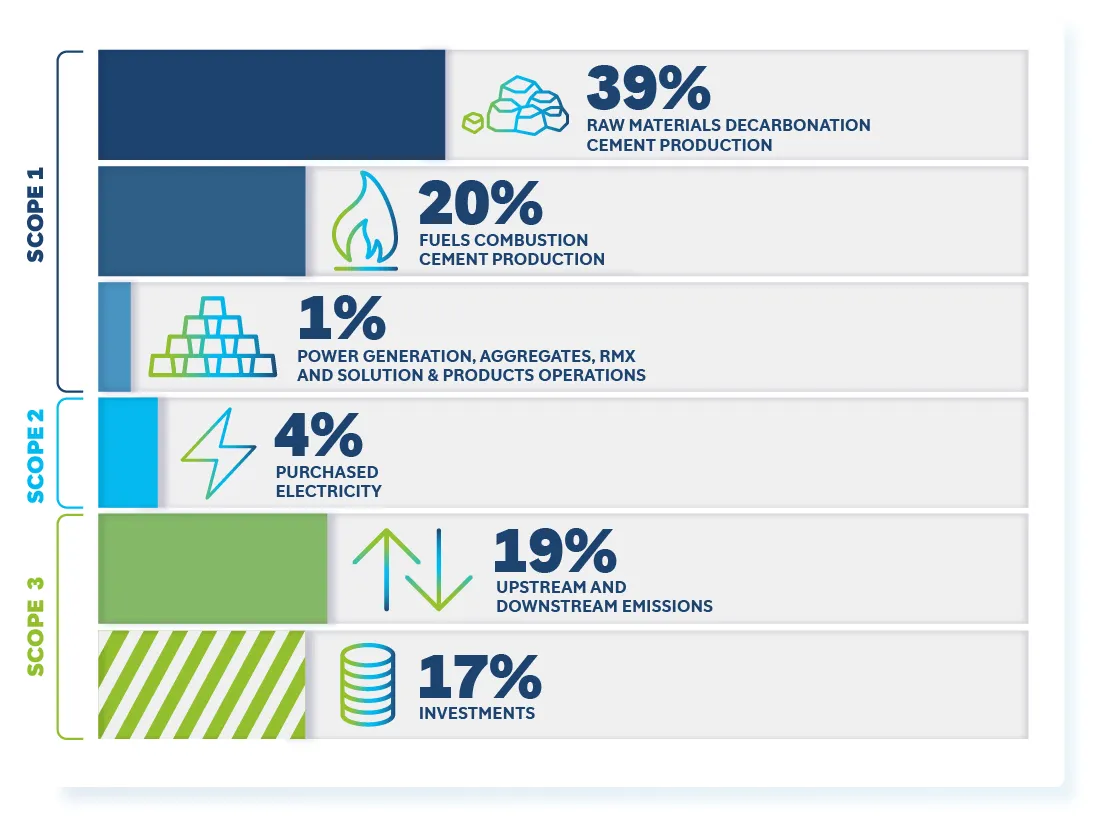 Scope 1 emissions

Scope 1 emissions account for 60% of our footprint and are at the core of our emissions reduction strategy. Scope 1 includes all emissions that are released directly from our operations. Most of these come from cement production. 39% of our emissions are generated during the decarbonation of the raw materials we use to produce clinker. Fuel combustion necessary to heat the cement kilns is another significant source of emissions. A small share of Scope 1 emissions come from operations linked to Solutions & Products, aggregates and ready-mix concrete.
Scope 2 emissions

Scope 2 emissions account for 4 percent of our carbon footprint. Scope 2 includes indirect emissions from the generation of purchased electricity consumed in the company's owned or controlled equipment.
Scope 3 emissions

Scope 3 emissions account for 36 percent of our carbon footprint. Scope 3 includes all other indirect emissions generated in our supply chain, such as for transportation and the extraction and production of purchased materials and fuels. Scope 3 also includes direct emissions from non-consolidated companies and investments.
HOLCIM'S PATHWAY TO NET ZERO
Our pathway to 2030 is clear. Increasing focus on embodied carbon per m2 of building is expected to move the market to more carbon-efficient construction. We will support this transition with our low-carbon products as well as enabling smart design systems like 3D printing that will support the progressive optimization of the structural elements, creating the same functional units with less material.
Additionally, we will reduce our clinker factor, use alternative fuels instead of fossil fuels, increasing our thermal substitution rate and our use of renewable energy. We will invest in proven technologies that produce positive returns. The pathway from 2030 to 2050 leverages the same levers used between 2020 and 2030, while integrating new and advanced technologies. These technologies include novel binders and CCUS.
Image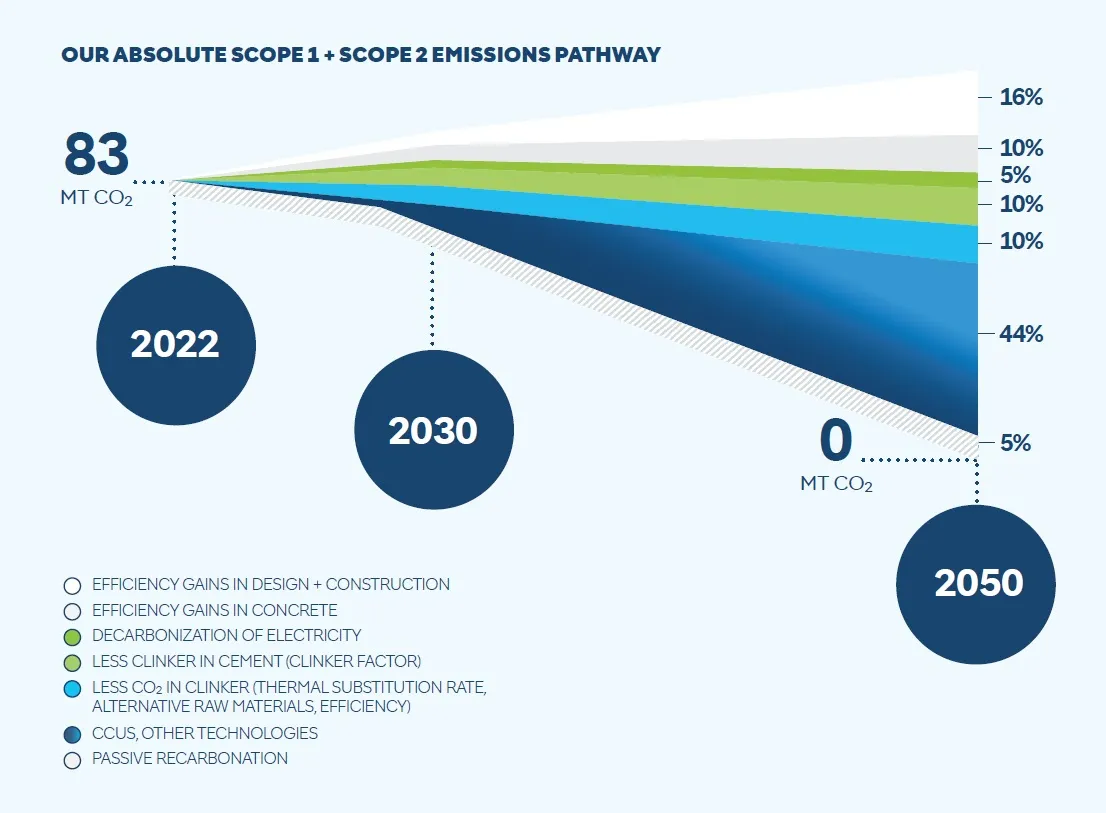 Our reduction ambitions
Reducing scope 1 emissions
Reducing scope 2 emissions
Reducing scope 3 emissions
Holcim is committed to taking the following strategic actions to achieve net zero in our scope 1 emissions:
Energy efficiency
Promoting carbon efficiency by reducing the amount of concrete or cement required per square meter of construction.
Alternative raw materials
Substituting waste materials and by-products from other industries for raw materials in the production process.
Clinker factor
Replacing clinker with alternative mineral components to reduce the carbon intensity of our cement products.
Alternative fuels
Using pretreated non-recyclable and biomass waste fuels instead of fossil fuels in cement kiln operations.
CCUS and other technologies
Deploying large-scale carbon capture solutions in partnership with leaders in various sectors.
A range of factors are involved in reducing our scope 2 emissions to net zero:
Solar and wind power
Our efforts to maximize the use of green energy in our plants includes those we operate ourselves. The installation of solar panels at our Hagerstown plant in Maryland enabled us to generate 10 MW, saving the equivalent of over 12,000 tons of CO2. We've installed three wind turbines at our Paulding plant in the US which eliminates the equivalent of 9,000 tons of CO2 per year.
Waste heat recovery
Repurposing excess heat from cement kilns to generate electricity, with plans to triple the number of waste heat recovery units we own by 2030.
Power purchase agreements
We will continue to expand our renewable energy portfolio by collaborating with offsite power producers.
With our scope 3 intermediate targets validated by SBTi, we are prioritizing the following actions to reduce emissions in this category:
Downstream transportation
Optimizing routes and loads
Prioritizing waterways and rail over road transport
Training drivers to improve road safety and reduce fuel consumption
Gradually replacing diesel with eco-friendly fuels
Fuels and energy
Replacing traditional fossil fuels with locally sourced, alternative and non-extractive fuels derived from waste.
Purchased clinker and cement
Requiring CO2 information from our clinker and cement suppliers to facilitate purchase of low-carbon products.
Other products and services
Integrating CO2 requirements into the tendering process
Eliminating the use of carbon-intensive fuels through innovative technologies such as autonomous electric haulers