Our operations are strongly linked to natural resources and our business plays a key role in tackling biodiversity loss and degradation. We work with nature in a transformative, rather than traditional way. By capitalizing on natural processes, endemic species and local adaptation, we strive to take into account the wider landscape and conservation context.
At Holcim, we commit to making a measurable positive impact on biodiversity backed by science based indicators in our sites and managed land, helping to protect natural ecosystems and the livelihoods of those in neighbouring communities. We will achieve this by working in partnership with local stakeholders, who understand the local ecosystem,ensuring a positive contribution to biodiversity and the communities who rely on nature for their livelihoods and quality of life.
We will define our biodiversity level baseline by implementing a biodiversity measurement methodology Biodiversity Indicator Reporting System (BIRS) developed in partnership with International Union for Conservation of Nature (IUCN) in all our managed land by 2024. Additionally, the Integrated Biodiversity Assessment Tool (IBAT) tool will be used to support us to prioritize actions in high biodiversity areas.
By 2030, we commit to a measurable positive impact on Biodiversity backed by BIRS.
Our biodiversity commitments
How we reach our commitments
Progressive transformative rehabilitation
Rehabilitation processes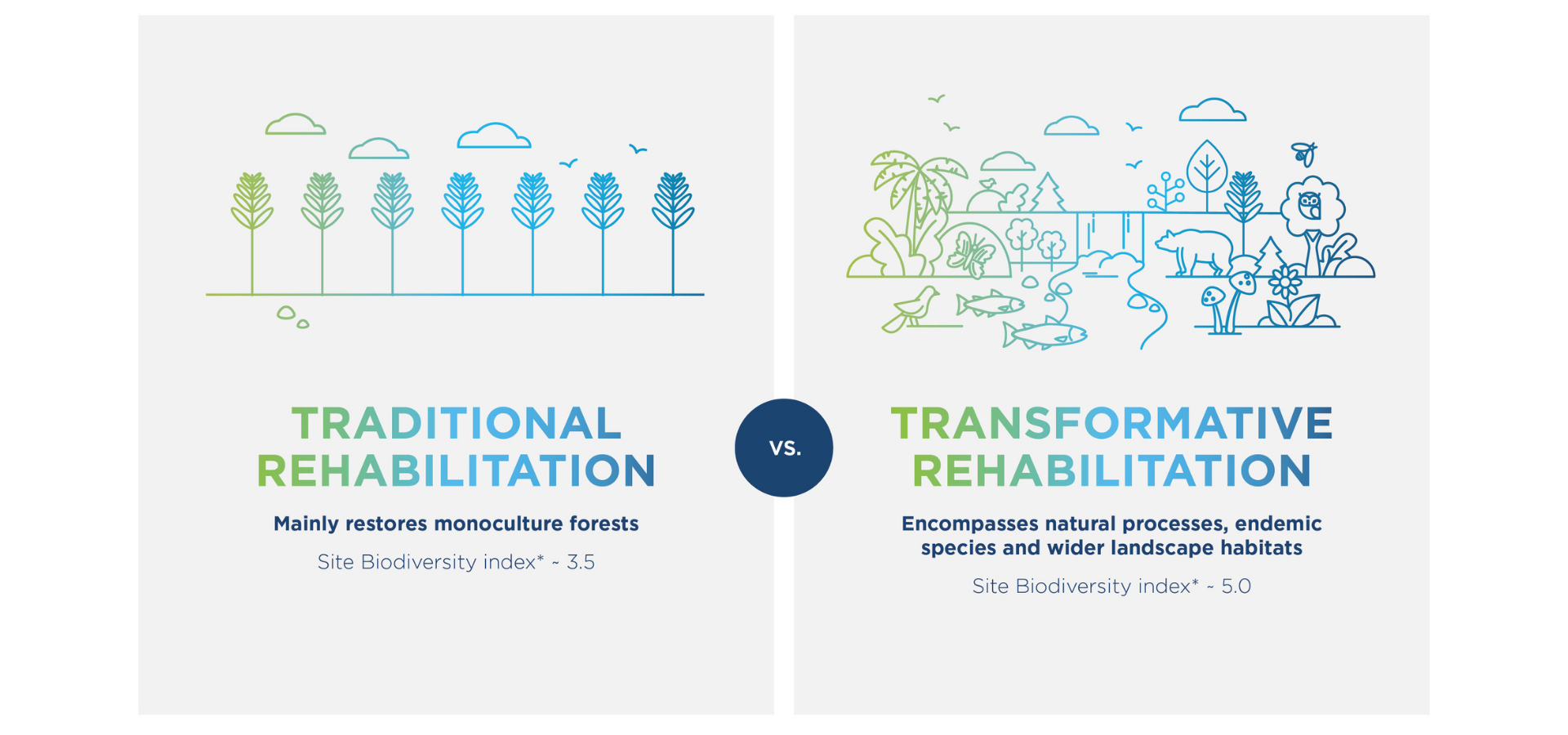 *Measured using the Biodiversity Indicator and Reporting System (BIRS), developed in partnership with the International Union for Conservation of Nature (IUCN)
Our approach, to enhance biodiversity in quarries, is to work with nature in a transformative, rather than traditional way. By capitalizing on natural processes, endemic species and local adaptation, we strive to take into account the wider landscape and conservation context. Some key actions include buffer zones optimization and creation of habitats not previously found on the site, like green corridors for wildlife connectivity and wetlands.
Our sites are rehabilitated in a progressive way. Areas, where extractive work is finished, are rehabilitated while extraction continues in other areas of the quarry.
Measuring positive biodiversity impact
We apply the mitigation hierarchy to prioritize and guide actions to enhance our positive biodiversity impact.
Mitigation hierarchy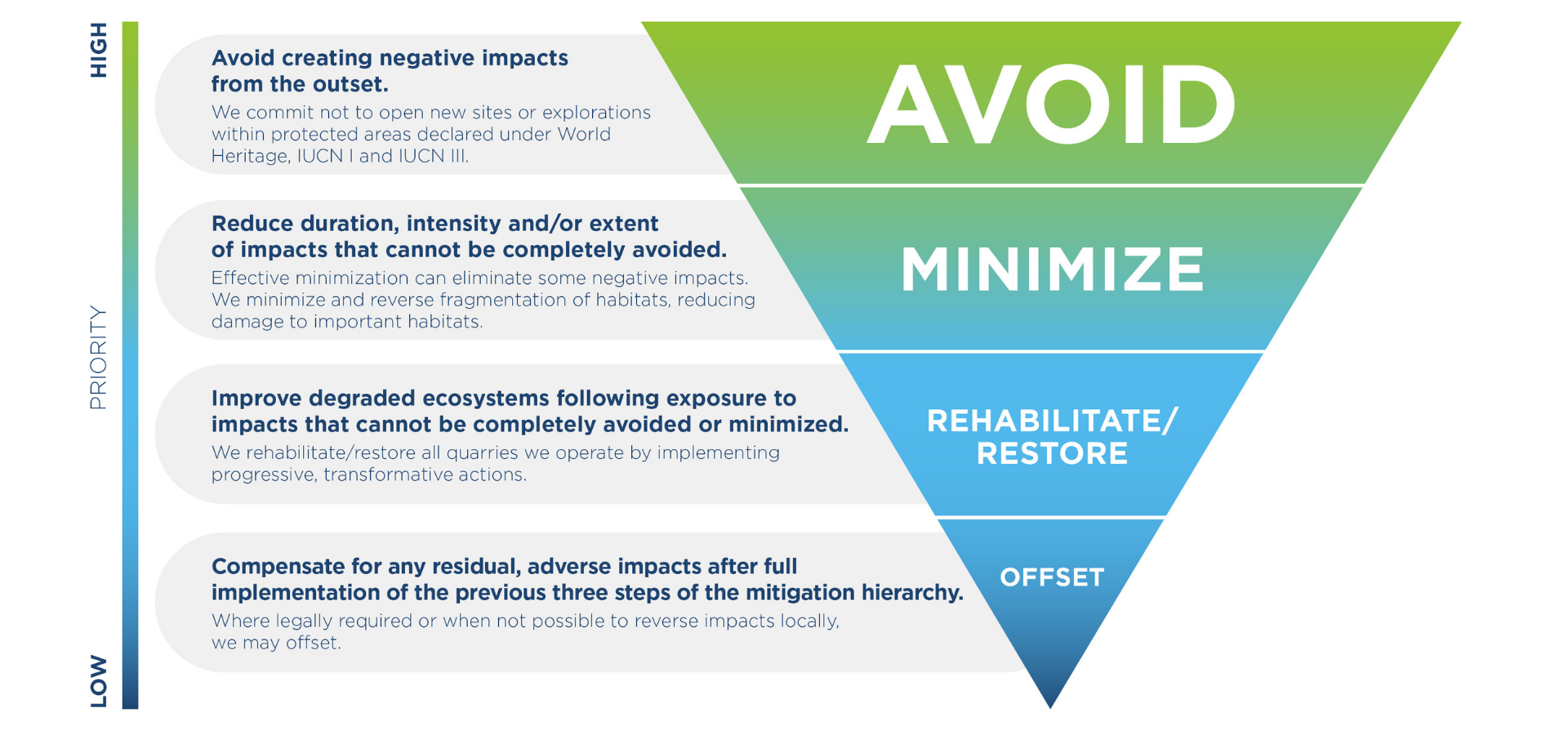 We worked in partnership with the International Union for the Conservation of Nature (IUCN) to develop a methodology to measure our biodiversity level. This tool is called Biodiversity Indicator Reporting System (BIRS). With BIRS we will define our biodiversity level baseline and measure biodiversity improvement over the years in our sites and managed land. BIRS assessment will allow us to better understand the challenges and opportunities we have at each site for enhancing biodiversity and improving ecosystem quality. We will identify key actions, develop action plans and implement them to increase our biodiversity index.

Biodiversity Indicator and Reporting System (BIRS)*

*Developed in partnership with the International Union for Conservation of Nature (IUCN)

Moreover, Holcim has been a pioneer in the impact valuation discipline, disclosing the Integrated Product and Loss statements since 2014. We assess on an annual basis our Economic, Social and Environmental impacts (Triple Bottom Line) in monetized terms. It enhances decision-making processes to sustain long-term value creation for shareholders, society, and the environment, allowing us to understand and share with our stakeholders the extent of our impacts and to track progress against our sustainability ambitions. As one of the founding members of the Value Balancing Alliance we work with a diverse group of multinational companies to collectively develop a global Impact Measurement and Valuation (IMV) standard for monetizing and disclosing the impacts companies have on society. Our ambition is to change the way company performance is measured and valued, beyond financials. We apply this IMV standard to measure and value the impact to society from our quarrying activities (hectares distrubed and rehabilitated, according to the ecosystem value from our quarries). The same is applied for water (withdrawn and harvested) according to the water scarcity level at our sites. These measures complement the information needed to drive our strategy for Nature.
Forest protection and reforestation
As forest protection and reforestation are key climate solutions, in our own undisturbed land we will invest in forest protection and reforestation projects to promote climate resilience, protect biodiversity, and restore ecosystems. Further, as per our Quarry and Biodiversity Directive, Holcim commits not to open new sites or explorations within protected areas declared under World Heritage, IUCN I and IUCN III.
Landscape approach
Our quarries and sites are an integral part of wider landscapes, which play an essential role in providing ecosystem services to people, including indigenous communities and vulnerable groups, as well as being the habitat of wildlife and flora. The landscapes cover important habitat types, from forests to grassland, from deserts to aquatic / ocean shore habitats. We aim to become a leading voice in landscape protection beyond our own sites, participating in or leading multi-stakeholder collaboration with all relevant stakeholders from industrial sites to our suppliers (which usually are located in the same landscape) to agricultural producers and local communities. Creating and executing on a common vision for biodiversity protection in our landscapes will include important local elements such as wildlife corridors, protection from natural hazards such as fire or floods, and it will be complemented by our approach to water stewardship and commitment to human rights and positive social impact. This will enable a holistic and inclusive view, resulting in a more sustainable landscape for all.
Value chain
Being part of the solution in our own operations is a key driver, but we intend to also work with our value chain. Stipulated in our Suppliers Sustainability Standard, by 2022 all our suppliers identified as having a high environmental impact will have a recognized system in place to identify and manage the environmental impact from their operations, with a particular focus on extractive raw material suppliers. Currently 66 % of these suppliers have been qualified according to our Supplier Code of Conduct which requires them to have an environmental system in place. To achieve this, we will develop a Holcim biodiversity environmental training module for our extractive raw material suppliers to share our knowledge on environmental management systems, quarry rehabilitation and biodiversity measurement with them.
Further, at Holcim, we do not source fibre containing paper bags from unknown sources and/or fibre coming from any potentially "controversial sources". All of our kraft paper and paper sack  suppliers have FSC/PEFC "Controlled Wood" certificates.
Product innovation for biodiversity
We at Holcim promote innovations where nature is embedded into the built environment. We innovate to create products and solutions that tackle core societal challenges such as urban heat island effect (UHIF), biodiversity loss, water pollution, soil and air quality.
Bosco Verticale building in Milan
UHIE occurs in urban settings when natural land is replaced by heat absorbing materials including bituminous roads and buildings. The effects of this amplify the negative impact on the environment to humans through high temperatures and poor air quality from mechanical cooling of buildings and the lack of trees to capture air pollutants. Through product innovation and stakeholder collaboration, Holcim has been directly involved with vertical forest buildings, vegetation roof systems, urban forests and light coloured permeable pavements, made possible by the unique properties of concrete. We aim to combine these to make nature both a feature and protector of urban communities.

The Bosco Verticale building in Milan is an iconic building that supports a vertical forest with terraced concrete platforms using Holcim concrete. Another iconic nature-based design is the Les Trèfles school in Belgium that uses Firestone's flat roofing product to grow dense vegetation by sustainably managing the capture of rainwater that naturally regulates the indoor climate.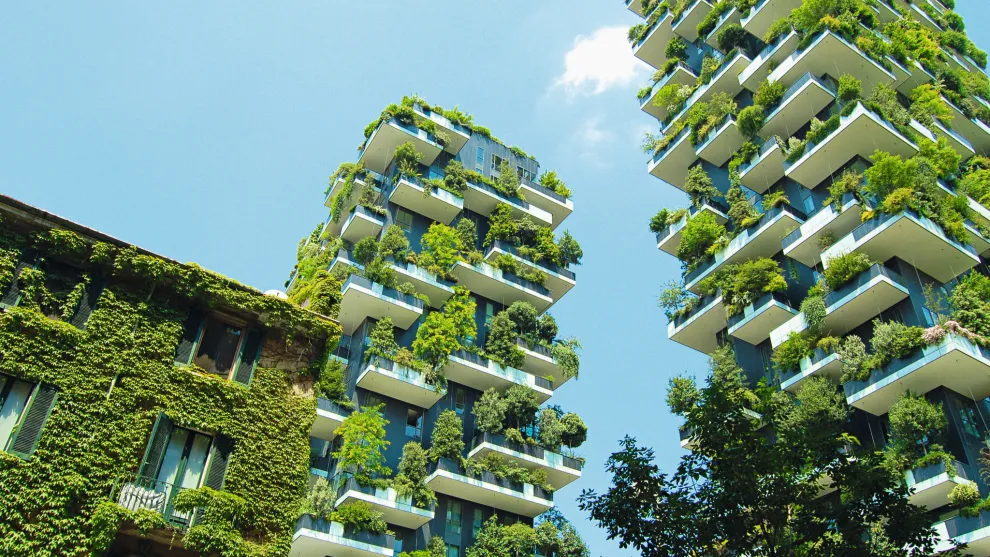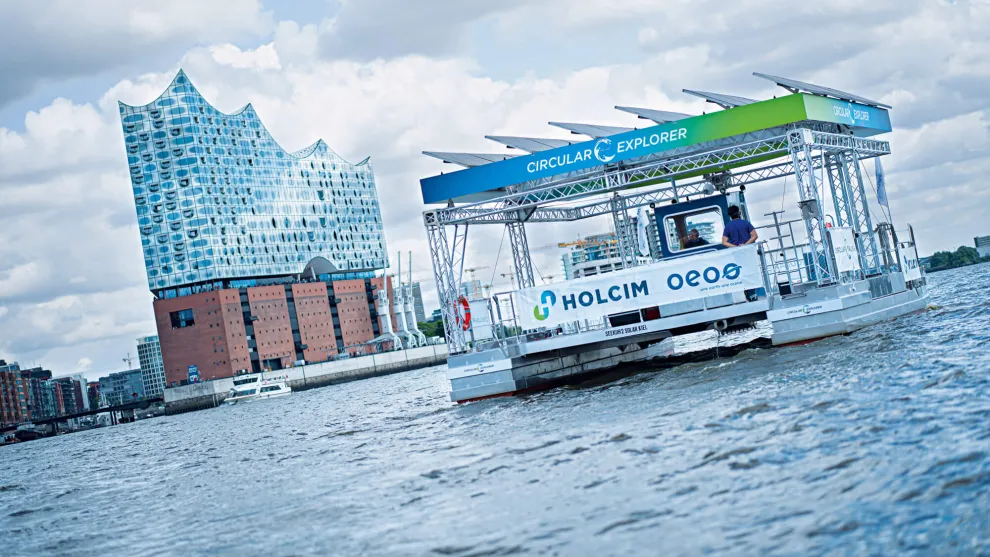 Addressing pollution
Pollution is one of the main pressures on biodiversity, ecosystem services and healthy watersheds. At Holcim, we are playing our part. Going beyond our own operations, we clean waterways and stop waste going to the ocean. The first Geocycle Bubble Barrier was established on the Mantola Canal of Agra City in Uttar Pradesh, carrying 40% of Agra city's wastewater. The bubble curtain is a non-invasive solution to stop plastic from entering the oceans. We also inaugurated our Circular Explorer boat in partnership with OneEarth-OneOcean. The Circular Explorer is a symbol of our leadership in the Circular Economy, as we reduce, reuse and recycle wherever we can across our business.
Bio-active concrete
A solution that supports marine biodiversity by rehabilitating areas with damaged coastal ecosystems.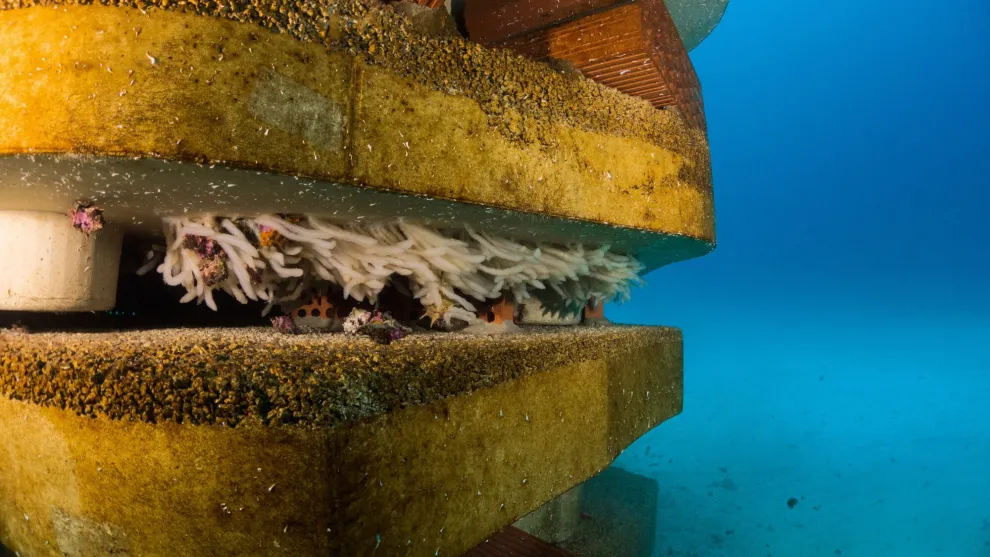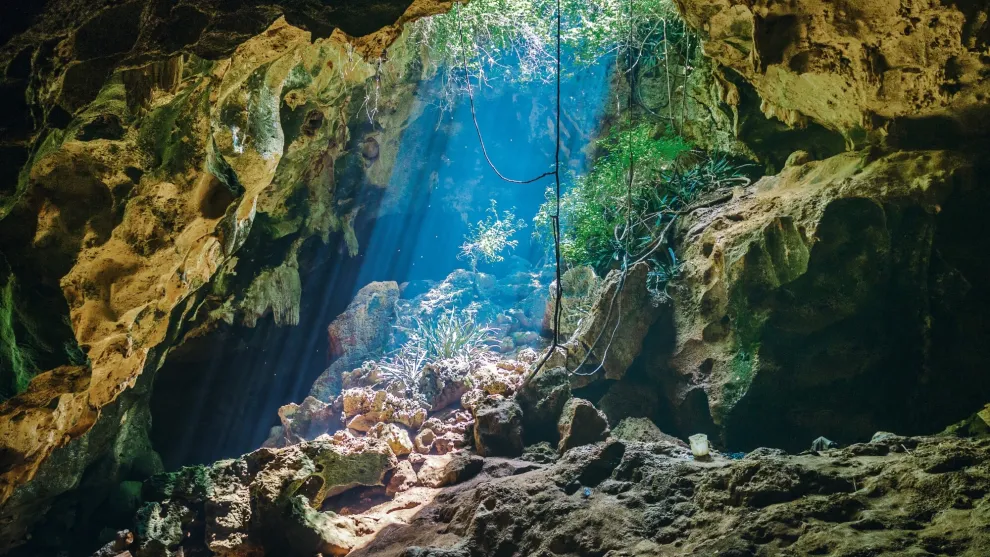 Agrovial
A soil stabilization solution that combines cement with locally-sourced soils to improve rural roads while reducing environmental impacts.
Soil remediation solutions
Cement solidification/stabilization (S/S) of contaminated soil is a well-established and highly effective site-remediation strategy that offers significant sustainable-development and economic-performance advantages over most other environmental remediation methods.
Inercem
A range of hydraulic binders specially created for the solidification and immobilisation of sludges and waste materials and the rehabilitation of contaminated soil sites.