Health, Safety & Environment
Being a leader in the building materials industry means setting new health, safety and environmental standards. Our aspiration is to conduct a business with zero harm to people and to create a healthy and safe environment for our employees, contractors, communities, and customers; while minimizing our environmental footprint.
Health, Safety and Environment: 
our core value
At Holcim, we believe that "if we're good in health, safety and environment, then we're good in business." Health, Safety and Environment is a critical success factor for our operational performance and not something we regard as a separate activity. This is why it is seen as a core competency at all levels of Holcim's organization, from site operators to top managers, and as a key component of successful personal performance. We are committed to:
creating a healthy and safe environment for all stakeholders based on a true health and safety culture

maintaining a global Health, Safety and Environment Management System designed to continuously improve our performance and actively manage risk

targeting operational discipline by instilling a mindset of safe execution and follow-up

communicating openly on relevant health, safety and environmental issues
Our strategy Ambition "0"
To realize this aspiration, the Health, Safety and Environment strategy "Ambition "0" was launched in 2017 and focuses on seven areas: on-site safety, zero-harm culture, systems and processes, road safety, control of health risks, environmental excellence, contractor partnerships.
A fully integrated governance
Only an integrated approach of Health & Safety and Environment can position our business in the path to success, to protect the people and the environment. To drive a consistent approach of HSE Strategy Ambition "0", processes are embedded in our management systems and include HSE standards, guiding documents as well as governance systems. The integrated approach includes a fully integrated framework, with audits, self-assessments, periodical reviews and follow up on corrective actions. Each Country develops their programs to align with the Group ambitions and achieve the desired outcomes using the HSE Improvement Plan process. Every year these action plans are reviewed and assessed for effectiveness. In 2017, a Health, Safety and Sustainability Committee of the Board (HSSC) was established to strengthen our environmental and social governance.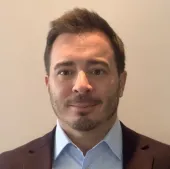 Since the launch of the Ambition "0" strategy in 2017, we have reduced our lost-time injury rate by 53% and in 2020, 95% of our 2,315 sites reported zero lost-time incidents. This is a great achievement but the journey will never be over. We are firmly determined in achieving zero harm.
| GROUP HEAD OF HSE