We believe in building a world that works for people and the planet. A world that keeps people safe, connected and thriving. Supply chains are key channels to scale up and accelerate positive impacts to advance society and uplift communities.
At Holcim, we see an opportunity to scale up positive impact based on the magnitude of our supply chain footprint: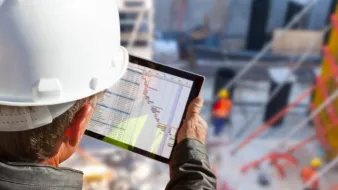 Open Innovation: Smart Trucking Nigeria
We run the Europe's largest hackathon: the HackZUrich with the Holcim "Two billion people sustainability challenge" (Sept 2020) The winning team, "Smart Trucking Nigeria", provided a solution to optimize logistics by connecting data on historical driving patterns (e.g. acceleration and braking data) with external data sources to reduce emissions and improve safety.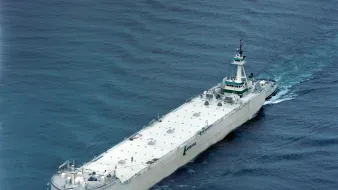 Optimizing the transportation network: USA - Cement
Holcim utilizes waterways as a primary shipping mode in the United States, shipping over 53% of product annually on the great lakes, inland waterways and sea.
The remaining volumes shipped by trucks are monitored to optimize dispatches and to achieve 100% utilisation, avoiding unnecessary emissions.
In 2020, Holcim US cement saved 6 million tons of CO2 and 19 million gallons of fuel by shipping rail and marine vs truck.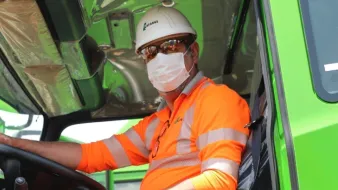 LNG Truck - Nigeria
Lafarge Africa launched a new set of 52 Natural Gas (LNG) fueled trucks.
The implementation of the natural gas powered trucks in partnership with Ecologique will improve environmental performance as LNG generates 30% less carbon dioxide than fuel oil and 45% less than coal.Our ambition is to inject additional natural gas trucks in the coming months while exploring other sustainable transportation initiatives.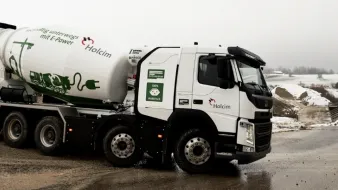 Electric fleet - Switzerland
Holcim Switzerland puts fully electric concrete truck mixers on five axles on the road, which are fed 100% with renewable energy. With this, Holcim is laying another important milestone for climate-friendly logistics. The three new e-truck mixers are the prelude to investing in a sustainable future for the entire fleet.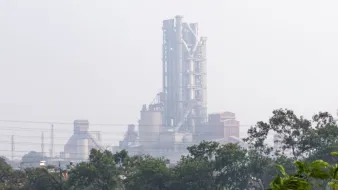 Successful Biofuels trials - India
Ambuja Cement has successfully completed sea trials of using soya extract-based biofuel in two of its cement carriers — Ambuja Mukund and Ambuja Vaibhav. Switching to bio-diesel will reduce CO2 emissions from shipping lines by 25 per cent, which in turn will strengthen India's ability to deliver on its commitment made under the Paris Accord.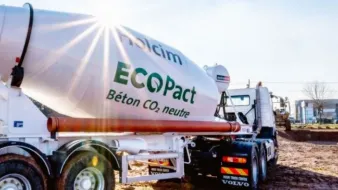 Network Optimization - Mexico
Holcim Mexico is implementing a network optimization tool, deployed by Group Logistics, to run strategic scenarios to optimize the logistic footprint that allow them to reduce cost, CO2 emissions and better serve the dynamic market demands.