Helping communities during coronavirus
Building on our long tradition of working closely with our communities and promoting their health and wellbeing, our teams all around the world continue to support communities during the pandemic by responding to the emergency needs and investing in our social initiatives.
Holcim is committed to respect the rights of our workers and stakeholders, in our operations and across the supply chains at all times. This is more essential than ever in the present context, especially where the most vulnerable workers and communities are concerned. COVID-19 was still present in 2021 and our teams continued to implement an extraordinary range of measures at country level.
Our response to COVID-19 has been timely and need-based. In view of the challenges posed by the pandemic, since the beginning we have supported the communities from donating construction materials to build emergency field hospitals, through to providing emergency relief essentials such as masks, sanitizers, food packages and water.
These efforts were continued and accelerated by fully integrating them into long term social initiatives our local operations are putting in place that enable people to access health care and services. Holcim owns and manages 49 hospitals and health clinics that are also open to the community.
Holcim is deeply committed to the communities in which we operate, and our investments have delivered benefits to more than 30 million people over the last five years on social initiatives related to health, education and skills, housing and infrastructure. We continue accelerating our efforts to support uplifting the wellbeing of communities worldwide.
Engaging in prevention, awareness and sanitization campaigns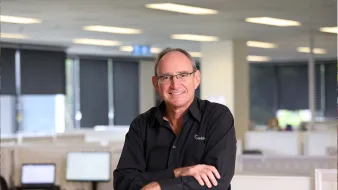 Australia
In Australia, our Legal & Property teams have been supporting local small businesses by helping them understand what government relief packages they may be entitled to.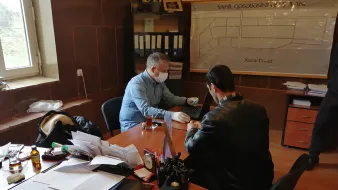 Azerbaijan
Our employees have been doing everything they can to help their local communities Sahil and Umid through the Coronavirus crisis. Disinfection and mobile services have been arranged for 150 children with special needs in Sahil and 50 children in the Umid community pre-school. Additionally, awareness-raising campaigns have been launched and informative materials, masks and medical tools have been distributed to local hospitals. Our employees have also been volunteering at local government offices to make sure everyone gets the support they need.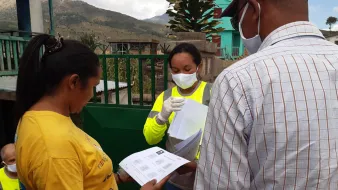 Comoros
Lafarge Comoros teams have been spreading awareness on Covid-19 by explaining how to prevent infection and distributing stocks of disinfecting soap to approximately 50 families in precarious living conditions around the work site.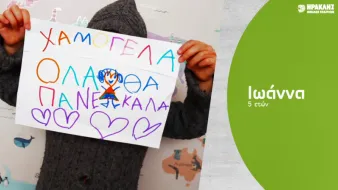 Greece
In Greece, our employees' children want to share their messages of love, hope and optimism in the face of a crisis. Their catchphrase is 'Staying together - Looking forward', and here they are imagining the world after COVID-19 has gone.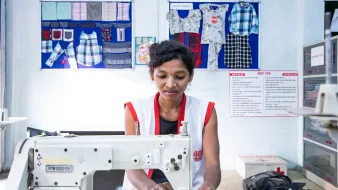 India
In cities all across India, our volunteers with the ACC Trust have produced over 23,000 medical masks, with another 20,000 to be ready in the next few days. These masks have been delivered directly to frontline workers in healthcare and other essential services to help protect them from infection.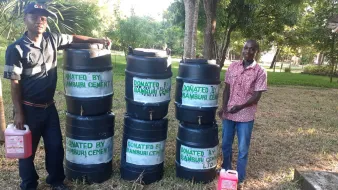 Kenya
In Kenya, we have donated water tanks and soap to the local Ngombeni community of around 8,000 people. These will provide a central sanitization stations for the community, helping them to keep healthy during the pandemic. Additionally, our teams hosted webinars to educate people on how to stay safe and prevent infection.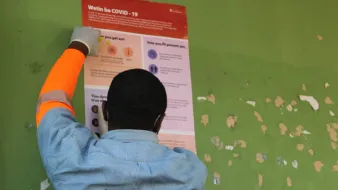 Nigeria
Our teams have been working hard to spread awareness on keeping safe during a pandemic to protect our host communities. Training sessions, posters, Whatsapp groups and other resources in a multitude of local languages have ensured a reach of over 100,000 people. In addition to this, there has been an increase in water supply to communities. To enlighten the communities on safe practices, wash stations have been provided for the communities impacting around 50,000 people. Two buildings have also been donated as temporary isolation centers in the South and North.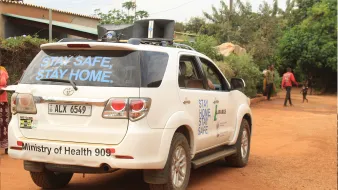 Zambia
In Zambia, our local operations have teamed up with the Ministry of Health to take community pandemic awareness to the next level. A vehicle bearing the slogan "Stay home, stay safe" and with basic hygiene guidelines has been driving through communities, whilst a health expert lists preventative measures over the car's loudspeaker.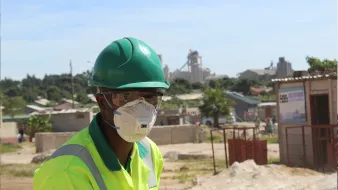 Zimbabwe
Our operations in Zimbabwe are supporting communities against Coronavirus with the philosophy "Sensitize, Supply, Sustain." This means sensitizing communities on how to prevent the spread of the virus, supplying medical facilities with equipment such as PPE, masks, hand sanitizers and more, and sustaining zero prevalence in communities which have not been infected through continuous awareness campaigns on social distancing and adherence to public health guidelines.
Supplying protective and medical equipment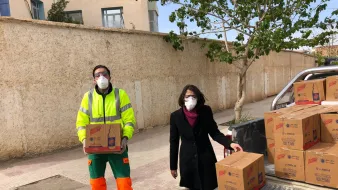 Algeria
In Algeria, our operations have donated thousands of gloves, masks and other PPEs, as well as disinfectant liquids and soaps. Community awareness is also a top priority, as our teams distribute brochures and assist local authorities in spreading knowledge about staying safe during a pandemic.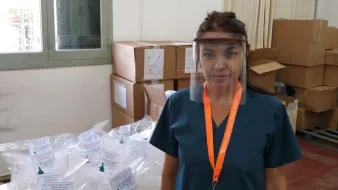 Argentina
Our operations in Argentina have partnered with a local startup, Synergia, to begin 3D printing protective face masks. These face masks are donated to local health centers to help prevent infection.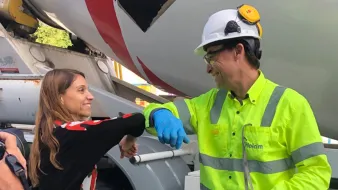 Argentina
We are using our ready-mix trucks to help sanitize the streets, in order to help fight the infection.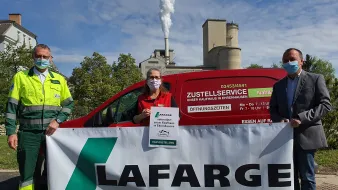 Austria
In Austria, we supported the delivery of food to the homes of people living in the vicinity of our Retznei plant, focusing on at-risk groups such as senior citizens. We also donated PPE, largely consisting of safety masks to local clinics and doctors in the Mannersdorf area.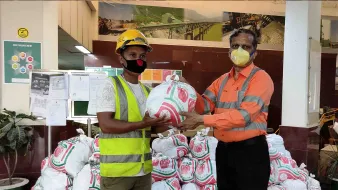 Bangladesh
Protecting the communities near our plants is the main goal of the actions taken by our Bangladeshi teams to tackle Covid-19. The donation of masks and food, and the installation of handwashing stations throughout local areas helps residents and medical professionals alike fight the spread.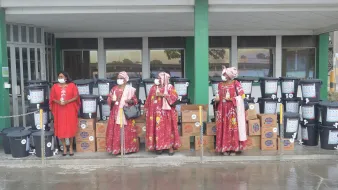 Cameroon
In Cameroon, our teams have donated 5,000 surgical masks to local authorities, as well as sanitizing kits consisting of clean water, bleach, soap and antibacterial gels to local women's associations.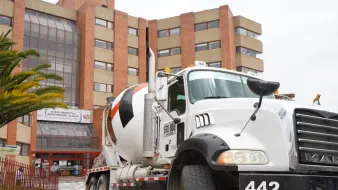 Colombia
In Colombia, our ready-mix trucks are on the frontline in the fight on Covid-19. They are delivering sanitizing solutions to assist in the local government's efforts in cleaning the streets of the infection. Our teams are also hard at work carrying out awareness campaigns, setting up psychological care and organizing virtual recreation for children and adults alike!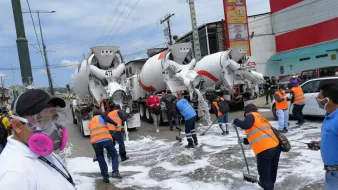 Ecuador
Our ready-mix trucks have played an important part in the sanitization of the country, especially in Guayaquil, as our teams have been hard at work to protect the residents of the city from the spread of covid-19. Additionally, we have donated protective equipment to a local hospital and provided basic food packages to families that are in need.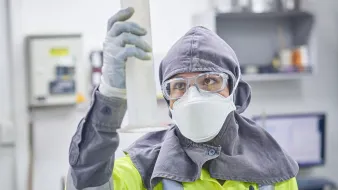 France
From the laboratory to the emergency room: our innovation center in Lyon has donated their 4,000 N95 masks and 100,000 gloves to the Bourgoin Jailleu hospital in France.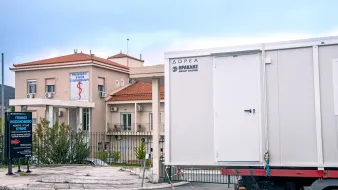 Greece
By donating medical supplies, including two fully-equipped isolation boxes, our organization in Greece is making sure the medical facilities in the communities where it operates have all the equipment they need in the face of Covid-19.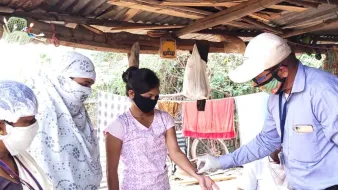 India
The Ambuja Cement Foundation has been driving health and awareness campaigns that have reached over 600,000 people. These initiatives have involved distribution of 200,000 masks, supply of ration kits for 60,000 families and intensive awareness campaigns by 4000 volunteers and teams to support our rural communities.
India
In India, we have stepped up our efforts to protect communities in the face of Covid-19, beginning the largest village in Himachal Pradesh. In collaboration with local authorities, we helped to sanitize the households of the entire village of around 13,000 inhabitants.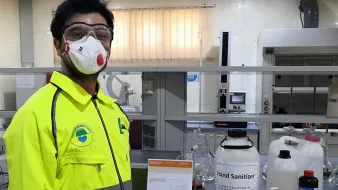 Iraq
In Iraq, where shortages have caused hand sanitizer prices to rise, our laboratories are now producing it themselves, reaching 250 liters produced already. They are also producing protective facemasks, another resource to help prevent the spread of infection.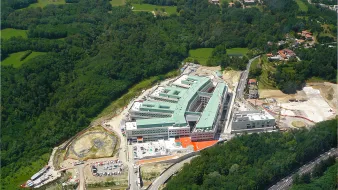 Italy
We operate in some of the regions hardest hit by Covid-19 in Northern Italy, which is why we want to do everything we can to look after the communities there. We have donated to several hospitals in Lombardy, as well as donating any protective masks we can spare. We also support our employees and their families with insurance policies that mitigate the impact the virus might have on them, from healthcare services to home delivery of food.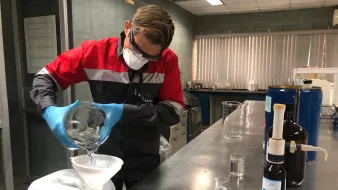 Mexico
To answer a shortage of antibacterial gel, 7 of our cement plants have begun to produce it, supplying over 1,000 liters so far to communities, health centers and other public places. The initiative also includes the donation of food baskets to the vulnerable, sanitation equipment for the cleaning of public places, placing hand washing stations, producing facemasks and the donation of PPE, and has benefited more than 5,000 people already.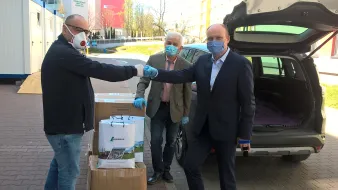 Poland
In Poland, we have donated PPE to four major hospitals around the country, including 800 protective suits and 10,000 surgical masks.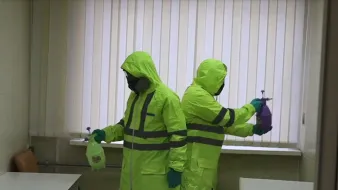 Russia
In Russia we have taken a number of measures to protect our employees and prevent the spread of infection on top of the World Health Organization guidelines. These include the disinfection of premises and vehicles, contactless document transfers, temperature measurement at the entrances to the premises, informational posters and sanitizer stations throughout plants and offices, as well as home office and videoconferencing measures wherever possible.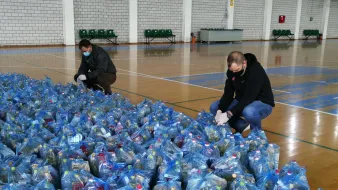 Serbia
In Beočin, we have donated vital medical equipment to the local health center to help them diagnose Covid-19 as early as possible. Additionally, we have provided PPE including masks, disinfectant and visors to healthcare professionals, as well as 200 hygiene kits for the most vulnerable families.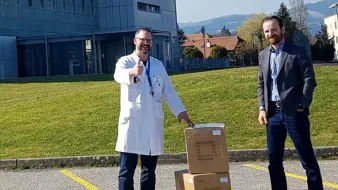 Switzerland
In our home market of Switzerland, we have donated more than 2,000 masks to hospitals in the cantons of Zurich and Fribourg, with more activities planned.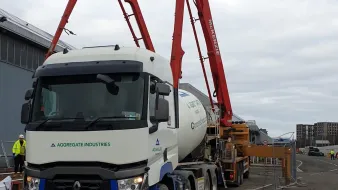 United Kingdom
Healthcare resources being stretched to capacity is one of the concerns resulting from Covid-19. In Glasgow, we have donated concrete to help an exhibition center be transformed into a new temporary 1,000-bed hospital.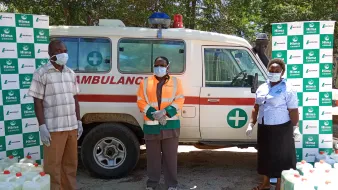 Uganda
In Uganda we have donated one of our company ambulances to the dedicated government Covid-19 task force, to support their efforts in helping communities in need, as well as donating 1,600 liters of disinfectant and soap.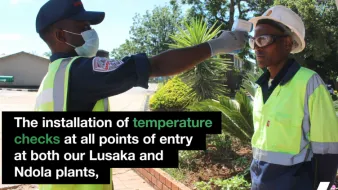 Zambia
In order to help prevent the spread of Cvid-19, our operations in Zambia have deployed an extensive group of initiatives to keep our employees, customers, transporters and suppliers safe. This includes temperature checks at all points of entry to both of our plants, procurement of face masks for all of our employees at the plant, and hand sanitizer available throughout our premises, as well as measures for employees to work from home wherever possible. We also ensure that our suppliers provide face masks for all of their drivers before they enter our premises and encourage our customers to place orders via our mobile app to adhere to social distancing.
Donating building materials to build public health infrastructure such as hospitals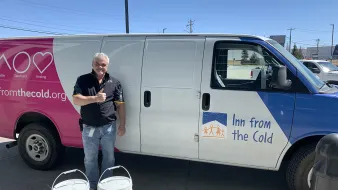 Canada
In Canada, we have donated 10 truck-loads of aggregates for the construction of a temporary Covid-19 relief hospital, in addition to donating 1,000 surgical masks to Toronto Sick Kids Hospital and Humber River Hospital, and hand sanitizer to three more hospitals in the British Columbia province.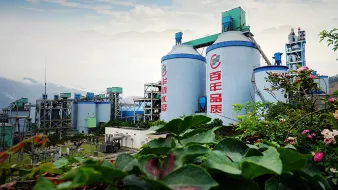 China
The high demand for medical equipment also means a high amount of medical waste produced, a growing problem of coronavirus - but cement kilns can dispose of this waste. For instance at our Yangxin plant in China, medical waste has been eliminated quickly and safely.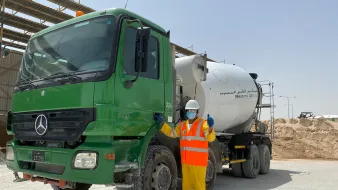 Qatar
In Qatar, we have ensured a temporary hospital and quarantine facility could be built quickly thanks to a donation of 200 tons of building materials.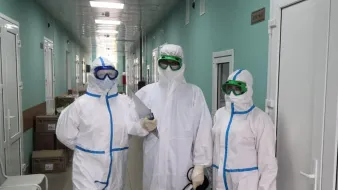 Russia
In Russia, we have supplied cement for the construction of two hospitals in the Moscow region and one in Saratov. We have also donated for the procurement of 100 special PPE's to prevent infection for a hospital in Voskresensk.
Distributing basic goods such as food packages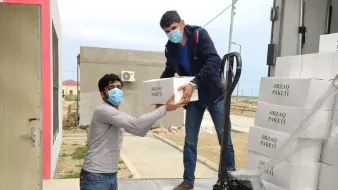 Azerbaijan
Our employees decided to provide food packages for vulnerable families in the villages where operate. Holcim Azerbaijan decided to support and strengthen this employees' initiative, ultimately reaching hundreds of families in Umid and Sahil.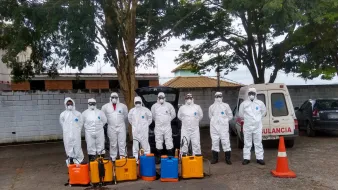 Brasil
Our operations in Brazil have donated food and cleaning materials to some of the most vulnerable families in communities, reaching around 2,000 people. In addition, PPE and sanitizer have been donated to local hospitals and Fire Departments.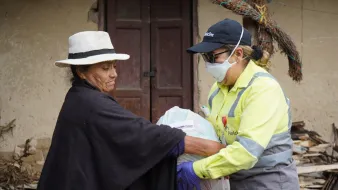 Colombia
As part of our donation program in Colombia, we are helping vulnerable communities near our operation sites. From food for those who need it most to equipment for medical personnel, we are helping where we can.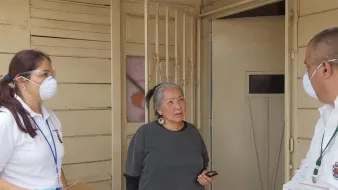 Costa Rica
In Costa Rica, we have joined forces with local authorities to provide basic groceries to families in vulnerable situations due to the crisis. We have also carried out a donation campaign in cooperation with a local NGO to collect PPE and health implements for medical workers.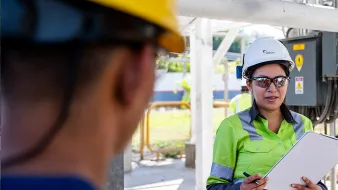 El Salvador
When Covid-19 spread to El Salvador, it meant that over 350 people needed to be quarantined at our Metapan plant for 48 hours. In this unprecedented situation, our local teams stepped in to provide over 2,500 meals, along with medical supplies, clean clothes, soap and blankets.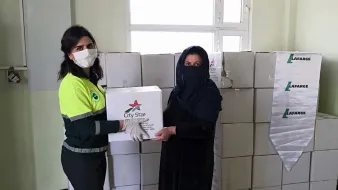 Iraq
Our colleagues in Iraq have been working hard to support the communities of Karbala and Bazian during the Covid-19 pandemic. Food packages have been distributed to families and medical equipment has been donated to the authorities, and our teams have been producing leaflets to spread awareness of good practices that help fight the infection, such as social distancing and frequent handwashing.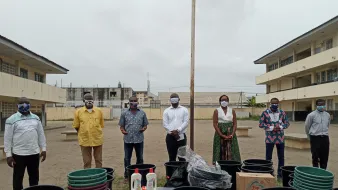 Ivory coast
In Côte D'Ivoire, we teamed up with the Moroccan embassy to donate over 300 food kits to the local authorities in Cocody, one of the most vulnerable communities. These food kits will go directly to at-risk families. We have also donated protective equipment to families living around the plant in order to decrease their risk of infection.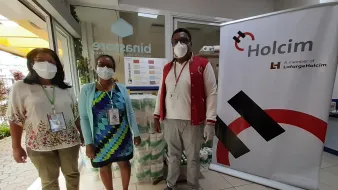 Madagascar
In Madagascar, our employees have been working hard to deliver soap to around 400 families living near our site in Ibity, and raising awareness of preventative measures. They have also donated soap and other hygiene supplies to medical centers near our working sites.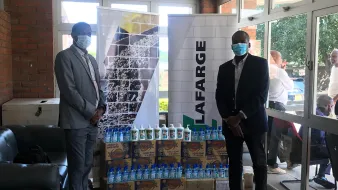 Malawi
In Malawi we have donated liquid soap and hand sanitizer to the country's biggest hospital, the Queen Elizabeth Central Hospital. The hospital's hand washing point at the main entrance was recently depleted, so this donation came at a critical time and will serve to better protect the hospital from infection.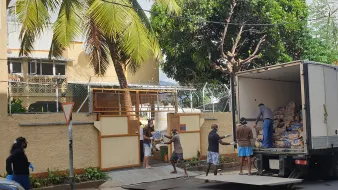 Mauritius
To help those who need it most during these difficult times, our operations in Mauritius sponsored 1,000 food packs for families in need through several NGOs. The products were packed in our cement bags and distributed in the neighboring regions of our business areas. Utmost care was taken to ensure the distribution was carried out in compliance with all health regulations such as wearing gloves, masks and maintaining social distancing.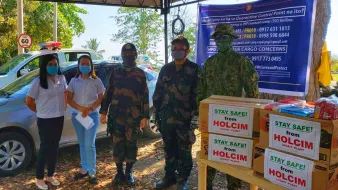 Philippines
Our operations in the Philippines have been dedicating themselves to providing essential food, water and hygiene products for the communities that are most in need. The team is also in the process of procuring medical protective equipment such as face masks, respirators and face shields for government medical frontline staff.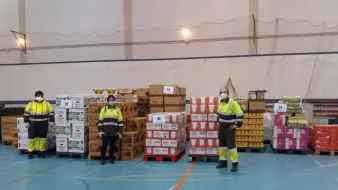 Spain
Teams in Spain have been going the extra mile to ensure communities around the plants where they work have access to essential supplies. In Jerez, around 12,000kg of food and other basic household essentials were donated, while in Carboneras our employees working at the plant led the initiative to collect basic necessities for their local community.