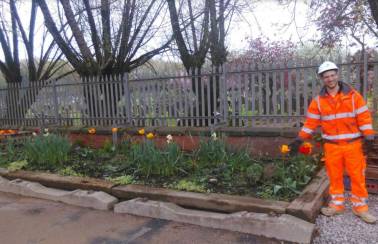 An urban wildlife haven
Located in the middle of urban Manchester, UK, the Salford site houses an asphalt plant and a ready mixed concrete plant . The only oasis of calm in the otherwise very busy industrial landscape is the cemetery, which is just adjacent to the Aggregates Industries operation. But between the two sites was a deserted area of land of approximately 450m3 in size.
The Salford team decided to change this, planting plant flowers, vegetables and herbs to convert this little corner into a mini-nature reserve. They put up bird and bat boxes, and even constructed a bug hotel! In a just short time, the area has become a haven for wildlife as well as a great place for staff to relax on their breaks. Originally only a small area was planted, but the team has now incorporated other unused areas on the site.
Who's been checking in?
Equipped with a reference book, Salford team set about identifying the different species, which included bees, birds, butterflies, moths, wasps and hedgehogs. Rod Holroyd, Plant Manager at Express Asphalt Salford, said, "It's astonishing to see how nature comes to life with very little effort. This has been an enriching experience for the team."
One team member recently attended a beekeeping course so the team hopes more apine visitors will check into the hotel next spring. Foxes, bats and rabbits have also been spotted near the site and, with a bit of luck, they will accept the Salford team's hospitality and take up permanent residence!