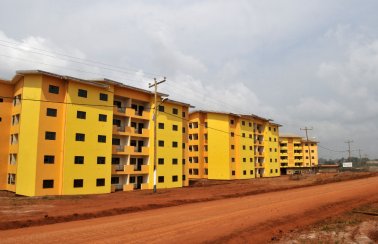 Every year, 100,000 people arrive in the cities of Yaoundé and Douala, looking for housing. On a national level, Cameroun's needs for urban housing are estimated at 1 million units. So it is important to find solutions for fast and efficient construction.
Through our first concrete plant in Cameroon, we have supplied 40,000 m³ of ready-mix concrete for a vast housing program launched by the Cameroon government in the capital city, Yaoundé. Begun in 2012, the first phase of 560 homes are due to be handed over in 2014, creating housing for thousands of people!
The highly innovative building site employs the stay-in-place formwork technique. This process is fast, easy to use and very economical: it means that you can build a house in a day!
How does it work?
Almost like a toy building kit, metal panels are fitted together to form the framework of the building (slabs, walls), resulting in a hollow house! The concrete is then poured directly onto the metal formwork which stays incorporated in the concrete after it has been placed.
An extension of the program to 3,000 homes, requiring 80,000 m³ of concrete, is expected to start in 2014. This will provide decent housing for thousands more newcomers to the city of Yaoundé!