3D PRINTING PROJECT YHNOVA BEGINS TO TRANSFORM THE CONSTRUCTION SECTOR
The construction industry has yet to fully embrace the potential of digital technology, yet Holcim firmly believes that this is where the future of our sector lies. In this context, Holcim joined the consortium of students, scientists and construction industry players behind the University of Nantes' 3D printed social housing project Yhnova, to build a 95m2 house in just a few days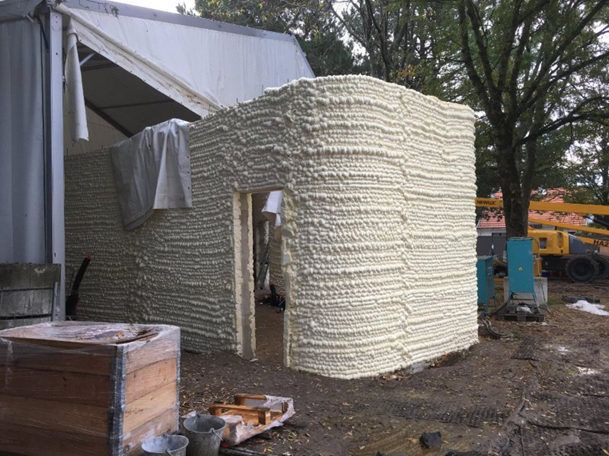 Digitally transforming affordable social housing
There is little doubt that 3D printing construction solutions have the potential to revolutionize our industry, in terms of design ingenuity, speed, affordability and environmental impact. Recently the Yhnova project by the University of Nantes in France put this technology to the test in the realm of affordable housing, assembling a team of researchers, architects, scientists and industry players to build an affordable 95m2 family home in a couple of days.
University researchers designed the Batiprint3D robot, whose laser system guided its four-meter arm in printing three layers; two of foam insulation and one of concrete. This was then covered in finishing plaster to create the curved walls of the five-room home. Holcim not only sponsored this project, but provided the specially adapted 3D printable concrete mix to address the specific needs of the project: low hydration heat and fast setting.
Lafarge France teams sourced the available materials locally, and the nearby Saint Herblain concrete plant did a wonderful job accommodating the needs of this experimental worksite. Long-term Holcim collaborator, Bouygues Construction France, acted throughout the project in quality of master builder.
The result is a home that was quick and affordable to build, and energy efficient and spacious thanks to its curved walls. But the project does not end here, and built-in sensors will monitor the success of the structure and its thermal and acoustic properties over time in order to optimize future builds. We are in the early stages of application of 3D printed construction technology, but this has been an invaluable experience of the use of a robot on a real worksite!
The complete house was inaugurated on March 21 2018 by the mayor of Nantes, Johanna Roland. Watch the ribbon being cut on this exciting project below:
Holcim looks to the future of our sector

Holcim is committed to delivering innovative solutions that create value for our customers. Developing and adopting the digital solutions that support innovation, interconnectedness and bringing better solutions to more customers in more places is a key component of our future success. Holcim is innovating and seizing opportunities in the digital fabrication market by developing specific construction solutions for three identified markets:
High value added architecture
Robotic construction of prefabricated building elements
Individual affordable housing projects
We have leveraged the scientific and technological expertise of our R&D Center in Lyon, France, to design a range of experimental concrete mixes for 3D printing.