Partnering with Norman Foster to debut "Droneport" at 15th Architecture Biennale in Venice
LafargeHolcim is proud to contribute to the innovation being celebrated at this year's Architecture Biennale in Venice kicking off on May 28. We will be on hand to showcase our innovative spirit. Through the LafargeHolcim Foundation for Sustainable Construction, we have joined forces with architecture heavyweight Norman Foster to develop the new frontier of infrastructure: the "Droneport".
Durabric: LafargeHolcim's affordable, sustainable and reliable building material solution
Durabric is a low-carbon compressed earth and cement solution developed for the construction of affordable housing. Durabric achieves its performance without the intensive use of firewood or other fuel, and is a sustainable alternative to traditional clay bricks. Designed for affordable and environment-friendly housing in cities and rural areas, Durabric is currently used in 8 countries (Malawi, Tanzania, Madagascar, Cameroon, Uganda, Rwanda, Nigeria and Indonesia).
Visit the Durabric website to learn more
Read more about LafargeHolcim's affordable housing solutions
The Venice Architecture Biennale 2016 opens to the public on May 28 and this year's theme, "Reporting from the Front", is a bid to encourage architects to address some of the most important global issues. How can LafargeHolcim's solutions provide a tangible response to this socially-driven call-to-action? We teamed up with architecture star Norman Foster, leading universities and building materials researchers to create the world's first "Droneport."


Combining LafargeHolcim's building materials expertise with state-of-the-art architecture
Lord Foster initiated the project with the idea to build modular ports that would serve as a base for drones responsible for delivering cargo and medical supplies quickly and cost effectively. By providing an alternative to road and railway systems, the "Droneport" is designed to allow communities previously held back by lack of resources and/or geographical challenges to accelerate their development. As a key player in infrastructure construction, LafargeHolcim couldn't help but be interested in contributing to this unique project. The team from the LafargeHolcim Foundation for Sustainable Construction reached out to the Norman Foster Foundation to suggest using Durabric, our compressed earth and cement solution.

Our know-how proved crucial to the project. The challenge was to create small, lightweight bricks that could withstand structural pressure as well as rain exposure. Our R&D teams developed 18,000 customized Durabric tiles to construct the "Droneport" prototype vault at the Norman Foster Foundation Pavilion. The collaboration showcases the versatility of Durabric and how it can be used as a solution to a wider range of social and development issues.
Learn more about LafargeHolcim at the Norman Foster Foundation Pavilion

Droneport: A catalyst to leapfrog conventional infrastructure in developing countries
Norman Foster's vision of a Droneport network combines the dynamic futurism of drone technology with low-tech buildings using local materials and 800-year-old building techniques. Watch the "Making of" story:
LafargeHolcim: Flying towards the world's first cargo drone line?
Is the "Droneport" simply an impressive concept designed to wow at exhibitions? The Venice Biennale is actually just the first stage of this revolutionary infrastructure project and a testing ground for the proposal's transferability. Following the exhibition, packages containing both materials and procedures will be sent to remote communities in Rwanda, whose government intends to build three "Droneports" with Durabric. This would represent a major opportunity for LafargeHolcim to contribute to the world's first cargo drone line while using cutting-edge technology to fill infrastructure and economic development gaps.
LafargeHolcim: cementing cultural outreach and engaged in issues of sustainability
About 60 countries will be represented at the Biennale with a pavilion. LafargeHolcim member company Holcim Switzerland is the main sponsor of the Swiss Pavilion and provided white cement used to build the entire concrete sculpture. The Swiss Pavilion is a project of the Swiss Arts Council Pro Helvetia, a non-profit dedicated to fostering artistic creation and cultural exchange in Switzerland as well as promoting Swiss culture abroad.

The LafargeHolcim Foundation is delighted to be associated with the 15th International Architecture Exhibition including the "Droneport" project at the Norman Foster Foundation Pavilion and around 40 former Awards winners, jury members, Roundtable participants and Forum keynote speakers will be exhibitors.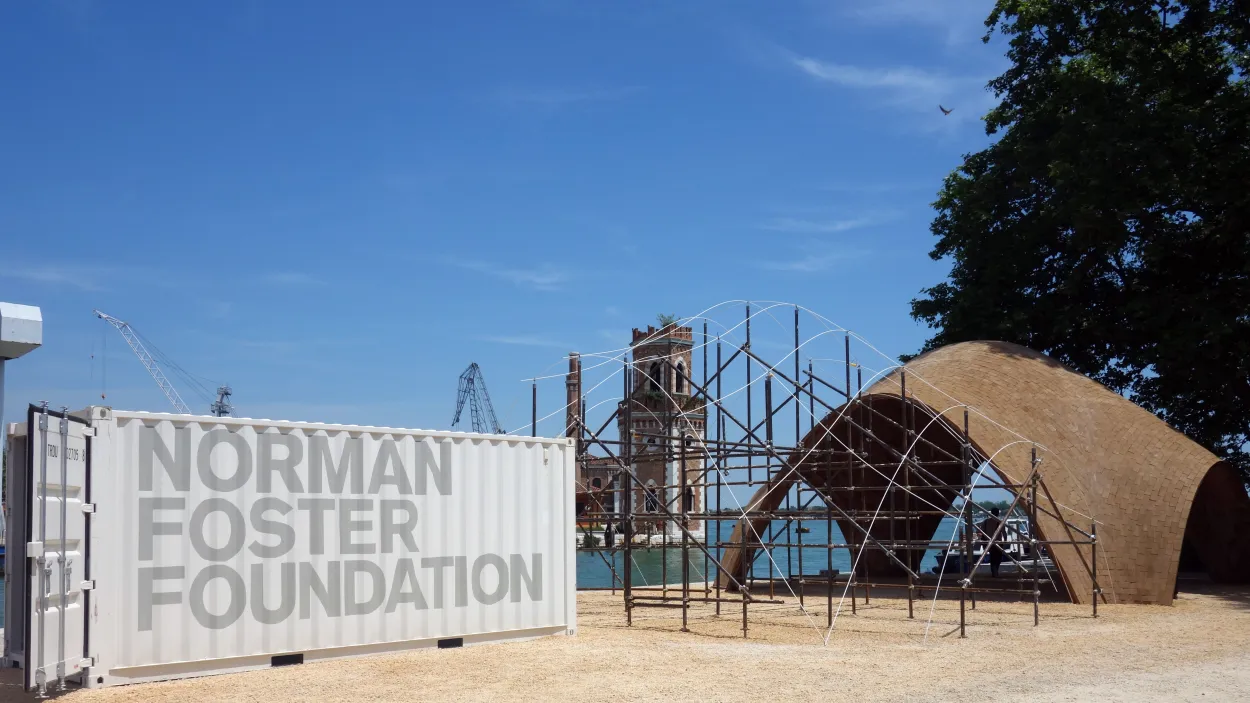 <p>The LafargeHolcim Research Center in Lyon developed 18,000 customized Durabric tiles used in the construction of the "Droneport" in Venice.</p>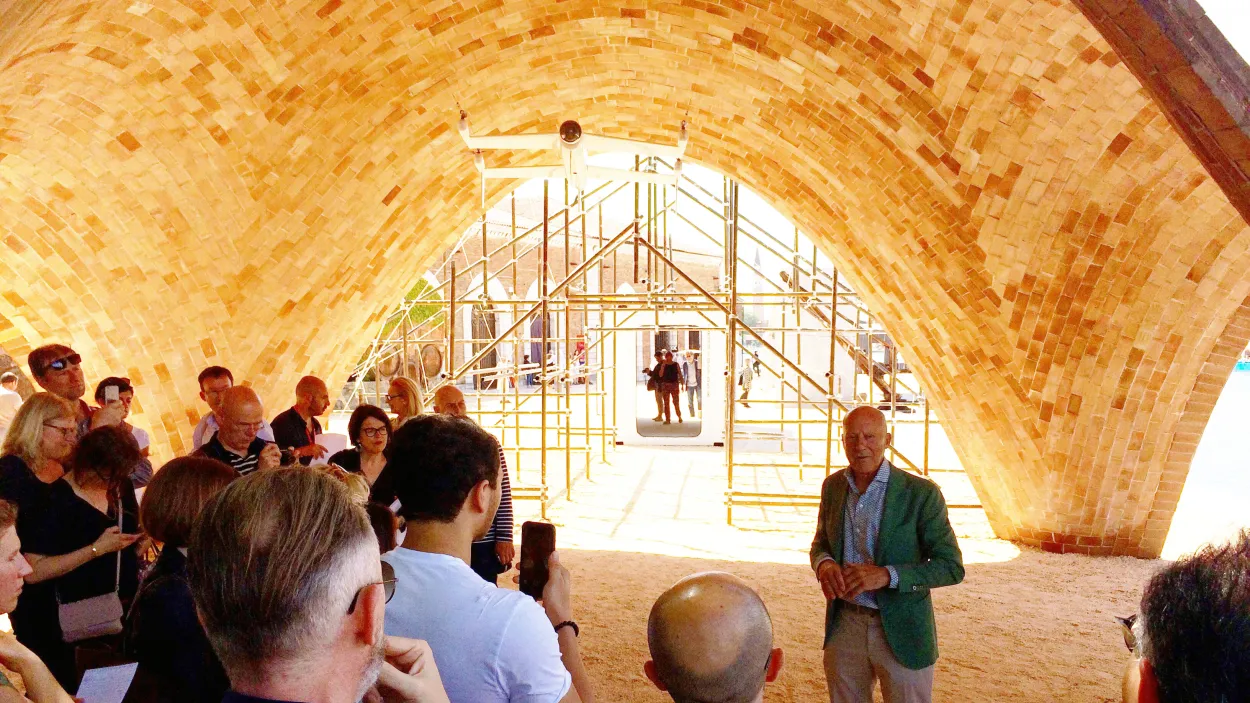 <p>Lord Norman Foster (pictured at exhibition launch) is personally committed to optimizing the "Droneport" prototype vault at the 15th International Architecture Biennale in Venice.</p>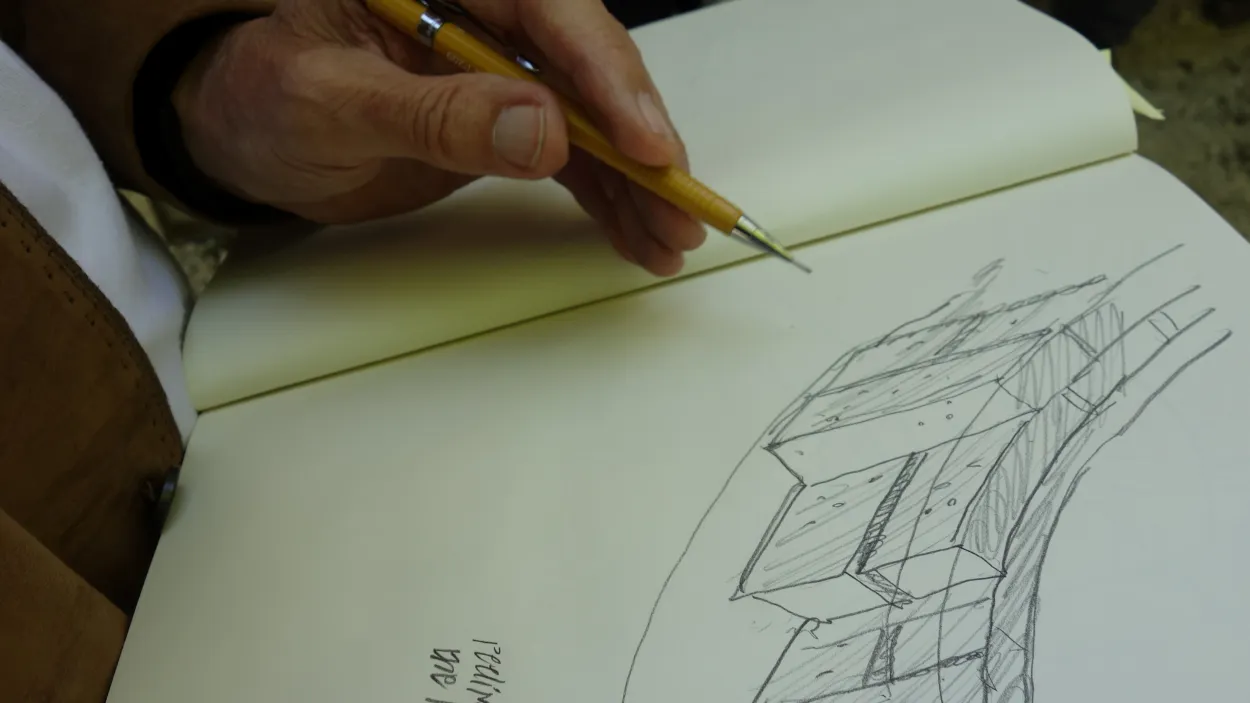 <p>Sketch by Lord Norman Foster used to build the "Droneport" prototype.</p>
<p>A modular system of vaults is envisioned using earth-based products, such as Durabric, with pre-fabricated formwork. The intention would be for the local communities to create their own buildings.</p>