Holcim supports Amazon's shift to sustainability with ECOPact
Holcim and Amazon Web Services (AWS) are working together to make AWS data centers in the US more sustainable. The partnership follows AWS's new design standards, which requires that its new US data centers use concrete with 20% lower embodied carbon versus standard concrete. Holcim delivered a tailor-made ECOPact mix that doubled that ambition, decreasing embodied carbon by nearly 40%.

As innovation leaders of their respective industries, Holcim and Amazon Web Services, along with HITT Contracting and Baker Concrete Construction, prioritized the collaboration of engineers, architects, developers and builders early in the planning. Holcim and AWS are looking for ways to further improve CO2 savings on future projects, especially as the new AWS design standards go global.

"As part of The Climate Pledge, Amazon is committed to reaching net-zero carbon emissions by 2040 – 10 years ahead of the Paris Agreement," said Gurmeet Sethi, AMER Head of AWS Data Center Procurement. "To help meet that commitment, AWS is focused on continuous sustainability-related innovation across our global infrastructure, and forging industry collaborations with companies like Holcim is one way we can do that. This will both allow AWS to further reduce carbon emissions associated with building of our data centers and create new opportunities to build infrastructure more sustainably across the region."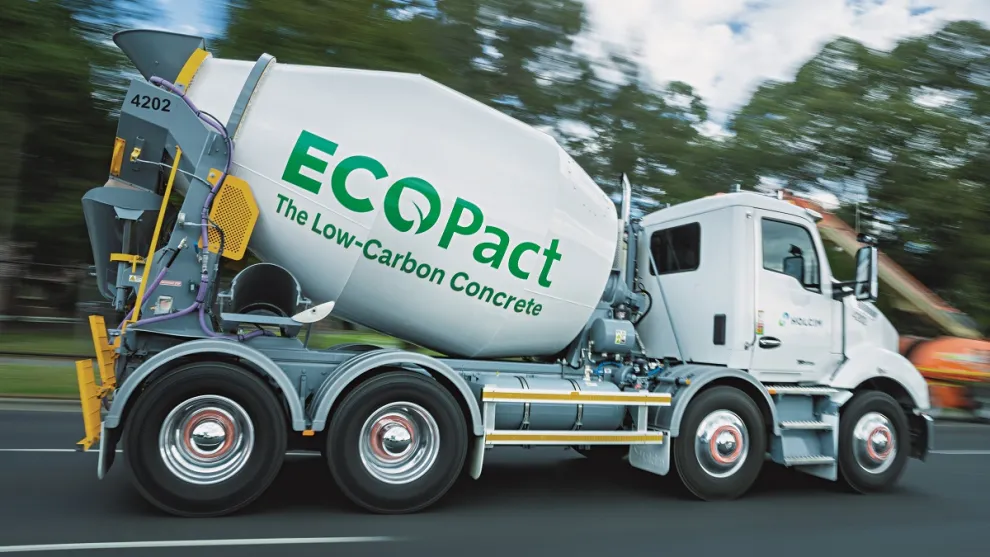 "New ideas, new technologies and new requirements are changing the ways we design, build and grow," said Cedric Barthelemy, Regional Head, Mid-Atlantic with Holcim. "AWS and Baker Concrete Construction are known for bold thinking across business models, and that extends to their approach to sustainability. Our partnership pairs their experience in data warehousing and our expertise in designing low-carbon concrete to achieve a more sustainable built environment."

Read more about how Holcim is supporting AWS in its shift to sustainability.
The industry's broadest range of green concrete

ECOPact is the industry's broadest range of green concrete that provides a range of reduced carbon emissions, starting at 30% compared to standard concrete. The partnership between AWS and Holcim led to the design of innovative concrete mixes that provide 35% to 45% less CO2. The use of ECOPact in the Amazon Data Center project, currently under construction, is estimated to reduce the total CO2 in the concrete by 39% (compared to the concrete with 100% ordinary Portland cement that would have been used otherwise).

Learn more about ECOPact