Building greener cities, from foundation to rooftop
By 2050, 80% of the world's population, close to 10 billion people, is expected to be living in cities. Greener cities will enhance quality of life and well-being for all, while contributing to a net zero future that works for people and the planet.
At Holcim we play an essential role in making cities more sustainable, with our low-carbon building solutions available around the world.
Sustainable building starts with low carbon materials, such as the world's broadest range of green concrete ECOPact, enabling carbon-neutral building at scale globally.

Low carbon concrete is increasingly in demand by developers and architects across the world. Two buildings under construction in the United States are flagship projects that demonstrate its importance and possibilities, aligned with the world's most advanced sustainability certifications, from LEED to BREEAM.
Georgetown University's 12-storey student residence in the heart of Washington DC, and Boston University's 19-storey computing and data science centre are both large buildings that require the structural performance of high quality concrete and demand the latest thinking in sustainable building. Boston and Washington DC have pledged to be carbon neutral by 2050, so a new approach was needed to help create these buildings.
Both buildings use ECOPact, Holcim's low carbon concrete that offers between 30 and 100 lower carbon emissions than standard concrete. Yet ECOPact has the same reliability and strength of traditional concrete, a critical factor when creating buildings almost 20 storeys tall!
With concrete representing up to 80 of the mass of these buildings, the shift to low carbon concrete played a key role in their sustainability profile.
"Our challenge was to find a sustainable high-performance concrete solution that would come up to strength in a timely fashion in order to maintain our schedule," says Ben Fry, project manager for John Moriarty & Associates, the construction management firm which worked on the project.
Exceeding LEED Platinum status in Georgetown University
Did you know that buildings lose up to 60 of their energy through their roofs?

From our Airium™ insulating mineral foam, to our Firestone Building Products with green, cool and insulating roofing systems, we are making buildings more energy-efficient from the foundation to rooftop.
Georgetown University's new student residence - designed by the American architecture firm RAMSA - also includes solar panels, a rainwater collection system and many other environmentally conscious features.
This combination of features alongside our low-carbon, high-strength concrete achieved an emissions reduction that was the equivalent of removing one million miles of road travel by fossil-fuelled cars. The building itself has achieved and exceeded LEED Platinum status. LEED is the most widely used green building rating system in the United States, so it's a hugely important milestone, and would not have been possible with standard concrete.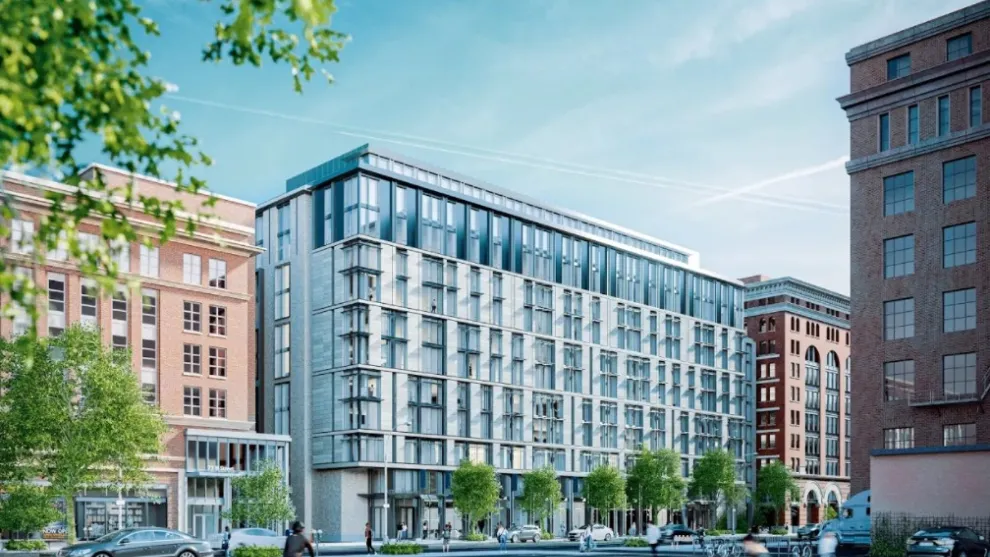 Credit: Alden Studieos for Robert A M Stern Architects
Largest carbon-neutral building in Boston.
ECOPact is also being used to build the largest carbon-neutral building in Boston. Designed by Toronto-based firm KPMB Architects, Boston University's new computing and data sciences centre is due to be completed in 2022.
Boston University aims to be carbon neutral by 2040, ahead of the city's goal, and the building's energy source will be 100 free of fossil fuels, making it the university's most energy-efficient building.
"The project is designed to become the largest fossil fuel-free building in the Boston area through using deep geothermal wells to harness the inherent energy in the ground to heat and cool the building, triple glazing and solar shading, as well as renewable energy sources," says Paulo Rocha, principal at KPMB Architects.
Holcim is a key partner on the project, providing all the concrete used, and completing one of the largest concrete pours in Boston history. ECOPact was used for the foundations and foundation walls, Agileflow – our self-levelling concrete – was used to provide structural integrity for the vertical concrete, and our mobile app delivery system ConcreteDirect helped to mitigate the risk of waste.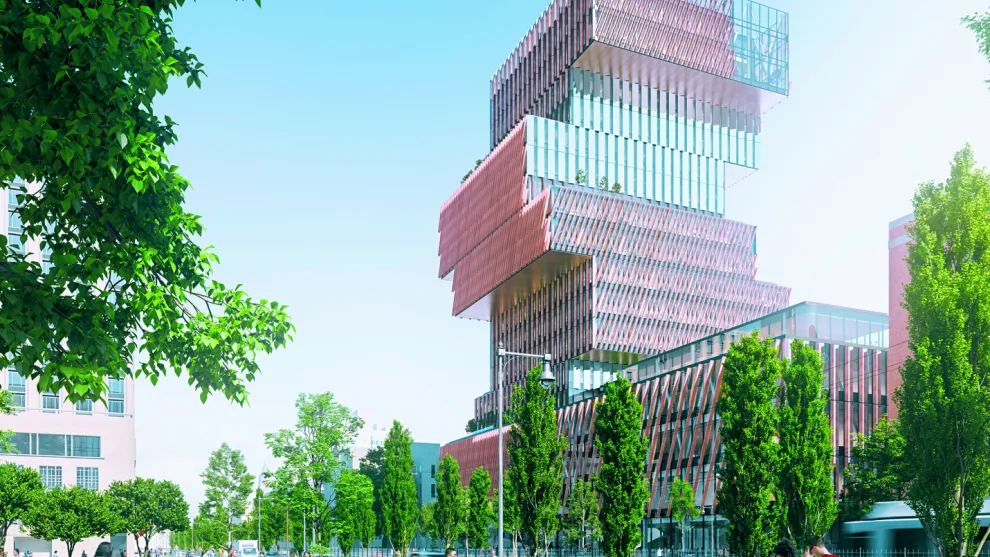 The results are incredible – more than 700 tons of CO2 were saved! That's the equivalent of taking 140 cars off the street for a whole year.
As the world's population grows, more and more cities and governments will need to follow the example of Boston and Washington DC. A growing population means more homes, hospitals, schools, bridges and roads will have to be built. So sustainable and innovative building solutions like ECOPact have a vital role to play in helping to reduce the carbon footprint of these projects and allow the delivery of vital new infrastructure whilst working towards a net zero future.
At Holcim we are making low-carbon construction possible at scale. We invest more than half of our research and development resources to develop innovative and sustainable building solutions to keep on pushing the boundaries. We are determined to play our part in accelerating the world's green transformation.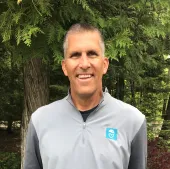 We make materials greener and more sustainable, without sacrificing durability and performance. Progress in greener concrete is greener cities, infrastructure and buildings. And the adoption of these lower CO2 products in everyday concrete and business around the world.
| DIRECTOR-QUALITY & PRODUCT PERFORMANCE, USA