Circular Explorer: Embarking on a journey to clean up the oceans
Did you know that eleven million tons of plastic enter the oceans every year? At this rate, by 2050, there will be more plastic than fish, by weight, in the oceans by 2050. This calls for innovative and sustainable solutions to divert plastics from nature.
Enter the Circular Explorer: the first of a kind catamaran fully powered by clean energy. Its mission? To clean up our oceans.
In partnership with the environmental organisation One Earth One Ocean and endorsed by Solar Impulse Foundation, the Circular Explorer embarks on its journey.
"Since my round-the-world solar flight in 2016, I have given to the Solar Impulse Foundation the challenge of identifying 1'000 solutions to protect the environment in a profitable way. It is fascinating to see the potential of innovation to turn world challenges into opportunities. The Circular Explorer is a great example, with its vital mission to push the boundaries of the circular economy to protect our ocean from plastic waste. I am excited to witness it as it embarks on its journey and will follow every step of its action."
| FOUNDER, SOLAR IMPULSE FOUNDATION
Reduce, Reuse and Recycle
The Circular Explorer applies the principles of the circular economy, working to preserve our vital ecosystems in a circular way. It has the capacity to recover four tons of plastic waste every day, which will then be recycled into new applications, ranging from products to alternative energy.
This means moving from a linear, "take, make, waste" model to a circular one based on "reduce, reuse and recycle." As a world leader in recycling, Holcim is determined to use its expertise wherever we can, including the preservation of our oceans.
The Circular Explorer will help raise awareness of the impact of plastic waste while encouraging communities, working alongside the NGO, One Earth One Ocean, to carry out the following:
Education: empower students to be changemakers for broad-based impact through awareness building education.
Science: continue exploring new solutions with leading marine institutes to push scientific boundaries and advance marine research.
Recycling: take recycling action to a new level, using carbon neutral methods to tackle the marine plastic problem.
The Circular Explorer starts its journey in Hamburg, Germany, where the boat will focus on education and science programs for three months. In 2022, the catamaran will be relocated to Manila Bay in the Philippines to help clean up one of the most polluted coastlines in the world, the Manila Bay. Plastic collected on the boat will first be sorted for recycling, while the plastic that is unable to be recycled will be transformed into alternative energy.
Follow the Circular Explorer on its journey at #CircularExplorer.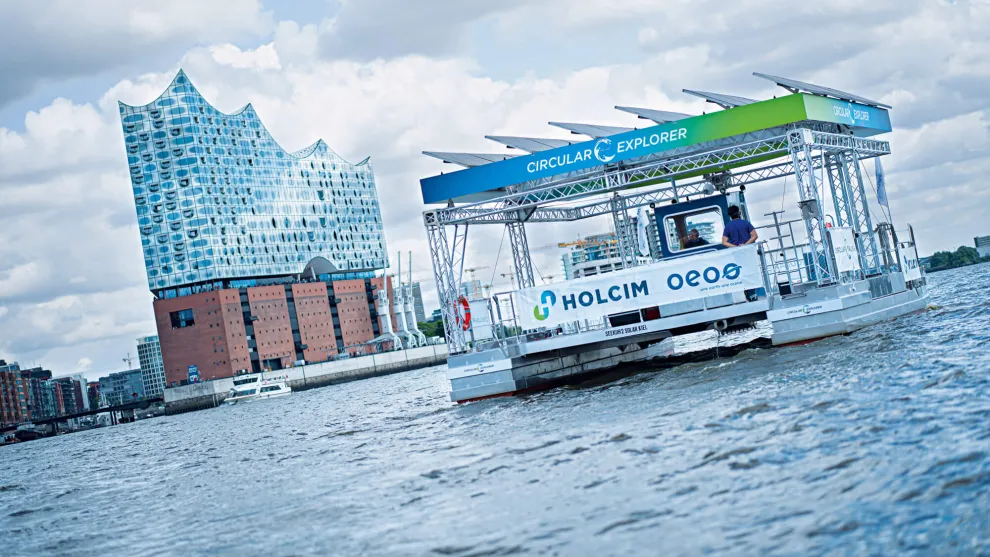 "With One Earth - One Ocean we have been working to protect marine ecosystems since 2011. The Circular Explorer is our most advanced experiment to date. Fully powered by solar energy and designed to recover four tons of plastic waste per day, I look forward to seeing it make a real difference."
| OEOO
Find out more about the Circular Explorer!