ECOPlanet reduces CO2 by 32% in Morocco's tallest tower
BESIX and Six Construct are using ECOPlanet green cement in the construction of Mohammed VI Tower in Rabat, Morocco. The highly demanding project, which will be Africa's second tallest tower upon completion in 2023, has already reduced CO2 emissions by 32% thanks to our low-carbon cement.
Aiming for LEED Gold and HQE certifications
The challenge 
Africa's second tallest tower, the 250-meter high Mohammed VI Tower, is designed to be visible from a radius of 50 kilometers. With a total area of 102,800m², the building consists of a tower set on a podium to resemble a rocket on its launch pad. The tower's south façade will be fully equipped with 3,350m² of solar panels, while rainwater recovery and waste water recycling systems are incorporated in the building's design. The hot water will come from an internal energy recovery system. The structure can withstand not only the usual elements, such as strong winds or seismic events, but also flooding from the neighboring Bouregreg River. The tower is braced 70% by its concrete core and 30% by the structure of the steel porticos on its façade.
With this project, the developers of Mohammed VI Tower intend to meet the highest environmental standards with LEED Gold and HQE certifications, as well as ensure that the building has a stunning appearance and is packed with innovations.
The solution
After discussions with the client, our Morocco team supplied 5,000 tons of ECOPlanet, the world's broadest range of green cement offering at least 30% less carbon emissions with equal to superior performance.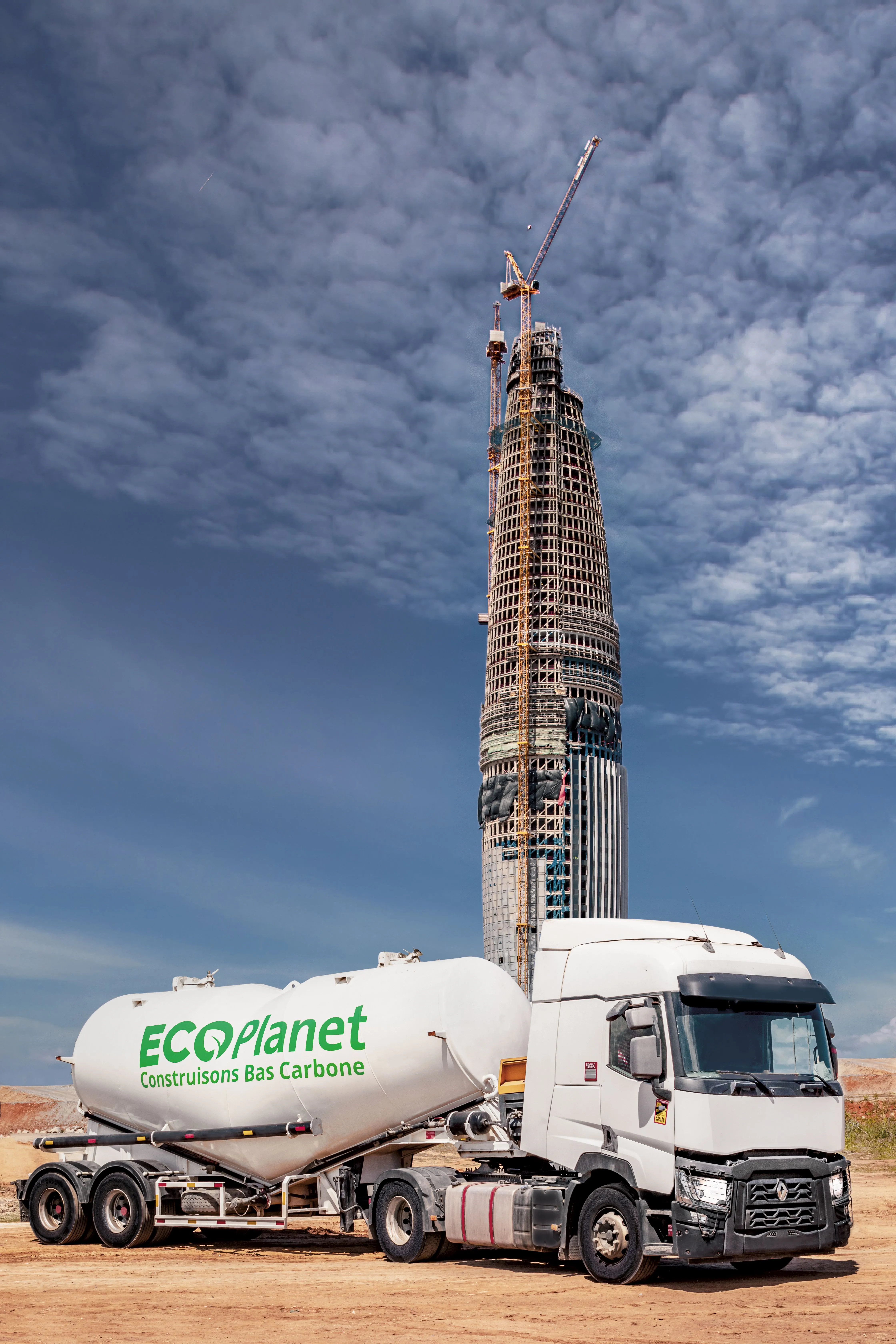 "The client needed a durable cement that could hold up in even a marine environment. Additionally, the client aims to get LEED and HQE certifications, so we proposed ECOPlanet green cement, at more than 30% lower CO2 and no compromise on performance."
| Technical Sales Director, Holcim Morocco
The result
Thanks to ECOPlanet, to date the construction of Mohammed VI Tower has saved 1,000 tons of CO2 (compared to reference OPC) for an emissions reduction of 32%. ECOPlanet has been used for the construction of most of the project's infrastructure, delivering a lower carbon footprint and high performance.
Upon completion, the tower will boast 55 stories containing a luxury hotel, offices, high-end apartments and a viewing terrace at the top, all accessible via one of 40 individual lifts. It will also form the high point in the Bouregreg Valley Development Project, which in turn is a leading part of the program for Rabat, which has officially been launched as the Capital of African Culture. This comprises major structural urban initiatives, including the Grand Théâtre de Rabat and the House of Arts and Culture.
Making green building possible at scale

At Holcim we are becoming a net-zero company, putting climate action at the heart of our strategy. We are at the forefront of green building solutions to make low-carbon construction possible at scale around the world, from Mumbai to New York.
Building better with less, we are decarbonizing construction with our low-carbon solutions, such as ECOPlanet, the broadest range of green cement. ECOPlanet delivers CO2 savings ranging from 30% to 100% compared to the local market reference with no compromise in performance.
Across everything we do, we are building progress for people and the planet.
 
Get in touch
Want to learn more about what ECOPlanet green cement can do for your next project? Drop us a line, and someone from our team will be in touch.