FINANCIAL TIMES: THE GLOBAL BOARDROOM

What are the most effective strategies for growth in the midst of geopolitical and economic uncertainty? To discuss this and more, The Global Boardroom will bring more than 100 leaders in business, policy and finance together with top Financial Times journalists for three days of in-depth analysis and discussion, covering all key sectors and regions.
Date:  8 - 10 November, 2023
Location: Digital Conference
Holcim at the global boardroom
Nollaig Forrest, Chief Sustainability Officer at Holcim, will be a speaker at the session "Green technologies: Where are companies placing their bets to meet net-zero targets?" joined by Klaus Zellmer, CEO of Skoda Auto and Eimear Bonner, Chief Technology Officer at Chevron.   
The speakers will discuss how green technologies can help companies accelerate their decarbonisation activities, drive higher returns and generate greater efficiency on their path to becoming net zero.
Nollaig Forrest, Chief Sustainability Officer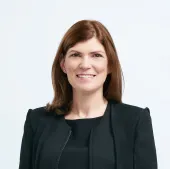 Holcim's diverse CCUS portfolio ranges from storage to utilization, including mineralization to create low-carbon building materials, or using CO2 as feedstock for industries such as chemical and aviation. The robust and highly diversified CCUS roadmap makes Holcim uniquely positioned as the right partner to scale up CCUS around the world. That is why I'm excited about this opportunity to come together with my colleagues from other sectors to discuss how we can work together to scale up CCUS projects globally.
| Chief Sustainability Officer, Holcim
Learn more about decarbonizing building