CORONAVIRUS: GETTING IN FRONT OF A GLOBAL CHALLENGE
Foresight, flexibility and data-driven decision making are helping to keep our employees, families, stakeholders – and the business – healthy and safe during Covid-19.
By Cédrick Moriggi, Global Head of Security and Resilience
In early January, when the first signs emerged that a pandemic was in the making in the Chinese city of Wuhan, LafargeHolcim was quick to respond.
The company, whose 72,000 employees operate in over 70 countries, relies on a dedicated team that constantly monitors any global event – whether health threats, natural disasters, political upheaval or otherwise – that could cause loss to its people or operations.
For the coronavirus crisis management, the company brought together employees from Security, Health & Safety, Human Resources, Legal, Operations, Procurement and Communications to lead a global response to this extraordinary challenge.
The global Business Resilience Team (BRT) got to work on developing guidance for a virus that not only posed grave health challenges, but that also threatened to destabilize assets and markets. Within a few weeks it had set up a network of local BRTs that could take action around the world in case the virus spread rapidly.
From the outset, it was clear that what makes this pandemic unique is its global dimension. No one is spared. Each country needed to swiftly prepare for business interruption on a massive scale.
The local teams prepared their response using a multi-level Trigger Action Response Plan (TARP), with specific actions for each level of escalation.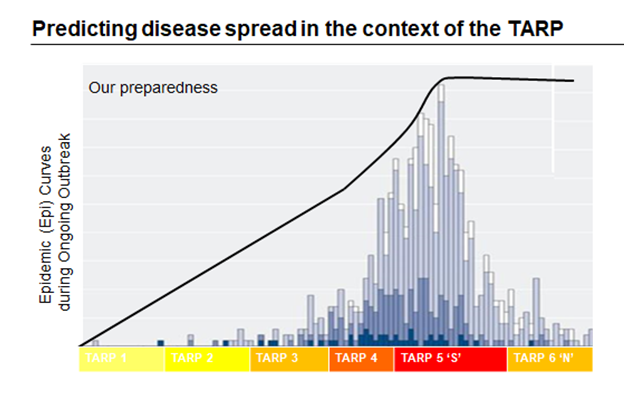 Very early and long before the Coronacrisis was declared a pandemic (the WHO declared the Covid-10 outbreak a pandemic on 12 March 2020) the local teams already implemented a range of measures that addressed hygiene, social distancing, mental wellbeing, and remote working arrangements.
Our first priority has always been to protect our people: employees as well as contractors. We have developed specific programs for people on our operations who were not able to work remotely.
Our colleagues in operations work under intense pressure already. They need to protect themselves from infection and at the same time stay focused on the task at hand to ensure they don't put themselves or their peers in danger.
Specific hygiene and toolbox talks were developed just for this population.
Other groups, such as customer-facing employees, are increasingly using digital tools to maintain social distancing and stay safe.
Thinking globally, implementing locally
The local BRTs are empowered to implement the measures in a way that is relevant for their needs and compliant with local regulations. Resilience happens on the ground, where the business operates, taking into account local conditions.
This decentralized approach makes sense for a global company whose business is truly local. It's especially valuable in fighting a pandemic that unfolds at different times over the roughly seventy countries in which the company operates – each with its own context and health care system.
As of mid-April, 2020, LafargeHolcim has a very limited number of cases of coronavirus infection among its employees.
Credit for this success goes to the local teams. They've worked tirelessly on top of their day jobs to protect our colleagues and our communities.
Data drives decision-making
The BRT network continues to make decisions as information comes in on the status of Covid-19 cases, country-level preparedness, medical data and security information. The network also considers the wider economic and political context, as well as emerging trends such as contact tracing, equipment shortages and more.
Importance of strong leadership
While construction is generally more resilient than other sectors, LafargeHolcim is now experiencing significant disruptions in operations in various countries.
The BRT sends regular updates to CEO Jan Jenisch and the executive team, who urge all employees to focus on mitigating the impact of this unprecedented health crisis and to support their local communities.
On March 27, the CEO communicated the industry's first comprehensive action plan for business resilience to respond to these disruptions by reducing capex expenditures, fixed costs and third-party services, while realizing savings from lower energy prices and bringing Net Working Capital in line with the current level of activity.
Jenisch and the global leadership team receive updates from the BRT at least once per week, integrating those insights into the Health, Cost and Cash resilience plan and connecting the dots so that local leaders can make good decisions. As China sees a return to business, for example, this produces a flow of vital information and lessons that others can follow.
More than two-hundred senior leaders of the company hear from the CEO on a weekly COVID-related call. Through regular emails and a VC open to all employees, the CEO provides update to all employees around the world.