Our carbon capture vision
Carbon capture technologies, that effectively collect CO2 from industrial processes, offer promising opportunities to combat climate change. We are exploring their potential across over 30 pilot projects worldwide, repurposing CO2 from our plants for use in vertical farming in Spain all the way to alternative fuel in Germany.
Our expanding range of carbon capture usage and storage (CCUS) projects is designed to give us maximum flexibility in applying these technologies across our global footprint so that the best solutions in terms of technology and cost-efficiency can be replicated in other plants in selected regions, advancing our CO2 reduction journey and adding value in the form of CO2-related materials, thereby creating new growth opportunities for the company.
Carbon capture is a must
Reaching net zero in cement manufacturing will require the deployment of carbon capture and usage or storage (CCUS) technologies at scale. The European Commission considers CCUS as one of the seven strategic pillars in their "A clean planet for all" strategy, and the IEA Roadmap for the cement sector projects CCUS to begin at scale from 2030 onwards.
Taking action today
Beyond its 2030 targets, Holcim is preparing the future today by piloting more than thirty CCUS projects in Europe and North America. Working with other multinationals as well as start-ups, the pilots are evaluated in terms of cost, technical feasibility, compatibility with CO2 usage opportunities, and other aspects of viability and scalability. Overall these ongoing CCUS projects could save approximately 4 million tons of CO2 per year. – Our objective is to develop a handful of solutions for use and storage that can be combined in different ways and environments. However, no single solution will be perfectly scalable as different environments present different conditions, from local partners to geological conditions that are favorable for storage.
Our CCUS pilot projects
CO2 from the Holcim Lägerdorf plant in Germany will be transformed into green methanol and further on to a synthetic fuel that can be used e.g. at nearby airports.
This ten-company consortium, based in Germany, is focused on the creation of low-carbon solutions and the development of end-to-end sustainable business practices across industries to avoid waste in all sectors. This integrated approach is an industrial example for the required sector coupling in the energy transformation process.
The first phase of the project received the go-ahead and funding approval from the German Federal Ministry of Economic Affairs and Energy and is nominated in the EU IPCEI process (Important projects of common European interest).
The CO2MENT project in Canada is testing an innovative end-of-pipe solution for CO2 removal and reuse from a cement plant with partners Total and Svante. Total and Svante are also partners - together with Oxy Low Carbon Ventures, LLC (a wholly-owned subsidiary of Occidental) - on a joint study of a commercial-scale carbon-capture facility at the Holcim Portland Cement Plant in Florence, Colorado (US) to permanently sequester CO2 underground.
Holcim's portfolio of carbon capture projects was recently reinforced as the United States Department of Energy's National Energy Laboratory Technology (DOE-NETL) announced that it will support the Holcim CO2MENT Colorado Project.
In Carbon2ProductAustria (C2PAT) Holcim, OMV, Verbund and Borealis are planning to build a CCU plant, with the aim of capturing CO2 during the production of cement and using it for the manufacture of high-quality plastics, olefins and green fuels. To this end, the parties plan to build a plant on an industrial scale at the Mannersdorf cement plant site in Lower Austria by 2024
Carbon Clean and Sistemas de Calor
Holcim has added to its portfolio of CCUS pilots with the ECCO2-H project in Spain, in collaboration with Carbon Clean and Sistemas de Calor, which will capture CO2 from flue gas at its Carboneras plant and turn it to agricultural use for accelerated crop production.
This will increase farm efficiency by reducing water and soil consumption ratio per kg of vegetable production. Starting with 10% of CO2 emissions from 2022, the commercial applicability of this viable CO2 circular economy business model will be scaled up over time.
Other potential solutions
Other potential solutions look to capture CO2 for subsequent use as chemicals, mineralization and biomass production. This is the case of Solidia, a reduced CO2 cement with up to 70% lower carbon footprint than traditional Ordinary Portland Cement systems.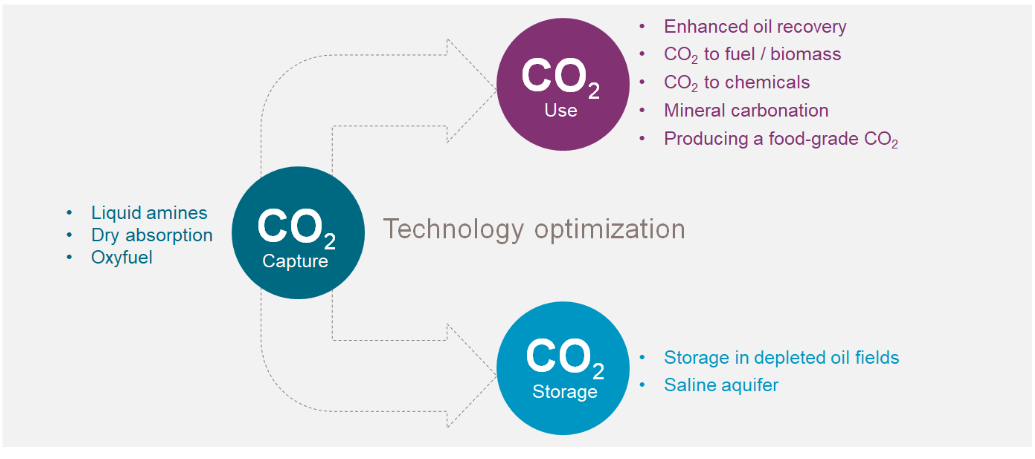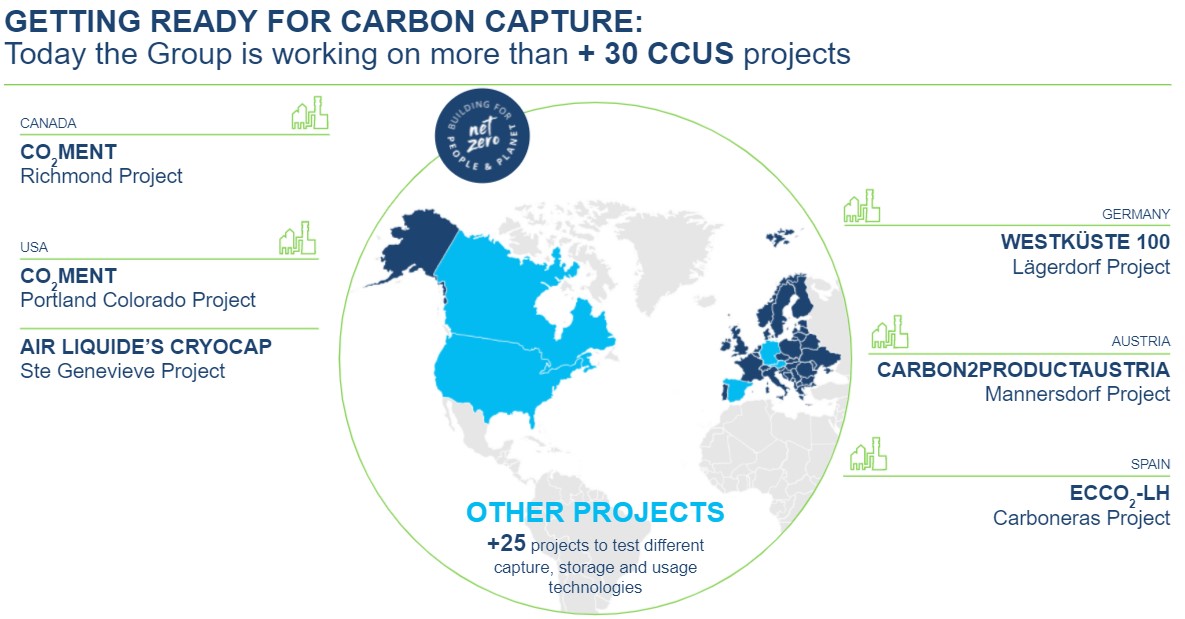 Plants of Tomorrow 
The Plants of Tomorrow are a key enabler for reducing CO2 footprint and preparing for Carbon Capture, Utilization and Sequestration (CCUS) solutions. We're looking ahead to future-proof our operations and to meet and exceed customers' needs today and in the future. Leading the sector in Industry 4.0 and process innovation deployments, we strengthen the performance, circularity and carbon neutrality of our assets and sites to better serve our global customer base, while ensuring profitability and protection of our people and the environment. Addressing climate change will require the adoption of state-of-the-art, innovative approaches that include digital solutions to maximize clinker reactivity, predict product quality as well as the use of alternative materials and fuels.
Through our pioneering innovations -- cutting across automation and robotics, artificial intelligence, predictive processes, maintenance and quality -- we are upgrading our production processes, reconfiguring the infrastructure of our sites and building a more efficient and greener future.
Smart online digital control solutions
Near-infrared spectroscopy, a digital online control technology, can be used to analyze alternative fuel properties during feeding and compensate for quality variations in real-time using an optimal fuel mix. This solution increases the use of alternative fuels and therefore reduces CO2 emissions.
Predictive quality models use machine learning algorithms to correlate the quality of each production batch with the relevant production parameters while minimizing clinker factor. This helps us achieve CO2 reductions and energy savings.