Asian Games 2018 go for sustainability gold
On your marks, get set, go! The starting whistle will shortly be blown in the Gelora Bung Karno sports complex in Jakarta, Indonesia, as it co-hosts the 431 sporting events of the 18th Asian Games in August 2018. LafargeHolcim has helped the country's Ministry of Public Works and Housing to get to the starting line sustainably by fulfilling its green building certification goals.
Discover ThruCrete and ColoCrete
Aesthetic & sustainable concrete from Holcim Indonesia
By allowing rainwater to permeate the earth, ThruCrete's 25-30% porosity not only significantly reduces the risk of flooding, erosion, and pollution due to stormwater runoff, but also fosters healthier greenery in the immediate vicinity of the walkway. In addition, Holcim's ColoCrete, the colored version of ThruCrete, allows for a more decorative and aesthetically pleasing final product.
About the Asian Games
The Asian Games is the second largest multi-sport event after the Olympic Games. From August 18 to September 2, 2018, the two main event cities, Jakarta and Palembang, will receive some 15,000 athletes and officials from 45 countries across Asia, along with hundreds of thousands of visitors.
"Winning this bid to help revitalize the GBK stadium is an example of our Value Added Services (VAS) innovations gaining wider recognition from contractors and contributing to the nation's iconic projects."
Record-breaking renovation
Gelora Bung Karno (GBK), Indonesia's largest sports complex, is preparing to act as the epicenter of the 2018 Asian Games. Holcim Indonesia played its part in the renovation project, providing its innovative ThruCrete and ColoCrete products to create a new jogging track and extensive pedestrian walkways. The decorative walkways will cover an area of 70,000m², setting a world record among LafargeHolcim permeable concrete projects.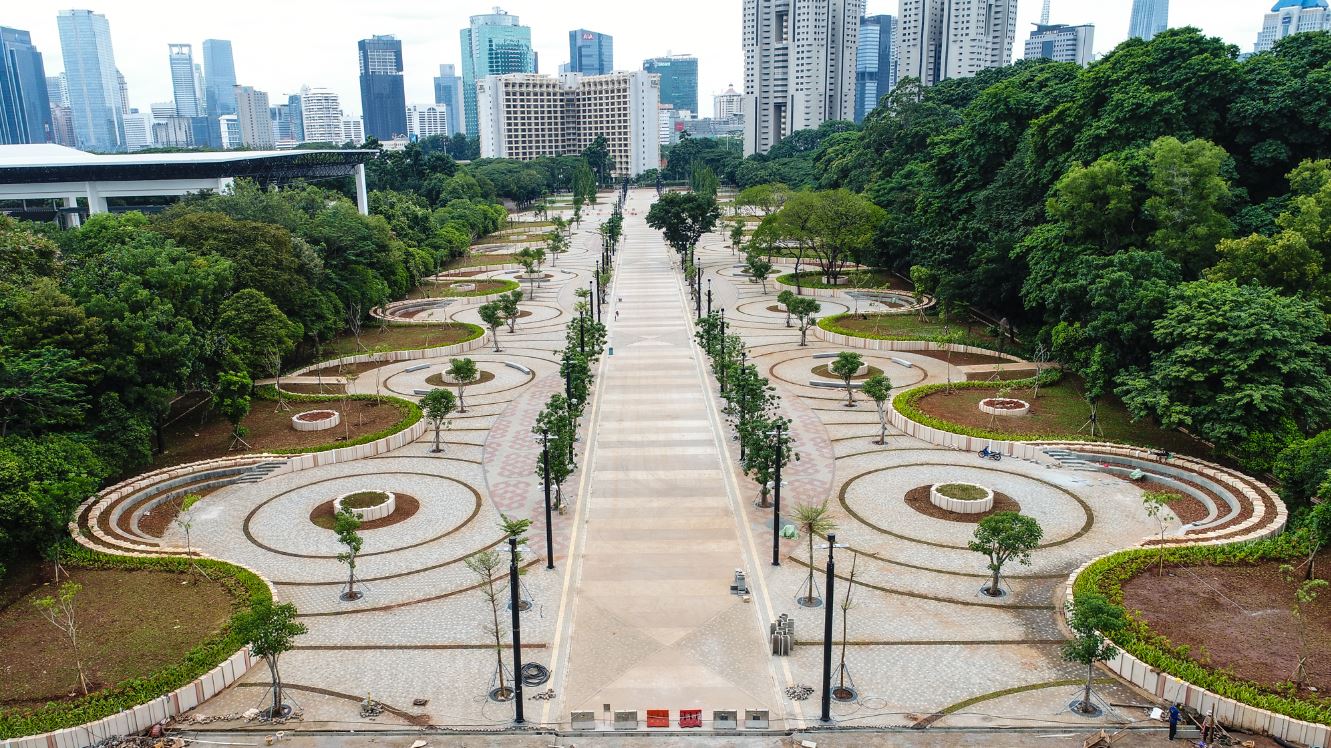 A winning bid
Keen on achieving green building certification for the GBK renovation project, Indonesia's Ministry of Public Works and Housing recognized the importance of sustainable and aesthetically pleasing design for this large pedestrian area. Designed to minimize the impact of heavy rainfall, and boasting a range of colors, Holcim's ThruCrete and Colocrete were therefore key to winning the project bid.
The pride of Indonesian sporting heritage, the vast GBK sports complex – which includes one of the world's largest football stadiums along with athletic tracks, an aquatic stadium, indoor and outdoor tennis courts, hockey, baseball and archery fields, and several indoor gymnasiums – is also very popular among Jakartans for daily sports and recreation. Holcim Indonesia has therefore not only contributed to the preparation of one of the world's major sporting events, but to the lasting enjoyment of the sports complex among the local community.