Building a healthier tomorrow - one community at a time
From donating construction materials to build emergency field hospitals, supplying much-needed PPE, raising awareness about COVID-19, through to providing essentials such as food and water, Holcim has been building the foundations for a healthier tomorrow one community at a time.
Holcim is deeply committed to the communities in which it operates, and the Group's investments have delivered benefits to more than 28 million people over the last five years. So when the outbreak started, standing in solidarity with communities happened naturally. Hear from Stephen (UK), Peddanna (India), Causewell (Zimbabwe), Camila and Federico (Argentina), all of whom joined our colleagues in fighting the pandemic with facts, focus and entrepreneurialism.
UK - Preparedness builds resilience
Aggregate Industries' Stephen Ward, Regional Logistics Manager, played a lead role in supplying Glasgow's Luisa Jordan Hospital project for local coronavirus patients.

Together with his colleagues, more than 400 contractors and approximately 150 health professionals, the teams donated the concrete and worked around the clock from the end of March to set up a temporary hospital to accommodate around 1,000 patients.

Construction began just as the UK lockdown started. "This required a completely new way of working, with scrupulous measures to maintain social distancing," he says. Meetings were in staggered shifts and cleaning crews were everywhere to ensure hygiene was maintained for everyone involved. Construction was completed on April 19.

Scotland's coronavirus cases are now steadily falling. Luckily, the makeshift hospital hasn't yet been needed though it's being maintained in case of a second wave. Stephen is most proud of how the community came together: "By remaining resilient and continuing to change and adapt together, the hope is that we will bounce back stronger than ever in a post-coronavirus world."

Outside the UK, Holcim donated construction materials to build emergency field hospitals in many of its markets, including countries like the US, Qatar, extending to China where the Group helped build one that was set up in just ten days.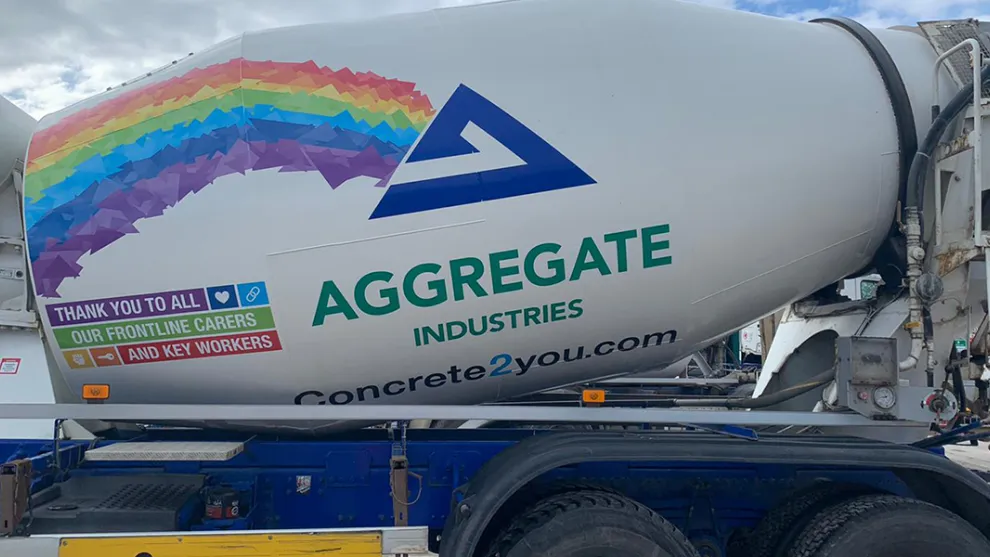 India - Reaching out to those who need it most
Two months ago Deepak Paswan left his home town in Jharkand to find work as a carpenter in Karnataka, 15,000 km away. He had worked for ten days when the virus broke out, leaving him stuck in Karnataka, unable to return home. "Those were black days for me," Deepak says, adding: "I couldn't even afford the basic things of daily life." Deepak isn't alone. More than 300 migrant workers are stranded in Wadi.

In the face of this difficult situation, volunteers of Holcim's ACC Trust have stepped in to help the migrant workers, daily-wage earners and people under quarantine, distributing thousands of cooked food packets and food grains packets, containing rice, sugar, oil, salt and spice powder. The efforts are coordinated by 43-year old Peddanna Beedala, who works with a team of ten. "

ACC and Holcim have always been at the forefront of efforts to support local communities particularly in response to natural disaster emergency situations. I feel proud to be a part of this organization," Beedala says. ACC has so far distributed over 28,000 cooked food packets and distributed over 17,000 food grain packets across the country.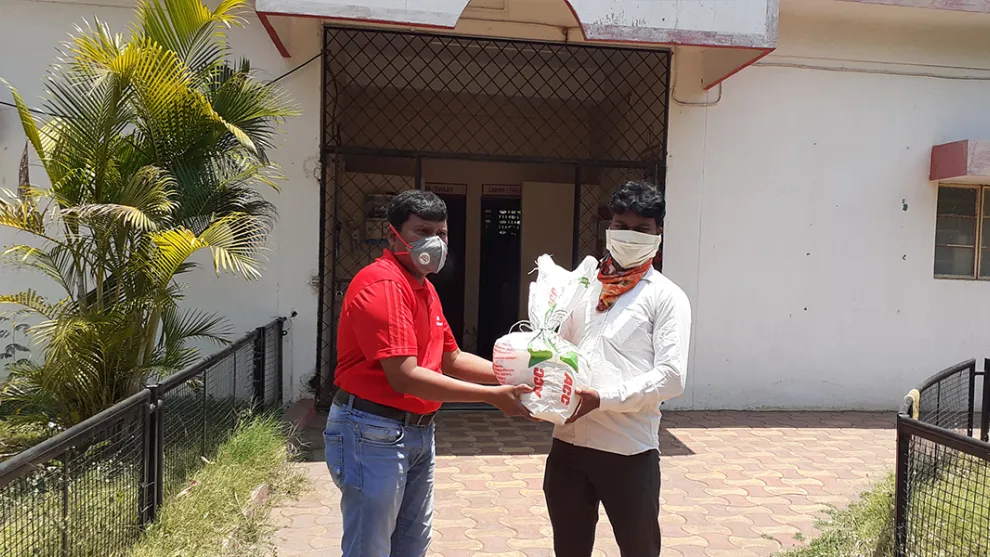 Zimbabwe: Using facts to protect people's health
"Most people believed Africans couldn't get the disease!," says Causewell Mudzingwa, a volunteer for SHEQ Ambassadors, one of the community-based organizations that we partnered with to help spread awareness around COVID-19. "There is a lot of false information, particularly on WhatsApp and Facebook," she explains.

Our teams in Zimbabwe developed a resilience campaign named Sensitization, Supply and Sustain to reach the 23,000 people around its operations.

Causewell and other volunteers have put up hundreds of posters, engaged the community in face-to-face discussions and used those same digital channels (such as WhatsApp) to share accurate information.

"It's a proud moment for me when I hear community members correcting each other on COVID-19 facts, or reminding one another to wear their masks," says Causewell.

So far no case of COVID-19 has been reported in Causewell's community, but given the speed of the pandemic it's important to stay vigilant. "Information has reduced fear," Causewell says. "People feel empowered because they know how to protect themselves."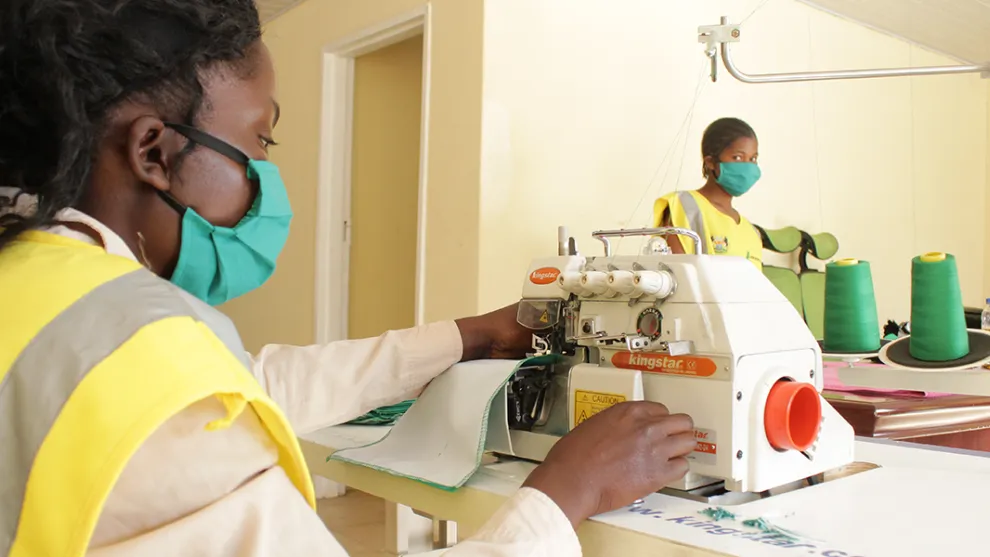 Argentina - A strong dose of entrepreneurship to fight COVID-19
Camila Vargas and Federico San Martín were busy studying in Córdoba, Argentina, when it became clear that COVID-19 was going to disrupt daily life.

As Camila, a student of industrial design at the Faculty of Architecture, Design and Urbanism, followed the devastation in Ecuador and Peru, she worried, "What will happen to us?" Federico, a student of Technology Education at the Instituto Superior de Profesorado Tecnológico, said, "Prevention is more important than anything else.

With the main focus on protecting health workers, the two students took an entrepreneurial approach to work by pooling resources, networks and ideas to make and donate face shields. The companies only needed to pay for the materials and allocate where the masks should be delivered.

The adjustable tape on the masks is made from polylactic polymer (PLA) and is produced through 3D printing at a local innovation lab, Synergia Educational Services.

Holcim Argentina joined from the start. "We wanted to join this initiative to help protect our health workers, but also to encourage the entrepreneurial spirit that makes us stronger in the face of the outbreak," says Maria Belen Daghero, Head of Sustainability and CSR at Holcim Argentina. Camila and Federico delivered 500 masks to hospitals across Argentina before the laboratory had to close due to the lockdown. Camila is convinced: "The best reward for what we have done is that people wear the masks and are protected.