We are becoming a net zero company by taking rigorous science-driven actions for the climate. Discover our climate actions here.
Roadmap to 2030
We will maximize the deployment of existing technologies and will start laying the groundwork for our net zero journey.
Image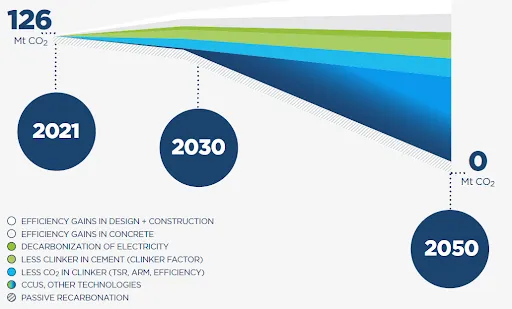 Key actions
Reduce our scope 1 carbon intensity to 475 kg net CO2 /t. cem.
(38% reduction vs 1990 baseline), through:
Reduced clinker content to 68%: Our current primary carbon reduction lever is to lower the clinker-to-cement ratio. It is during the production of clinker, the main component of cement, when most CO2 emissions associated with cement occur. The majority of these emissions result from the chemical reaction that occurs when the raw material (limestone) calcinates into a clinker in the kiln. This decarbonation process is our largest source of CO2 emissions, accounting for 65% of our total scope 1 emissions in cement production. Replacing the clinker in our final cement products with alternative mineral components reduces the carbon intensity. The main reduction will not only come from recycling construction and demolition waste or byproducts from other industries but also by investing in calcined clay facilities and developing novel cements with new binders. We expect calcined clay to gradually replace traditional mineral components such as slag or fly-ash.
Increased use of waste-derived fuels to 37%: Taking a circular approach, we will reduce the carbon intensity of our cement by substituting fossil fuels with pretreated non-recyclable and biomass waste fuels to operate our cement kilns. Preparing, recovering and recycling waste-derived fuels and materials in our processes allows us to divert waste from incineration or landfill and improve the waste management hierarchy at local level. To increase this "thermal substitution rate" we will be investing in co-processing facilities and process improvements. This is a Group target, however regions such as Europe are expected to reach a substitution rate of 70% in the same timeframe, as the waste is readily available compared to other markets.
Alternative raw materials: The largest source of CO2 comes from the heating process of raw materials that generates the chemical reaction (calcining) to produce clinker. The use of alternative sources of decarbonated materials is a key lever to further reduce our CO2 emissions. Waste materials and by-products from other industries can be used to replace some of the limestone. These materials can include recycled "fines" from demolition waste, air-cooled slag and waste lime. Our current roadmap will constantly evolve as we are working with innovative companies to keep on raising the standards and develop new alternative material streams. Today this replacement is in an early stage but we will actively be driving it in the near future with Europe reaching a double-digit figure.
Carbon capture and storage: In addition to our ongoing activities to reduce CO2 emissions, net-zero carbon cement will require effective Carbon Capture and Usage or Storage (CCUS). Holcim is currently piloting over twenty CCUS projects across Europe and North America. Over the next 10 years we will explore CCUS technologies to reach the scalable and cost-effective solutions the industry needs to meet the net zero ambition. Our 2030 target does not depend on CCUS. 
Reduce our scope 2 carbon intensity from purchased electricity to 13 kg of CO2/t. cem
(65% reduction vs 2018 baseline), through:
Waste heat recovery: We will optimize our power-producing assets across our production plant portfolio by installing waste heat recovery units that generate electricity from our thermal processes. We currently operate five waste heat recovery units in four countries, with a clear plan to triple the number in two phases by 2030.
Renewable energy portfolio: As we progress in the phase out of our existing captive power facilities, we will continue to expand our renewable energy portfolio by collaborating with power producers, generating renewable energy on our land by installing wind turbines and solar panel farms.
We will monitor the progressive decarbonization of the grid and the supply to reduce the carbon intensity of our purchased power where opportunities arise.
Reduce our scope 3 emissions
One of the main sources of scope 3 emission is downstream transportation, this is also our main source of incidents. Our Transport Analytics Centre (TAC) collects and displays transport data, which measure and identify opportunities for improvements in safety, communication, productivity and more. To achieve this, more than half of the Group's transport distances are covered by "In-vehicle Management Systems (iVMS)" today.
Optimization of transportation networks: We are deploying a "Network Optimization Modelling Tool" to design the best footprint and optimize the transportation network to move materials to waterways and rail instead of road.
Optimization of routes and loads through better logistics and distribution: we are deploying "route optimizer tools" to support operational decisions on road transportation that reduce travel distances and fuel use.
Vehicle optimization to reduce traditional fuel consumption: we partner with vehicle suppliers to improve their design and weight. Wherever possible we favor working with transportation companies that run eco-friendly vehicles, adopting optimized designs, using electric trucks or operating with natural gas(LNG/CNG) fueled trucks.
Green KMs: we train drivers (own fleet and third parties) to drive more safely and efficiently (reducing fuel consumption on the order of 3% to 6%).
Fossil fuels: Emissions from transportation of fuels are optimized by purchasing fuels from local markets and by using environmentally friendly inbound transportation means.
Other purchased goods and services: While Scope 3 2030 commitments cover 75% of Scope 3 emissions, we are also working to reduce the remaining 25% of Scope 3 emissions from all other product and services purchased by:

including CO2 requirements in the tendering process
integrating CO2 as parameter in the "Total Cost of Ownership" models used to drive purchasing decisions
innovation and partnerships with suppliers of global categories.

We used a comprehensive and rigorous approach to measure the CO2 emissions from our supply chain. A methodology aligned with GHG and GCCA protocols and assured by EY. The 2020 baseline is a solid foundation based on which we are defining actionable 2030 reduction targets, as communicated with our Net Zero Pledge.
First net zero cement plant
We currently have projects that are due to deliver full capture capacity in the plant over the next decade. Those are still in early stage, however public financing was obtained for the feasibility study of 2 pilot projects, showing the governmental appetite to increase the scheme. This objective will be key to better explore CCUS potential to achieve our long term ambition.
In 2019 and 2020 we launched a range of green products and solutions, such as ECOPact concrete, that help our customers reach their carbon targets. We will continue to expand our portfolio of existing green cements and concretes and develop an offering of extra green cement (<180 kg CO2 / tcem). Our 2030 commitment includes offering low-carbon products and solutions in all our markets.
Ambition to 2050
The company will use the coming decade to develop and deploy new and advanced technologies to lay the groundwork for its net zero journey. This includes novel binders, low clinker cements and piloting over thirty Carbon Capture Usage and Storage (CCUS) pilot projects across Europe and North America.
Key actions
Net zero pathway: scope 1 emissions
Consistent with a net-zero pathway endorsed by SBTI, we commit to reduce scope 1 and 2 GHG emissions 95% per ton of cementitious materials by 2050 from a 2018 base year*:
We aim to maximize the potential of existing technologies, maximizing the reduction of clinker-to-cement ratios and the use of waste-derived fuels.

Calcined clay will have to play an important role in replacing traditional minerals components that are expected to gradually reduce in availability (such as slag, fly ash).

In addition, the pathway to zero will require large-scale deployment of carbon capture and usage or storage (CCUS). The IEA Roadmap for the cement sector projects CCUS to begin at scale from 2030 onwards and this technology is expected to provide the largest cumulative CO2 emissions reductions by 2050. We will start our deployment journey in Europe and North America, where we are currently working with a number of partners on more than 30 pilot projects, exploring technical and economical avenues to make CCUS viable for our industry.
Net zero pathway: scope 2 emissions
To reduce our scope 2 carbon intensity to net-zero, after 2030 we will:
Optimize our power-producing assets across our production plant portfolio by maximizing the installation of waste heat recovery units in our plants.
Expand our renewable energy portfolio by collaborating with power producers, leveraging both onsite and offsite opportunities, such as using our land to install wind turbines and solar farms, and setting up power purchase agreements.
Rely on the progressive decarbonization of the grid and the supply of sufficient and affordable renewable electricity in alignment with national decarbonization plans.
Net zero pathway: scope 3 emissions
Consistent with a net-zero pathway endorsed by SBTI, we will reduce our scope 3 CO2 emissions by 90% vs. a 2020 baseline by
Embedding CO2 emissions in sourcing decisions and reducing the CO2 impact for all purchased categories
Optimizing our downstream transportation network , moving materials with eco-friendly transportation means and vehicles where available in every market.
Transportation Management Systems and route optimizers implemented in every country to support operational decisions.
Fleet running with "in-Vehicle Management System" (own fleet + third parties).
Maximizing locally sourced alternative waste derived fuels.