Holcim MAQER is reinventing construction at Slush -- the world's largest startup event
Our open innovation and venture client unit, Holcim MAQER, met the world's cutting-edge startups and leading investors to fuel innovation in the construction industry
 
 Catalyzing game-changing partnerships and discussing the next generation product and process innovations, Holcim MAQER welcomed the world's leading CleanTech and ConstructionTech Venture Capitalists such as InnoEnergy, Axa Venture Partners, Next47 and Umdasch Group Ventures to its side event 'Construction Reinvented' at Slush -- the world's largest startup event and Europe's largest Venture Capitalist gathering, held in Helsinki, Finland, in December 2021.
The construction industry is huge and at the same time very fragmented as each construction project involves many different players. Digitalization can help them to grow faster, accelerate their projects and become more efficient. As an investor this couldn't be more exciting to make a global, sustainable impact.
| INVESTOR, AXA VENTURE PARTNERS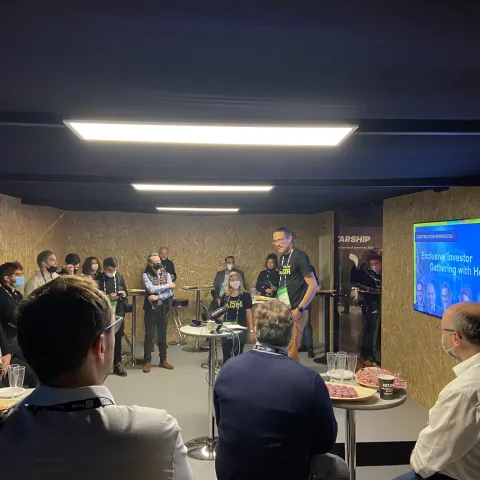 Bringing the open innovation community together provides benefits for all. Investors gain Holcim as their validation partner of startups to fund and identify long-term trends early on; Holcim gets constant access to the investors pool of cutting-edge startups, and the startups, in turn, can develop and scale their solution directly in our global market -- where we are digitally connecting construction players at over 100,000 construction sites, as well as 50,000 plant workers and 10,000 retail customers across the world. With this global presence we provide the ultimate launching pad to accelerate the decarbonization of our sector.
Slush brings the disruptive thinking and cross-industry collaboration that the world needs. With our open data, global digital platforms and network, we are becoming the best partner for technology players who are tapping into the three trillion dollar construction industry and forever changing the way the world is built -- greener, smarter and for all.
| CHIEF DIGITAL OFFICER, HOLCIM
Our venture client booth attracted over thirty budding startups focusing on construction technology to construction demolition material management to carbon capture, usage and storage (CCUS) and beyond.

At Slush we saw the tremendous interest of the open innovation ecosystem to address the future of population growth and urbanization. Holcim is helping to leverage the community's innovation power to accelerate the transition to a net-zero world.