BUILDING PROGRESS AS WOMEN IN SCIENCE AT HOLCIM
Holcim offers exciting opportunities for women in science, technology, engineering and mathematics (STEM). Here you can make an impact by pioneering the innovations that drive performance, circularity and carbon neutrality across our value chain.
We invite you to hear what some of our female Builders of Progress in STEM have to say about how they put their passion and expertise to work here at Holcim: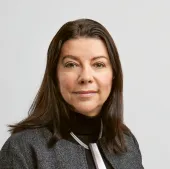 Science is at the heart of our mission to build a net zero future, and we know that we cannot achieve our aims without the huge potential that women represent, bringing diversity to the new thinking.
| CHIEF SUSTAINABILITY AND INNOVATION OFFICER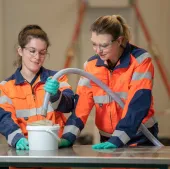 I was always attracted by the building field, and encouraged to pursue a career in the industry by my father, who used to work on construction sites.
I am very proud to work at the Holcim Innovation Center on the Airium™ project to propose a robust, durable and sustainable solution to insulate our planet.
| RESEARCH ENGINEER, FRANCE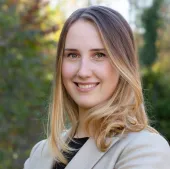 Decarbonization is the opportunity of our time. The Plants of Tomorrow play a vital role in achieving carbon neutrality. From applying electrification to digital and process innovations, our solutions maximize performance, circularity and reduce CO₂.
I'm proud to partner with our pioneering female leaders and talented industrial colleagues globally to realize the Plants of Tomorrow and to take our sites and products to the next level.
| HEAD OF PLANTS OF TOMORROW, SWITZERLAND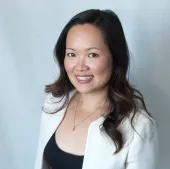 When I began my career as a young engineer over 15 years ago, I never dreamed that I would someday be able to work in the field of sustainability, helping the construction materials industry reduce carbon emissions and lessen the impacts of industry on the environment.
| SENIOR SUSTAINABILITY MANAGER, WCAN / CANADA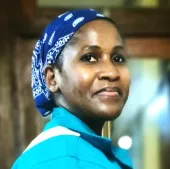 Plants of Tomorrow equips Holcim to produce sustainable products and to accelerate the circular economy.
It is empowering to be part of the team leading the implementations at my site that are technologically advanced, result in operational efficiency gains and are carbon-efficient.
I am proud to be part of building progress with my team and am still in pursuit of motivating more girls to join the Women STEM. Regardless of background, where you're from, we all have a role to play at Holcim.
| PROCESS & ENVIRONMENTAL MANAGER, SOUTH AFRICA
I am thankful to Holcim for the many opportunities it has given me to grow in STEM, and make a difference. I am currently the plant's Environment Officer where I get to work with our communities, the government and external stakeholders on efforts to care for the environment in our operations.
One of the things I enjoy the most is our best practices program. It helps to ensure compliance to environmental regulations and steward the protection of nature.
| ENVIRONMENT OFFICER, PHILIPPINES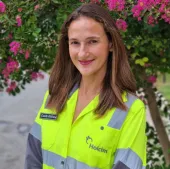 When I decided to join Holcim Argentina 16 years ago I had one goal in mind, to create a better world, not only for me but for future generations. At Holcim I feel that every day I contribute to this dream, especially now that I am a mother of four.
Last year Holcim Argentina decided to formalize our commitment to diversity by signing UN Women's Empowerment Principles, and it has been a crucial step to reinforce the efforts to keep promoting a diverse and inclusive culture.
| HR DIRECTOR ARGENTINA
Recognized as a Forbes top female-friendly company, Holcim is a signatory of the UN Women's Empowerment Principles and has diversity & inclusion at the core of its Strategy 2025: Accelerating Green Growth.

Join us in #BuildingProgress for people and the planet. Take a look at our commitment to sustainability, and discover the roles across the business including at our Holcim Innovation Center, driving our Plants of Tomorrow and roles with our MAQER team enabling open innovation.