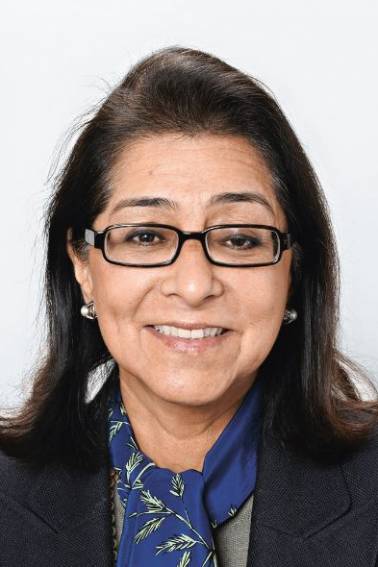 Indian national born in 1957, Naina Lal Kidwai is a Member of the Board of Directors and a Member of the Health, Safety & Sustainability Committee of Holcim (formerly LafargeHolcim). She was elected to the Board of Directors of LafargeHolcim in 2019. Naina Lal Kidwai holds an MBA from the Harvard Business School, Boston, USA. She has made regular appearances on listings by Fortune and others of international women in business and is the recipient of awards and honors in India including the Padma Shri for her contribution to Trade and Industry, from the Government of India.
Naina Lal Kidwai started her career in 1982 and until 1994 was at ANZ Grindleys Bank Plc. From 1994 to 2002, she was Vice Chairman and Head of Investment Banking at Morgan Stanley India before moving to HSBC, where she was Chairperson of the HSBC Group of Companies in India and on the Board of HSBC Asia Pacific, until her retirement in December 2015. She was President of the Federation of Indian Chambers of Commerce & Industry (FICCI). She also served for 12 years until 2018 as Non-Executive Director of Nestlé S.A., Vevey, Switzerland. Her interests in water and the environment are reflected in her engagements with The Shakti Sustain- able Energy Foundation, Global Commission on Economy & Climate, and Chair of the FICCI Sustainability, Energy and Water Council as well as Chair
of the India Sanitation Coalition. She has authored three books including the bestsellers "30 Women in Power: Their Voices, Their Stories" and "Survive Or Sink: An Action Agenda for Sanitation, Water, Pollution, and Green Finance."
Her other mandates include that she is a Non-Executive Director on the Boards of the following Indian companies: Max Financial Services Ltd, CIPLA Ltd, Larsen & Toubro Ltd, Nayara Energy Ltd (including of its subsidiary Vadinar Oil Terminal Ltd), and Gland Pharma Ltd. She is also Chairperson of the India Advisory Board Advent International Private Equity, Mumbai, India.