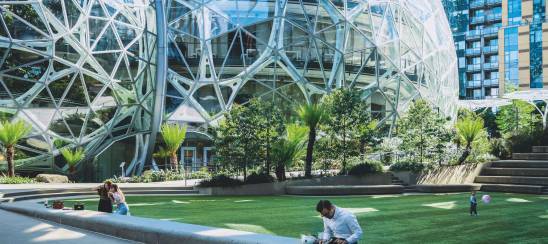 At Holcim, we are leading the way to a net-zero future. With ECOPlanet – our global range of green cements – we enable low-carbon construction and create more liveable cities. ECOPlanet green cements start with a 30% lower footprint and can go all the way to 95% carbon reduction, and are fully aligned with the highest levels of sustainable building certifications.

A good example of our contribution to a more sustainable world are the Spheres – a LEED Gold-certified project and a key component of a major office complex in Seattle, USA.

The Spheres occupy approximately 3.3 million square feet spanning over three blocks in the center of the city. The intersecting spherical domes range from 24 to 29 meters in height, each taking up half of a city block. This greenhouse-like environment has been conceived to provide an inspirational space where occupants can live and work while surrounded by 40,000 plants from the cloud forests of 30 countries.

Holcim's Lafarge subsidiary in North America worked closely with the client Stoneway Concrete to produce an ECOPlanet solution that delivered more than 80% CO2 reduction over the industry average, saving up to 400 tons of CO2.