DYNAMax helps build better with less in Germany
Reduced carbon footprint by lowering material demand
Recognized by the German Sustainable Building Council
Combines high strength and sustainability
The challenge 
Modern buildings often have to look and feel lean despite their immense mass. Seven Gardens Oak House in Wiesbaden, Germany, presents such a challenge. The new office quarter envisions a 14-story high-rise building, a seven-story base building and a landscaped inner courtyard as well as a large green promenade open to the public. The goal is to deliver 34,200 square meters of rental space according to plans developed by architectural firm KSP Engel GmbH and executed by OFB Projektentwicklung GmbH.
The developers can realize their vision by creating slender supports that maximize the buildings' usable area – but it takes innovative materials to build them safely.
The solution
DYNAMax proved to be the perfect solution. Holcim produced the concrete for this project at its plant in Mainz-Mombach, which offers Concrete Sustainability Council (CSC) certification to assure all stakeholders that the concrete is ecologically, socially and economically responsible across its entire supply chain. This CSC-certified concrete was then used to create the supports for the Wiesbaden project from the ground floor to the fourth floor, keeping component cross-sections as small as possible. Polypropylene (PP) fibers were added to the concrete for an extra level of fire resistance.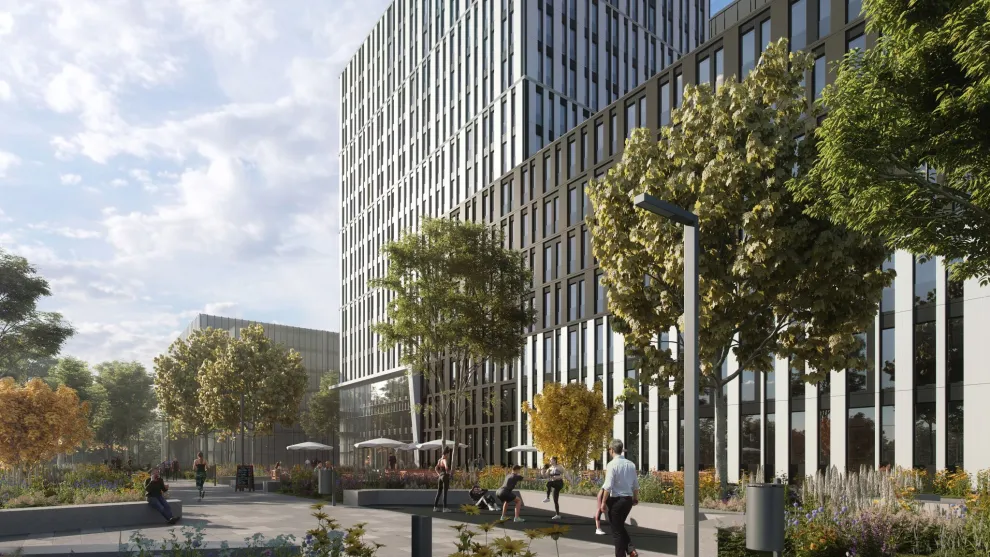 "DYNAMax is the perfect addition to our portfolio. The combination of high strength and sustainability opens up many perspectives for exciting new projects."
| Director Ready-Mix, Holcim Germany
The result
The developers have already received platinum pre-certification from the German Sustainable Building Council (DGNB) for the project, to be completed by Spring 2024. Choosing sustainable materials like CSC-certified DYNAMax made a significant contribution to the DGNB's decision to pre-certify the project.
"We are constantly looking for CO2 savings by using alternative building materials and material-efficient systems."
| Chairman of the Management Board of OFB Projektentwicklung GmbH
Making green building possible at scale

At Holcim we are proud to offer a range of innovative and smart concrete solutions that optimize material usage and increase the resilience and lifespan of buildings to build better with less. DYNAMax, the Ultimate Performance Concrete, allows building in new dimensions, improving sustainability and design freedom around the globe.

Across everything we do, we are building progress for people and the planet.
 
Read more about building better with less