State-of-the-art school outside Bordeaux reduces CO2 by 40% with ECOPact
40% emissions saved – or a total of 300 tons of CO₂
Complies with low-carbon and low-energy requirements of France's RE2020
3,020 m3of ECOPact green concrete fulfilled the client's stringent sustainability demands
The challenge 
The public authorities of Le Pian-Médoc (a commune in France's Gironde department) envisioned a modern school for its middle school students. At a minimum, the school had to comply with all the necessary health and safety regulations and fit in organically with its surroundings. BPM Architects and Bouygues Bâtiment Center Sud-Ouest also wanted to ensure the project was in line with the low-carbon and low-energy requirements of France's new RE2020 legislation.
Additionally, Bouygues needed to create 9,330 m² of floor space that would meet the requirements of the E+C environmental label. This made sustainable building materials a key consideration.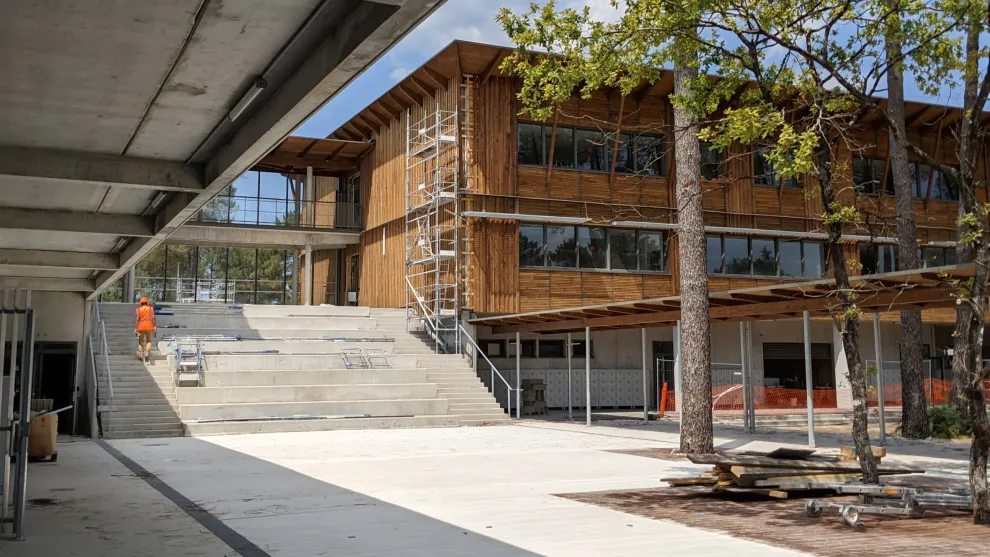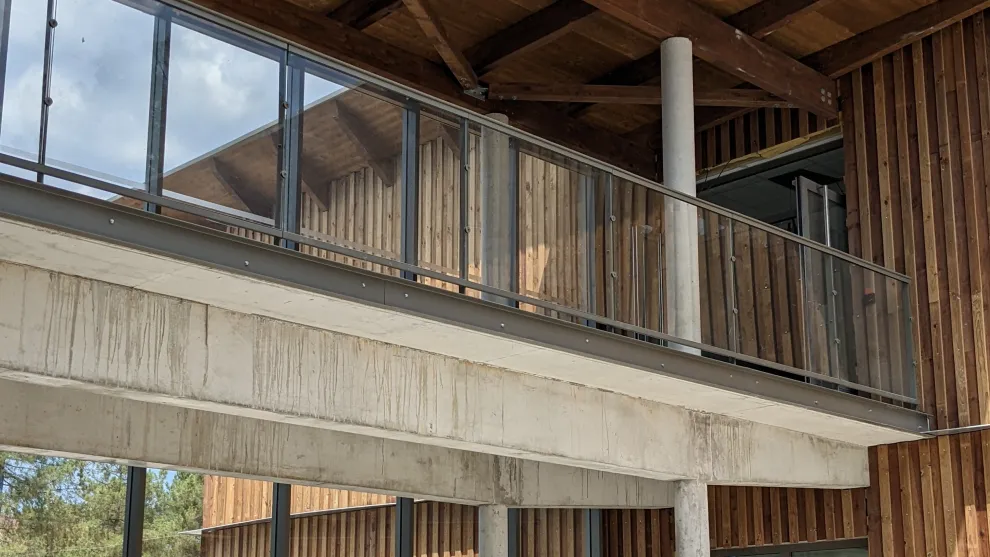 The solution
After discussions with our teams in France, Bouygues Bâtiment Center Sud-Ouest chose ECOPact green concrete. ECOPact concrete is sold at a range of low-carbon levels, from 30% to 100% lower carbon emissions compared to standard (CEM I) concrete, with no compromise on performance.
This helped the architects and the construction company meet France's new requirements for the energy, environmental, and health performance of new building projects. Our teams supplied 3,020m3 of ECOPact concrete for the school's concrete floor slabs.
The result
Thanks to ECOPact, the Pian-Médoc middle school project saved 300 tons of CO₂ for an emissions reduction of 40%. With a concrete structure, exterior insulation and a maritime pine cladding surface, the school blends in beautifully with the surrounding greenery. Its stunning six buildings are arranged around a courtyard and are connected by passageways, and the large central concrete staircase serves as a stage for the students. The school will open its doors to students in September 2022.
"I'm proud of our role in this project not only because we played a part in creating a stimulating and enjoyable learning environment for the children of Pian-Médoc, but also because it was the first project for which we delivered our green concrete ECOPact, thus clearly marking the acceleration towards providing low-carbon construction products to our clients. Since this project, we have had several others that allowed us to take our expertise to the next level. Our quality and sales teams are now trained to provide relevant and accurate answers to our clients. We are really proud to be able to participate in the design and construction of buildings that are more environmentally friendly. This is the next step in our transition to becoming a net-zero company."
| Manager for Special Product Development, Lafarge France
Making green building possible at scale

At Holcim we are becoming a net-zero company, putting climate action at the heart of our strategy. We are at the forefront of green building solutions to make low-carbon construction possible at scale around the world, from Mumbai to New York.
We launched the world's first global ranges of green concrete, ECOPact, and green cement, ECOPlanet, with a CO2 footprint ranging from 30% to 100% lower than the local market reference with no compromise in performance.
Across everything we do, we are building progress for people and the planet.
 
Get in touch

Want to learn more about what ECOPact green concrete can do for your next project? Drop us a line, and someone from our team will be in touch.
Read more about building better with less