CARBON2BUSINESS carbon capture and utilization project
The Carbon2Business project at our cement plant in Lägerdorf, Germany aims to capture more than 1.2 million tons of CO2 emissions annually. The captured CO2 will be repurposed as an industrial raw material, and from 2029 cement production at Lägerdorf will be entirely net-zero.
In 2023, we received a grant from the EU Innovation Fund to advance the Carbon2Business project.
Carbon2Business at a glance
| | | | | |
| --- | --- | --- | --- | --- |
| Image | Net zero by 2029 |   | Image | Oxyfuel technology |
| Image | Around 1.2 million tons CO2 captured annually |   | Image | EU Innovation Grant funding |
| Image | Innovative oxyfuel cement kiln |   | Image | Utilization pathway |
The technology behind the project
Carbon2Business is a carbon capture and utilization project that aims to create new value chains and develop technologies to help decarbonize industrial companies beyond the cement industry. 
CO2 will be captured from the cement manufacturing process using Oxyfuel technology – an "end-of-the-pipe" solution. The technology works by substituting combustion air with pure oxygen, producing a CO2-rich flue gas. The gas is then cooled, purified and liquified, creating a highly pure CO2 gas for use in other industries.
The purified CO2 will either be processed into e-methanol through methanol synthesis or reprocessed as a raw material, to produce plastics for example.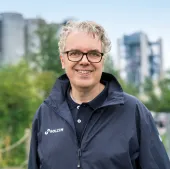 "The EU's investment commitment for the Carbon2Business project is a strong signal for the entire West Coast region in Schleswig-Holstein, which is increasingly becoming a green energy hub."
| CEO Holcim Germany
More on Holcim's net-zero journey