GREENING OUR OPERATIONS IN GERMANY WITH CCUS, WIND AND A GREEN FLEET
At Holcim, leading the way on decarbonizing construction begins with green operations. We are prioritizing green energy, next-generation technologies and green mobility to accelerate our net-zero journey. In Germany, we have made significant strides to achieve this ambition.
Carbon Capture and Utilization
At our cement plant in Lägerdorf, Germany, we are piloting carbon capture technology as part of our "Carbon2Business" project. The program aims to capture the more than 1 million tons of CO2 emitted there annually to use as raw material for different industries in the region.
For this, we are building a new kiln line with an innovative second generation oxyfuel process: combustion air is substituted with pure oxygen resulting in a CO2-rich flue gas, which is then dried, pressurized and purified in a Carbon Processing Unit. Alternative capturing concepts in the cement industry are based on End-of-Pipe solutions, where CO2 needs to be separated and processed. Therefore, the oxyfuel concept is the only solution that allows an integrated approach and reaches higher CO2 concentration levels. CO2 separation is not needed, which means that the CO2 can be directly processed and liquefied.The technology captures almost 100% of CO2 emissions during cement production. The flue gas is then further processed into a high-purity CO2 gas as a feedstock for the chemical industry and used as a raw material for other industries.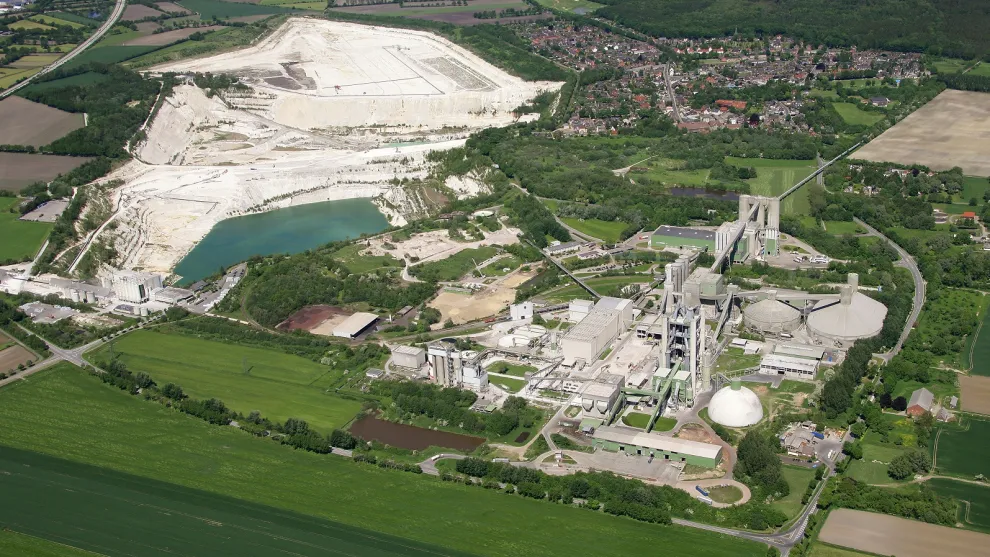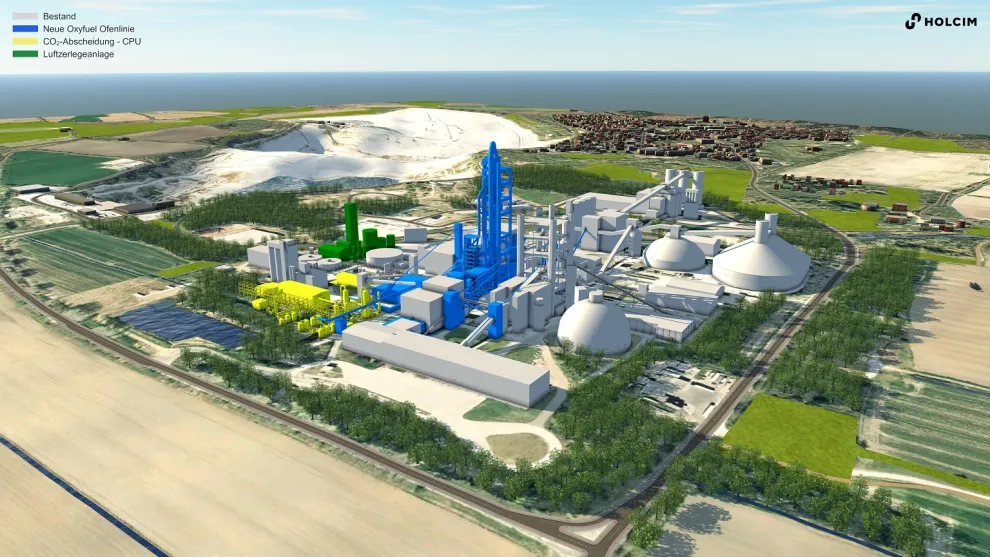 "Carbon2Business" will be able to scale up the work carried out at the real life laboratory of "Westküste100", a cross-sector partnership with the aim of producing green hydrogen from offshore wind energy and using the waste heat generated in the process, helping Lägerdorf become one of the world's first net-zero cement plants by 2029. This large-scale industrial solution will support the formation of a hydrogen hub in northern Germany as well as other regions in Europe. Lägerdorf's unique location on the west coast of Schleswig-Holstein provides favorable conditions for just such a project. Here, a strong wind energy region and excellent geological storage conditions meet innovative companies that want to actively shape the future and make an important contribution to achieving climate targets.
The technology will be the first-of-its-kind application in the cement sector. Almost all of the unavoidable process-related CO2 emitted during cement clinker production can be made available as a resource, for example for further processing into methanol. Additionally, after going through the Carbon Processing Unit, the CO2 is ready to be used as raw material in the chemical industry. That is how Lägerdorf will become one of the world's first net-zero CO2 cement plants by the end of this decade.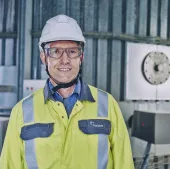 I'm convinced that this project is trend-setting for the future, because the solution to decarbonization is not something that each industry can find on its own, we must work together. This makes me particularly proud to work at Holcim because we are committed to progress, implementing sustainable solutions in the construction industry.
| Senior Project Engineer at Holcim Germany
With "Carbon2Business", Holcim is making a significant contribution to several EU policy objectives such as the transition to a climate-neutral economy by 2050 within the overall framework of the European Green Deal.
The project is also aligned with the goals of the Paris Climate Agreement by enabling a significant greenhouse gas reduction in Germany. The project's potential was recognized by the EU when the Innovation Fund awarded it a grant for the scalability of this technology, which puts Holcim at the forefront of Europe's decarbonization efforts.
Wind power and other renewables
The production of cement requires electricity- and fuel-intensive processing steps, which is why switching to green energy sources is one of the key levers to achieving our net-zero targets. Thanks to their favorable geographic locations, in 2021 our plants in Lägerdorf (Schleswig-Holstein) and Höver (Lower Saxony) covered 10% of their electricity requirements from onshore wind power. As the plant operators are also shareholders of the wind farms, Holcim buys energy directly from the producers.
The wind turbines are Ü20 (Over 20) plants that are no longer subsidized under Germany's Renewable Energies Act (EEG), which means they can be used for direct green power supply to industrial customers. In total, Holcim consumed 2.2 million GJ of electricity in cement production in Germany in 2021, and the share of green electricity was just under 30%. Electricity from wind power accounted for 12%, resulting in 31,000 tons of saved CO2 emissions. By the end of 2022, it accounted for 50% of electrical energy, saving more than 128,000 tons of CO2 emissions.
Currently, the energy mix in the aggregates and ready-mix concrete business consists of just over 47% renewable energy. Our goal is to significantly expand renewable energy to over 80% by 2030. To achieve this, we are negotiating other Power Purchase Agreements (PPAs) and the construction of renewable electricity generation plants for our own consumption in several locations across Germany.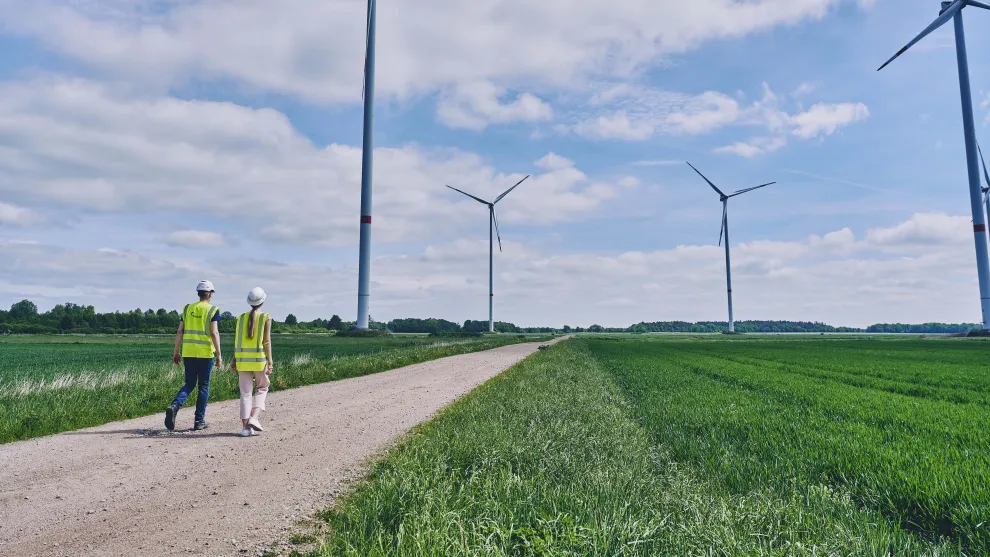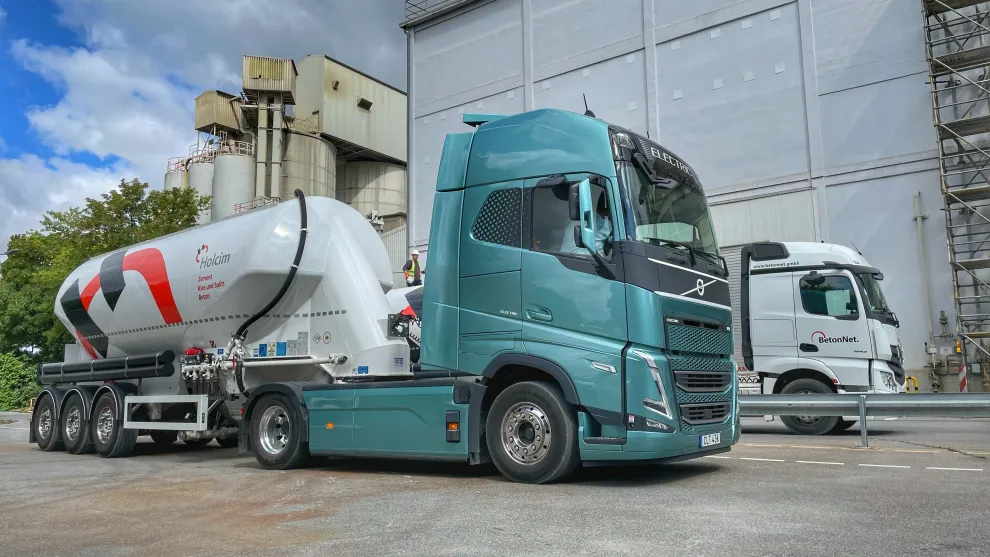 Green fleet
A substantial share of our indirect carbon emissions come from transport – moving our materials to customers as well as between factories and distribution terminals. This challenge, which accounts for 23% of our total Scope 3 carbon emissions, can be tackled largely by shifting to a net-zero fleet. Holcim's net-zero targets, validated by the Science Based Targets initiative, specify a global reduction in CO2 emissions in Scope 3 of up to 24% by 2030 and 90% by 2050.
Holcim Germany has been at the forefront of finding solutions to this challenge. Holcim Germany has agreed to purchase ten Volvo 40-ton e-trucks. The trucks offer an impressive range of 420 kilometers. An added green benefit, we will be able to power them using electricity from our own windpark in Lägerdorf, which consists of eight windmills owned by Holcim Germany and eight windmills operated by a third party. The rest of their power will come from green electricity that we arrange to buy from the public grid. These measures will help us reduce CO2 per ton transported by 20% to 80%, depending on how quickly the German grid is decarbonized.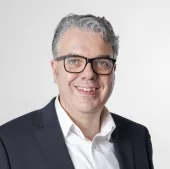 With the decarbonization of our production, we are at the center of the industrial transformation of our time. We want to remain a pioneer of green building solutions and operate the world's first climate-neutral cement plant by the end of the decade.
| CEO Holcim Germany
Holcim Germany also obtained a prototype Sany all-electric mixer truck for testing at our ready-mix plants in Radevormwald and Plettenberg, working with joint venture partner BetonNet. The results exceeded expectations for range and energy consumption. The truck also had a larger payload compared to other battery electric options, and the total cost of ownership is lower than for diesel mixer trucks. Based on these results, Holcim Germany applied for the purchase of three Sany trucks.
Greening our operations to become a net-zero company

At Holcim we are becoming a net-zero company, putting climate action at the heart of our strategy. We are at the forefront of decarbonizing building end-to-end, in line with our purpose to build progress for people and the planet. We are greening our operations to decarbonize Holcim and become a net-zero company with green energy, green formulations, green mobility and next-generation technologies.