The point of sale is the moment of truth, where our products and solutions meet their customers and end-users. For Holcim, being a business partner to all players in the distribution chain is key. We make our products and solutions available at all times, generating additional business for you as distributors, retailers, and DIY stores. We also offer in-store animations, product knowledge, digital platforms, mobile apps, and financing schemes for your customers and end-users, including individuals and professionals.
Where to buy Holcim products
Our partnership approach is designed to create extra business for trade professionals. This includes key account management, dedicated teams and services to help you build efficient distribution strategies and area management. We can also support you in taking care of your clients with specific answers to the needs of individuals and construction professionals. Thanks to our global footprint, we understand that each market is different, and our distribution can be tailored to your local needs.
Our offer
Product availability and reliable deliveries. The right quantity of products at the right time and in the right place is crucial for your business' profitability as a distribution and retail player. With Holcim, you can rely on: nationwide networks of stores, depots and container mobile shops for rural areas, a key distributor networks for the exclusive right to distribute Holcim solutions, inventory management software to ensure availability of products, health & safety standards applied to road and shipping advisory.
In-store animation and shopping experience to drive traffic and sales. For retailers, driving traffic toward your point of sale is key to generating revenue. We offer a series of services to make your stores and outlets attractive to your customers: training and certifications for building professionals, in-store events, visual merchandising, customer marketing activities, loyalty programs, and category management approach to maximize rotation and profitability.
A one-stop retail shop with a multi-product range. We make sure that trade players find the product or solution they are looking for by offering: a portfolio of optimized mix designs for all applications, ready-to-use products in small packages, contacts with Holcim-registered professionals, water-resistant cement bags, and a partnership approach with retailers and local hardware stores.
Digital services and solutions make your outlets easy to find and our products easy to purchase. Store owners and their customers can benefit from store locator mobile apps and other digital services such as web portals and order tracking.
Financing and cash-flow solutions for customers. In many areas, individuals and construction professionals lack funds to complete their building projects, which translates into lost sales for distributors and retailers. We have developed a specific affordable housing microcredit offer available in several countries. We partner with banks and microcredit institutions to offer lower credit rates to your customers so they can buy materials for home completion, extension, or renovation. This ensures that we generate extra sales for you from financially guaranteed customers.
The retail network Disensa is present in 8 Latin America countries: Argentina, Brazil, Colombia, Costa Rica, Ecuador, El Salvador, Mexico, and Nicaragua.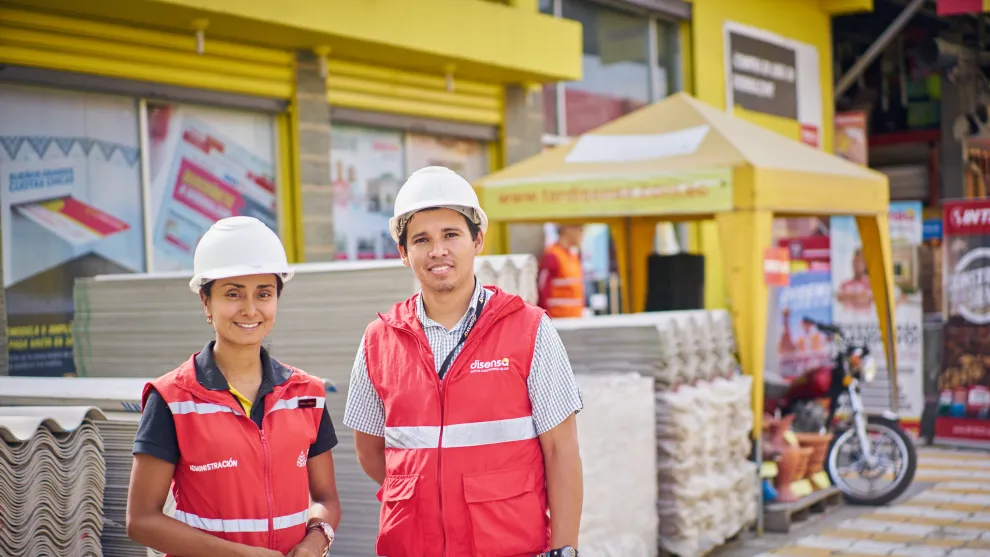 Our franchise shops
In some countries, we have opened Holcim stores and franchise retail shops with local partners to supply most of our products and solutions as well as other building materials.