Building the future of learning and teaching in Switzerland with ECOPact+
Resource efficient concrete saving natural resources and CO2
In Switzerland, the HSG Foundation, linked to the University of St.Gallen, is building a Learning Center - SQUARE. The project's objectives are twofold. SQUARE aims to be an innovative place to think and work, where students will experience a new quality of learning and get ready for succeeding in the digital age later in their professional careers. At the same time, the expectation is that SQUARE's ecosystem advances the learning and teaching culture as a whole at the University of St.Gallen.
The challenge

Sou Fujimoto architects envisioned for SQUARE a structure consisting of multiple cubes on a grid that follows the proportions of neighboring buildings. The cubes offer a total of 7,000 square meters of floor space, and they include green rooftop terraces, indoor and outdoor spaces connected with transparent surfaces, and rooms whose layout can be repeatedly changed to adapt them for a variety of purposes.

The versatility of the building, the multiple exposed concrete surfaces (large parts of the concrete structure, including the stairwell and the supporting pillars, are fair-faced concrete) and the high environmental requirements of SQUARE demanded a very special concrete.

Another exciting sustainability aspect of the building is the hollow concrete system with around 900 to 1,200 hollows cast directly into the ceilings, which reduces their mass by around 17 percent, saving materials and improving the building's seismic resilience.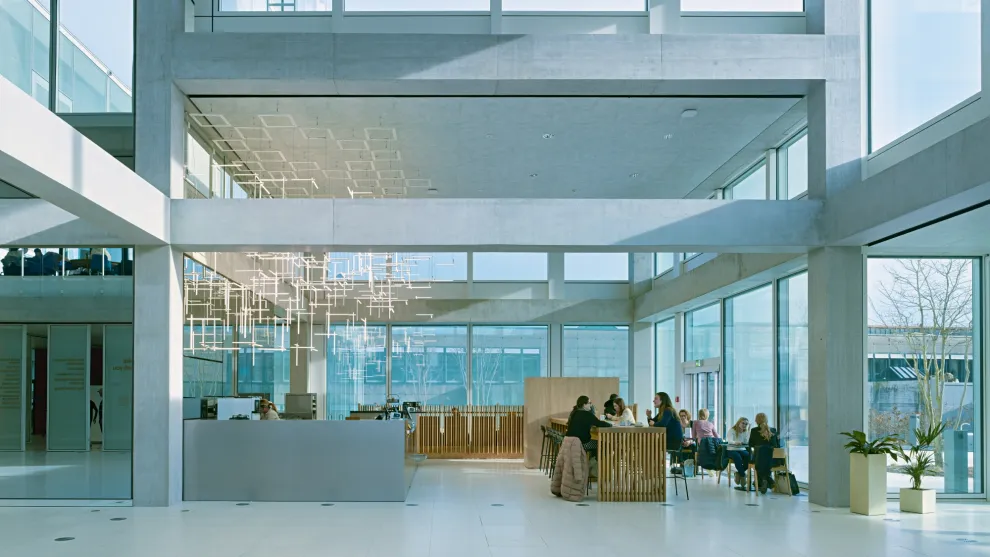 The solution

For this demanding project, HRS Real Estate AG relied on a product innovation from Holcim Switzerland that closes the material cycle: the resource-saving and low-CO2 concrete ECOPact+.

The innovative formula of ECOPact+ sets a new standard in terms of sustainability. It includes local recycled aggregates instead of natural gravel, as well as ECOPlanet Susteno, the first and only resource-saving cement in Europe with up to 20% construction and demolition waste inside.
ECOPact+ was used for the floor slab as well as in the basement for the ceiling, the exterior walls and the internal walls without exposed concrete.
With ECOPact+ concrete, we close the building material cycle, conserving natural resources and saving CO2.
| Head of Aggregates & Ready-Mix German Switzerland and Ticino
The results

For this project, 3,000 m3 of ECOPact+ were used. This way, natural materials were replaced with recycled aggregates and conventional cement with ECOPlanet Susteno cement containing up to 20% of construction and demolition waste inside, putting the principles of the circular economy at the heart of the project. ECOPlanet Susteno cement contains 10% less CO2 compared to an already optimized Swiss mass cement.

For 1,000 m3 of concrete the remaining CO2 was offset with certified climate projects.

Sustainable construction played a crucial role across the entire project: the building materials were supplied from the Holcim concrete plant in St. Gallen, which is only 3 kilometers away from the project site.

Marcel Kunz, foreman from Feldmann Bau, was impressed by ECOPact's performance: "It was an experiment for us as it was the first time we worked with it. However, after gaining some experience with the behavior of ECOPact+, I am very satisfied. It's a wonderful concrete."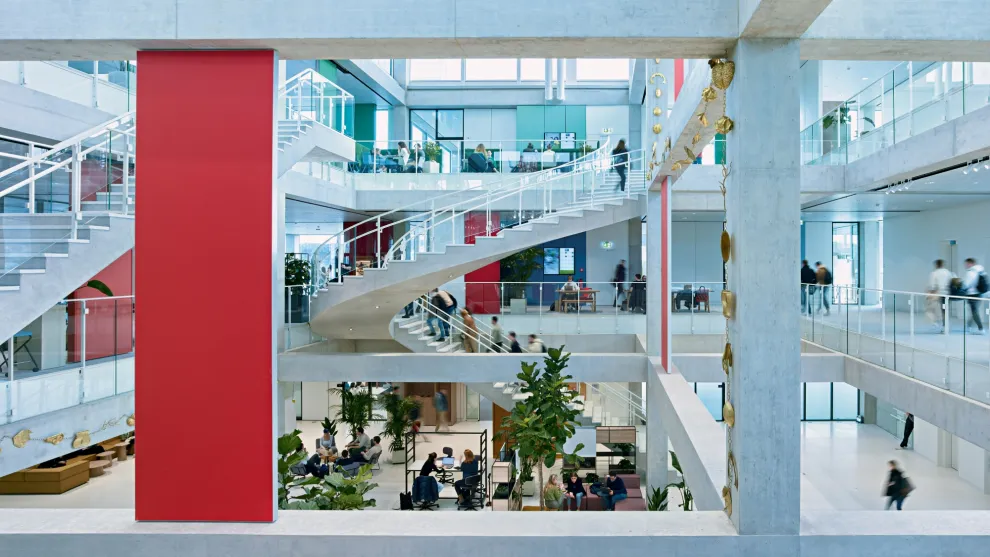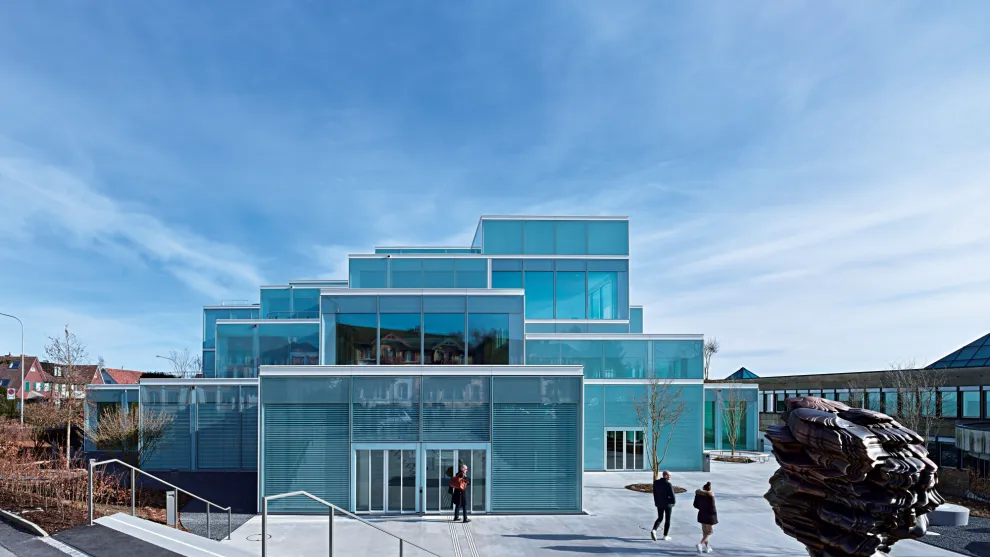 Holcim's commitment to driving circular construction

Holcim is leading the way in circular construction, recycling over 50 million tons of materials across its business in 2021 on its way to doubling this rate to 100 million tons by 2030 as part of its net-zero roadmap. To make buildings work for people and the planet, Holcim applies the circular economy principle of "reduce, reuse and recycle" across its business:
Reduce: To reduce the footprint of buildings, Holcim continuously advances its portfolio of green building solutions. One example is the green concrete ECOPact, with a carbon footprint ranging from 30% to 100% lower emissions than standard concrete.
Reuse: With 80% of Europe's building stock projected to still be in use by 2050, repairing and renovating buildings with green retrofit systems is a key priority. Holcim's advanced roofing, waterproofing and insulation systems enhance the energy efficiency of buildings and extend their lifespan.
Recycle: Within the ECOPlanet range, Holcim launched the world's first cement with 20% recycled construction & demolition waste inside. Another example comes from Holcim's latest acquisition of Malarkey Roofing Products. Malarkey upcycles materials into roof shingles, including 3,200 plastic bags for an average residential home in the US.
Learn more about how Holcim is leading the shift toward circular construction around the world here.

Images: Roland Halbe | @rolandhalbe | #rolandhalbe #rolandhalbephotography
Get in touch

Want to learn more about what ECOPact green concrete can do for your next project? Drop us a line, and someone from our team will be in touch.
Read more about circular construction