ECOPact green concrete saves 30% CO2 in 12 housing developments in Mexico
GP Vivienda, one of Mexico's biggest real estate developers and construction companies, used 50,000 m3 of ECOPact green concrete to build twelve residential developments all across the Monterrey metropolitan area in the state of Nuevo León. The developments achieved a CO2 emissions reduction of 30% by using ECOPact.
The challenge 
Monterrey is Mexico's third largest city with a population of five million people. That number is growing every year and by 2030, an extra 600,000 people will need a place to live.
That's why GP Vivienda is developing several housing projects – ranging from large affordable housing developments to more exclusive dwellings – all across the city's metropolitan area. For the developer, it is of utmost importance that the projects have a high social impact, contribute to Mexico's progress and the Mexican people's wellbeing, and are built sustainably to minimize their impact on the environment.
The solution
Conscious of the importance of reducing buildings' carbon footprint, GP Vivienda contacted Holcim Mexico to find out about products that can successfully reduce emissions for twelve of its projects in and around Monterrey. After discussions with Holcim, the client chose ECOPact, the world's broadest range of green concrete with CO2 reduction starting at 30%  and with 100% performance. By the end of 2022, Holcim Mexico supplied more than 50,000m3 of ECOPact to GP Vivienda developments.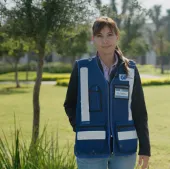 As an architect, I understand that our industry has a great responsibility when it comes to reducing the environmental impact we have. That's why we want to be the leaders in sustainable construction in Mexico, and Holcim's range of low-carbon products is helping us on our journey.
| Architect at GP Vivienda
The result
Thanks to the collaboration with Holcim and our ECOPact green concrete, the client saved 3.8 tons of CO₂ for an emissions reduction of 30% in comparison to a standard concrete mix. This is the equivalent of 380 homes' energy use for an entire year or more than 15,000 kilometers traveled by car. Upon completion, the twelve development projects will provide 2,200 homes to the residents of Monterrey. For example, Villas Regina and Villas Buenavista are both affordable housing projects that will provide 950 families with homes as well as public green spaces to come together as a community, while Montenova Residencial and Kebana Residencial offer more upscale homes for 230 families.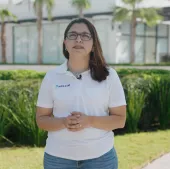 Reaching the milestone of supplying 50,000m3 of our ECOPact green concrete for this project is a testament to Holcim's culture of teamwork. It also shows that green building is possible at scale already today to ensure that the built environment works for people and the planet.
| Business Advisor at Holcim Mexico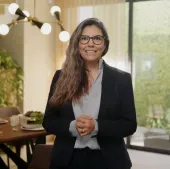 We want everyone to be able to live in a dignified home. Now, with the help of ECOPact, we have the opportunity to provide people with places to live that have a much lower environmental impact while maintaining the highest possible quality.
| Subdirector of Supply Chain at GP Vivienda
Decarbonizing building possible at scale 
At Holcim we are becoming a net-zero company, putting climate action at the heart of our strategy. We are at the forefront of green building solutions to make low-carbon construction possible at scale around the world, from Manila to New York.
Building better with less, we are decarbonizing construction with our low-carbon solutions, such as ECOPact, the broadest range of green concrete with a CO2 footprint ranging from 30% to 90% lower than the local market reference with no compromise in performance.
Across everything we do, we are building progress for people and the planet.