CIRCULAR PRODUCTS AND SOLUTIONS
We are scaling up the use of circular solutions in all our segments - Aggregates, Cement, RMX concrete and Solutions & Products. With our efforts we are further closing the loop on Construction and Demolition Waste, enabling circular and carbon neutral construction.
Our circular products today
We offer the broadest range of sustainable products, with no compromise on performance, from carbon neutral solutions to high levels of recycled content. The transformation of our products to become more circular in design also has a significant positive impact on society, such as avoiding demolition and creating additional waste materials that would otherwise end up in landfill.
Circular by design
Concrete recyclability
Concrete is particularly valuable for the circular economy as it can be fully and infinitely recycled as an alternative aggregate or even as raw material for cement production. We recycle construction and demolition waste into cement and aggregates to produce new concrete. This concrete is used in construction, which through maintenance and retrofitting lasts even longer. At the end of the construction lifecycle, the concrete can once more be recycled.
Image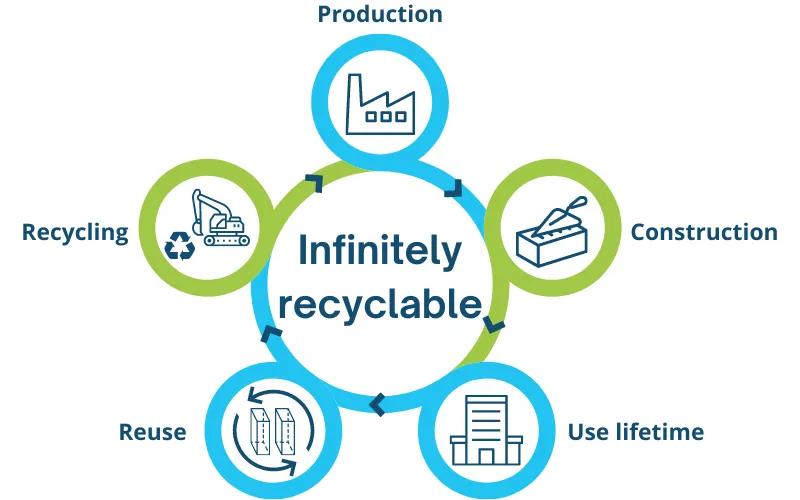 Infinite-reuse in mind
Recarbonation is a process that recycles CO2. We have been achieving some breakthrough innovations at our R&D labs in Lyon, France, to recarbonate recycled old concrete, with CO2 and use it for other building material applications.
Our results are game-changing. They open up the potential to re-use untreated CO2 at industrial sources, to create higher performing materials for building.
Circular economy case studies