A bridge which appears to float in the air…
In the early morning, its feet planted in the dense mist of the Tarn Valley, the Millau Viaduct is an almost celestial vision of a bridge floating in mid-air. Since its inauguration in December 2004, this majestic structure has been an unmissable feature in the landscape of central France, visited and photographed by thousands of tourists. The Millau Viaduct is also an important piece of road infrastructure, used by 40 million motorists since it opened.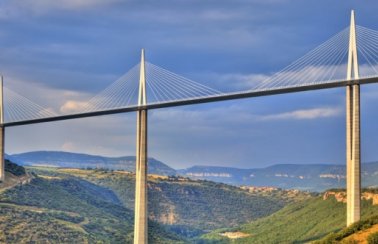 Few of them suspect that its astonishing delicacy and harmonious curves conceals a colossus which required great technical skill. Did you know that it is 19m taller than the Eiffel tower and five times its weight? This record-beating bridge is 2,460m long, 343m high at its tallest point and its deck weighs more than 36,000 tons. Apart from its measurements, the volumes of materials used are also impressive, including more than 85,000m3 of concrete, twice the average amount needed for a big office building!
… Made possible by LafargeHolcim cements and concretes!
For our dedicated project teams, this bridge was primarily a human adventure: "The Millau Viaduct is a once in a lifetime project! A diverse, intense worksite, requiring availability at all times, including at night, in order to meet a tight schedule," says Alexandre Gilles, LafargeHolcim project manager during construction. "It was above all a fantastic human experience for all the worksite teams. And how proud we were to show people the viaduct once it was finished!"
The bridge was also an opportunity for the Group to promote our expertise:
our products: our cement, selected for its clarity and  low hydration heat, and our ultra-high performance frost-resistant concrete with unique mechanical qualities.
and the quality of our services and installation: Alexandre Gilles recalls, "one memorable experience was pouring 2,700m3 of concrete which took more than 30 hours of concreting and the simultaneous use of 25 cement trucks! This corresponds the average monthly production from a concrete-batching plant … Unprecedented."
A project which won our customers' trust. "A relationship of trust was created straight away between the various worksite participants." For LafargeHolcim, the success of the Millau Viaduct led to further projects with Eiffage in subsequent years, including the Perpignan high-speed rail line.