With 104-stories and 1,776 feet height (541 m), the new One World Trade Center is a monumental landmark right in the heart of New York City. It is one of the major buildings of the new World Trade Center complex, which has just opened to replace the initial one destroyed during the attacks on September 11, 2001.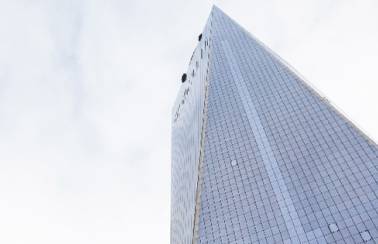 Taking advantage of innovative construction materials, it is designed to be the safest and most environmentally-friendly commercial building in the world. The structure includes a massive cast-in-place, reinforced concrete inner core that runs the full height of the tower - an extra-strong backbone that provides support for gravitational loads as well as resistance to wind, seismic and other impact forces.
LafargeHolcim cements for a more durable and sustainable concrete building in New York City
The 150,000 cubic meters of concrete used in the tower's superstructure - with a strength that has never been used on such a scale in building construction - was custom-designed to ensure high levels of durability, constructability and sustainability.
To meet the compressive strength requirements, the design and engineering team relied on a highly specialized concrete mix that included 30,000 tons of LafargeHolcim Portland Type I/II cement and 35,000 tons of NewCem® slag cement, as well as other supplementary cementitious materials.
Engineered for high strength and long-term durability, our NewCem® slag cement helps achieve greater strength potential and helps control shrinkage, creep and cracking in mass concrete structures.
In addition, LafargeHolcim's NewCem® slag cement incorporates recycled materials, as slag is a by-product of the steel-making process, and contributes to the LEED® Gold certification which is expected to be awarded to One World Trade Center.