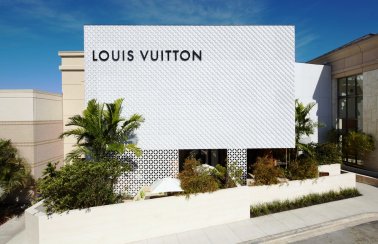 Ductal's ability to meet the architect's design requirements included the need for a highly customized, high quality exterior façade that is light weight, thin and durable - with resistance to hurricane force winds.
The panels, averaging 2 m x 1.7 m, were assembled onsite to achieve a full height of 12 m. The building has no orthogonal grid and the star-shaped precast UHPC flowers were added afterwards. In addition to the 18,000 sq. ft. store's impressive façade, its interior, another successful collaboration with the architect Peter Marino, features a grand staircase with handrails wrapped in leather as well as artworks by Cuban-born artist Jorge Pardo and others.
At "Maison Aventura", one the largest Louis Vuitton stores in North America, art and culture is combined to create a memorable shopping experience.
People / Companies involved in the project:
Design: Louis Vuitton Malletier Architecture Department, Paris
Store Planning: Louis Vuitton North America, NYC
Architect: Atmosphere Design Group
Precaster: DEX Industries
Engineering: Buro Happold
Engineering: Bromley Cook
Construction Management: Dimension One, Inc.