Only a few years ago, Uganda lacked a consistent electricity supply, which stunted economic growth and kept Uganda literally in the dark. Ugandans needed a dependable energy source to meet their needs-and fast.
The answer? The Bujagali Hydroelectric Power Station, located near the town of Jinja in southern Uganda. Completed in 2012 in time for the 50th anniversary of the country's independence, this power plant has an output capacity of 250 MW, offering the potential to meet almost half of Uganda's currently installed capacity.
Rising to the challenge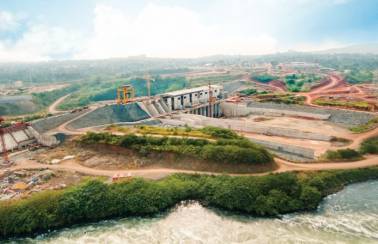 LafargeHolcim supplied 130,000 tons of cement that met or exceeded all technical requirements for the Bujagali Hydroelectric Power Station.
In fact, we were the only local supplier capable of meeting that demand! But to do so, we first had to overcome the following challenges:
Location: Jinja, across the Victoria Nile, is located 1,000 km from the supply point in Mombasa. As a result, we devised a pioneering bag-to-bulk solution and set up a LafargeHolcim-trained team on site running a backup, bagged cement operation to guarantee supply and safety.
Design: We were the only firm capable of supplying the low alkali specialty cement (which increases water resistance) needed to meet strict quality standards and project specifications.
To ensure supply, we brought in bagged and bulk cement, mixing it in silos just steps from the Bujagali construction site. Our teams also performed rigorous stress tests to ensure the specialty cement met stringent quality standards.
The result? An important contribution to the construction of a modern power station designed to support one of Africa's most rapidly urbanizing countries.
Ugandans can now keep the lights on and keep their economy charged thanks to the Bujagali Hydroelectric Power Station!