1,129 sea-view apartments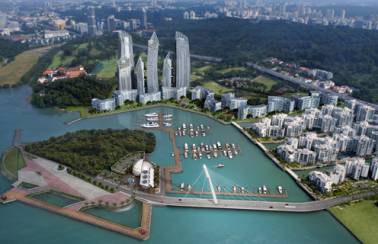 At Keppel Bay, Daniel Libeskind, commissioned by the Keppel Corporation, has designed a symphony of six undulating towers and villa apartment blocks with a total of 1,129 apartments. The entire precinct stretches along 1.2 kilometers of shoreline, with many apartments enjoying a breathtaking view of the sea.
The six curved residential towers, between 24 and 41 stories high, form a fascinating body of light and reflecting surfaces. The highly sophisticated structures are linked by nine sky bridges at different levels. The open spaces on the bridges provide a panoramic view of the impressive surroundings. Lush gardens adorn the sloping roofs of the towers.
Reflections at Keppel Bay is an impressive urban feat for which LafargeHolcim successfully delivered the special concrete for the buildings' foundation piles within an ambitious time frame.  In the next few years, Keppel Bay is slated to become a self-contained metropolis.
An ambitious residential project
Having successfully collaborated with LafargeHolcim in the past, the Keppel Corporation selected LafargeHolcim to supply the following for Keppel Bay:  
320,000 cubic meters of concrete for the construction of the towers and apartment blocks comprising the Reflections at Keppel Bay project
8 different types of concrete, including a special concrete that remains moist and elastic for several hours for the piles. This increased elasticity enables the sheathing to be removed easily from the piles.
The concrete was mixed at the Marina plant, a 15-minute drive from the construction site, and was made available from two new metering and mixing plants with a total production capacity of 240 cubic meters per hour. The plant operated on weekends and holidays, as required, and LafargeHolcim's truck fleet transported approximately 300 to 500 cubic meters of concrete to the building site every day.