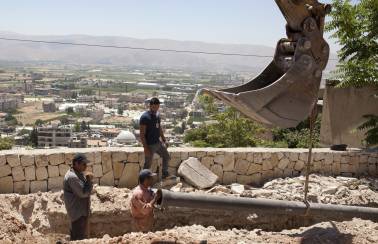 Lebanon: Providing clean water
The armed conflict in neighboring countries and the resulting spillover continue to affect Lebanon, where reportedly, over a million people have sought refuge over the past 5 years. Most of them stay in host communities, some in informal settlements. Tensions arise between residents and refugees over scarce resources and inadequate access to overburdened water and health systems.

With a total budget of CHF 8 million for Water and Habitat activities in 2015, the ICRC improved the access to essential services and eased the tension between residents and refugees by providing financial, material and technical support to help the authorities upgrade/rehabilitate water infrastructure for people in municipalities hosting refugees, or in Palestinian refugee camps. In addition, ICRC improved services in several health facilities and constructed water and sanitation facilities in 5 prisons, mitigating the risk of contracting diseases.
Facts and figures
In 2015, 327,000 people received assistance through the ICRC's Water and Habitat program:
266,000 people benefited from improved water, electricity and shelter infrastructure
19,000 people treated at healthcare facilities improved by the ICRC
39,000 people benefited from improved informal settlements
3,000 detainees benefited from ventilation, emergency intervention and construction of medical centers in places of detention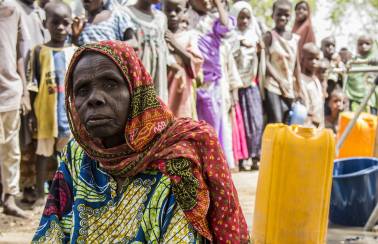 Nigeria: Ensuring sustainable access to water and reducing health risks among communities
The non-international armed conflict between Nigerian armed / security forces and armed groups continues in the north-eastern states, particularly Adamawa, Borno and Yobe. Intercommunal clashes fueled by disputes over access to land or water persist in the Middle Belt states in the north of central Nigeria, resulting in injuries, disrupted livelihoods and displacements. The ICRC stepped up its response to the humanitarian needs: The influx of people who fled from the violence (internally displaced people) is straining the limited resources of host communities, and many households are struggling to meet their basic needs.

In 2015, the ICRC improved sustainable access to water and reduced health risks among communities in conflict-affected areas by working with local water boards. The ICRC supported the construction and repair of water and sanitation facilities at sites for internally displaced people. In case of emergencies, it provided access to safer water and proper sanitation facilities for internally displaced people.
Facts and Figures
In host communities and camps affected by the armed violence, the ICRC is renovating or upgrading water points and sanitation facilities, building emergency shelters and providing tents.
176,000 people from Adamawa, Bauchi, Borno, Edo, Kaduna, Plateau, Rivers and Yobe states benefited from ICRC water, sanitation and hygiene activities. The Nigerian Red Cross and the ICRC carried out hygiene promotion and cleaning work for 50,000 of them.

18,000 IDPs living in camps in Adamawa, Borno, Edo and Yobe received shelter or tents.

2,500 people who had returned to Mubi (Adamawa) or had settled in Warsa Piti (Kaduna) built or rebuilt houses with ICRC support.

39,000 residents of the Jos and Maiduguri areas were protected against cholera through the work of hygiene promotion teams and the chlorination of water points.

296 latrines for IDPs were built or renovated in Adamawa, Borno, Edo, Kaduna, Kano and Yobe states.
This work with the ICRC is also an example of how the Group is delivering elements of our 2030 Plan Sustainability Strategy, one pillar of which is supporting people and communities.