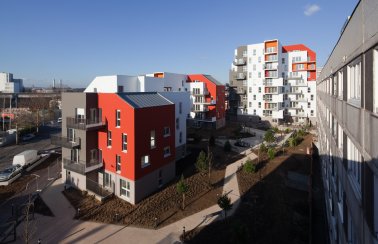 Over three million households in France spend at least 10% of their income on energy bills. To reduce that level - especially in terms of space heating - there is only one solution: improving the thermal insulation of buildings.
As part of our contribution, we launched Thermedia® 0.6 concrete in 2009, in partnership with the construction company Bouygues. Its secret lies in its formulation, which improves the insulating properties of concrete by reducing thermal bridges in external walls. The result is a 35% reduction in energy loss through the façades.
This innovative concrete is already serving urban dwellers in France… and has already demonstrated just how effective it can be! As part of an urban renewal project for a community on the outskirts of Angers, the developer and construction contractor specified Thermedia® 0.6 for a four-floor social housing block of 62 homes. Using this material also saved 200 man-hours of installation time.
In Perpignan, Thermedia® 0.6 has also been specified for the external walls of an office building used by occupational medical services. As the largest project so far to use Thermedia® in the south of France - and the first in a seismically active location - it also boasts another original feature: the aggregate used to produce the 530 cubic meters of Thermédia concrete was based on pumice.
Your building could well become your best ally in saving money!