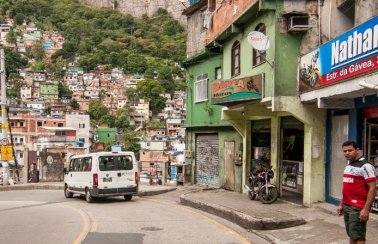 With its 100,000 inhabitants, Rocinha is the largest favela in Brazil and even South America. It is also a veritable "city within the city" with its 30,000 homes on a hillside on the heights of Rio. Living conditions are difficult: built by unskilled labor without technical assistance and excluded from public interventions and building regulations governing the formal city, these homes suffer from ventilation, light and sanitary problems.
LafargeHolcim Brazil decided to act! In partnership with the social entrepreneurship consulting firm Inova Urbis, the architecture university of Rio and microcredit organization Social Cred, our Brazilian teams have launched a project to help the people of Rocinha to renovate their homes: redistribution of the rooms, improved sealing and ventilation, extension, etc.
The principle? A package of three services:
Labor training, provided by LafargeHolcim in partnership with NGOs, Brazilian public agencies and universities, to make people from local communities improve their construction skills or start a new business. Some sessions were even reserved for women of all ages.
A package of standard solutions for home improvement, adjusted to various criteria including the degree of renovation needed for the home concerned and the investment capacity of its inhabitants. After a study of Architecture and Urbanism department of the University of Rio de Janeiro (

FAU

/

UFRJ

), people receive the improvement plan best suited to their situation.

Microcredit

: the inhabitants of the

favela

have sufficient income to invest in the renovation. To encourage them, LafargeHolcim works to set up a fund for a housing

microcredit

program. The first pilot is taking place in partnership with

Inova

Urbis

, which plays an intermediary role between the inhabitants and Social

Cred

, the financial institution that provides credit.
The project in Rocinha is the first pilot in the Group. The long-term ambition is to extend this project to other areas of the city and throughout Brazil, reinforcing our Mauá and Campeão brands and expanding our sales of bagged cement.
This is how we contribute to build better cities!